Over the last 3 seasons, Marquette has compiled a record of 71-35, and has made back-to-back appearances in the Sweet 16. Also over the last few years, the Golden Eagles have provided some of the most under-valued players come draft time, including Wesley Matthews, Lazar Hayward and Jimmy Butler. This year, you can add Darius Johnson-Odom to that group. Johnson-Odom has built a reputation as a big-time scorer, but there is much more to his game than that (See my scouting report here). I recently had the chance to speak to Johnson-Odom about developing his game, playing for Buzz Williams, and preparing for the next step, among other things: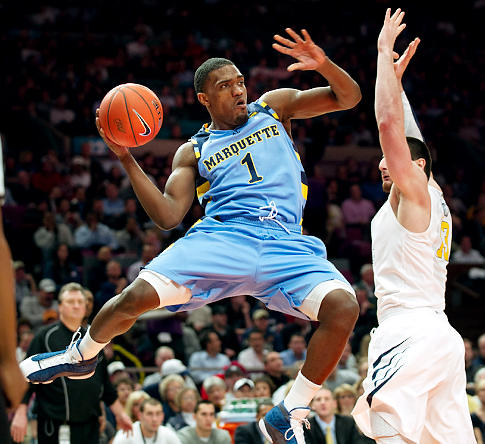 Darius on how his game developed at Marquette:
"My game developed in a lot of areas. My sophomore year, I was used primarily as an outside shooter. My junior year, I was able to create more off-the-dribble, and that carried over to this year. I was allowed to do a lot of different things on the court and was contributing in a lot of ways."
Darius on how Coach Buzz Williams made him a better player:
"He made the mental part of my game better. He showed me how important that aspect was to winning, and he showed how to go about mentally preparing for games."
Darius on the strengths to his game:
"Being able to score off the dribble and open shots off of kickouts is a big strength. I can score in transition and finish at the rim. My free throw percentage has improved, but it can still get better. Also, using my athleticism on the boards, in traps, and defending fullcourt"
Darius on what parts of his game he still wants to improve:
"I want to improve my point guard skills. I was comfortable playing point, but my role at Marquette was different. I am getting ready to show what I can do in workouts."
Darius on how he sees his role at the next level:
"I can be someone who brings energy to the team when I come in the game and be a distraction on defense. I can play either guard position and I'll use my athleticism and strength and play as hard as I can."
Darius on training in preparation for the NBA Draft:
"I have spending a lot of time in the gym working on the pick-and-roll and on my ballhandling skills."

Darius on continuing the recent tradition of Marquette players in the NBA:
"I think my game is definitely a continuation of the Marquette players (Wes Matthews, Lazard Hayward, Jimmy Butler) who have made it to the NBA recently. The reputation is definitely earned. Players from Marquette are hard-working, tough, and will do anything that is needed to help their team win."
Darius on what he wants teams and fans to know about him:
"I am going to be a tough player. I will always be working at getting better, whether in practice, in games, or spending time in the film room. I am going to leave my heart on the court every day."
I want to thank Darius for his time and I wish him the best of luck as he looks to fulfill his dream of getting to the NBA. Thank you also to his agent, Lance Young at Octagon for setting up this interview. If we have learned anything in recent history, it's that when it comes to Draft time, Marquette players will be in demand.
Make sure to check back for more interviews all month. Follow me on Twitter @NBADraftBlog or email any comments – [email protected]
Photo Credit: Armstrong/Daily News