As we head towards the 2012 NBA Draft, it is time to give some looks at players who are not locks to be drafted, but may have the skills and intangibles which could translate to a NBA career. The Case For….takes a look at these players and tries to give a brief outline of what skills they have, what they are missing, and what steps would eventually lead them to the to the NBA. This edition looks at one of college basketball's most unsung players this season, Missouri's Kim English. Whether it was providing shooting that stretched the floor for his teammates to attack the basket, or taking on any defensive assignment Coach Frank Haith asked of him, including significant time playing at the 4 spot, English always did what was needed for his team to win. There are still some areas of his game which are not NBA-ready, but is the rest of his game worth a roster spot in the NBA? Here is The Case For…Kim English.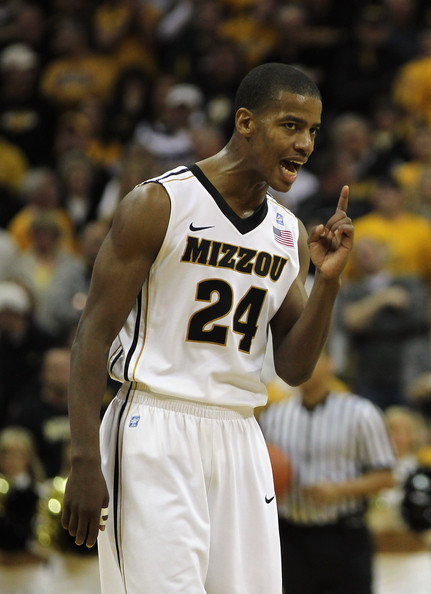 Kim English, Missouri, Senior, 6'6, 200
14.5 ppg, 4.2 rpg, 1.6 apg, 52.1 FG%, 72.5 FT%, 45.9 3FG%
The Good – English is a very good perimeter shooter, able to hit consistently spotting-up and a little less consistently off the bounce. He has very good form and very good-range. He uses ball-fakes and jab steps well to create an opening for his shot. He moves well without the ball, and is quick to recognize openings in the defense to exploit. He finishes well around the rim and does not shy from contact. Defensively, he is outstanding; able to guard multiple positions and willing to take any matchup. He has very good lateral movement on the perimeter, keeps his hands and feet active, and does a good job positioning himself and forcing offensive players away from the lane. Off-the-ball, he is just as good, seeing the whole court well and constantly directing his teammates. In transition, he runs the floor very well, filling the lanes on offense and getting back and challenging the break on defense. His overall basketball IQ and fundamental play is as good as any player I have seen this season.
The Bad – The main knock against his offensive game and something I believe has kept him out of some people's minds when it comes to the draft is his inability or hesitation in looking to create his own shot. He has a decent first step, but doesn't use it enough to look to get in the lane. While he is the ultimate team player, he can be too unselfish at times, looking to make the extra pass when he has a perfectly good opportunity of his own. For a very good shooter, he could become more consistent from the free-throw line, though there is nothing I notice wrong with his form or shot. Defensively, there is very little to say negative other than I would like to see him play more physical regardless of who he is guarding. He showed that he can battle with much larger players during the season when needed, and I think he would benefit by being as tough when guarding wings.
The Verdict – I have heard a lot of arguments why English won't be drafted, but I don't buy most of them. Analysts and scouts love to throw the word "tweener" around, but it is not only inaccurate, it is lazy analysis. If you can play the game well and have something valuable to contribute, good coaches at high levels will find a way to utilize you. That being said, I have a hard time believing that 30 teams could not find a use for English on their team. He is an excellent defender, can knock down the open shot, and he is a leader. The best teams at all levels have a player like this on their team. I'm not saying he will be a star or even anything more than a role player, but the combination of his skill and his intangibles greatly outweigh the negatives I discussed above. I think once teams bring him in to work out, they will come to realize this as well. I have no problem saying that I think English will be picked in the later 2nd round (48-56).
Leave your comments below, email me any comments or suggestions at [email protected], and remember to follow me on Twitter – @NBADraftBlog.