Coming back from an injury is hard for a lot of players. Coming back from an injury and being better than you were before you got hurt is not very common. However, New Mexico State's star forward Wendell McKines did just that. One of the nation's best rebounders before he had to redshirt his senior year due to a foot injury, McKines came back as the same great rebounder, but with the added kick of being an explosive scorer. McKines finished his college career averaging a double-double (18.7 ppg, 10.7 rpg) and helping launch New Mexico State into the NCAA Tournament. Known around the sport as one of the most outspoken, personable guys to be around, I got the chance to talk to McKines about the development of his game, his reputation, and the use of social media by college athletes (make sure to look up #TeamWensday on twitter some time) as he gets ready to show his game to NBA teams in the next month: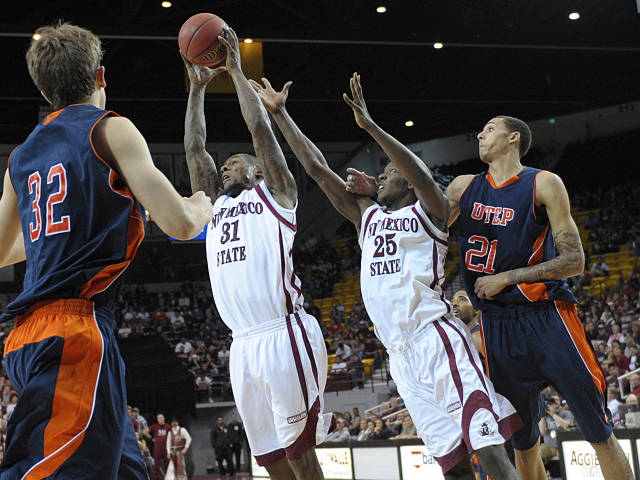 Wendell on how his game developed at New Mexico State:
"I think the thing that developed most was my feel for the game, the mental aspect of it. I became a student of the game – learning angles, watching film, knowing the opposition."
Wendell on redshirting in 2010-11 due to foot injury:
"It really benefitted me in a lot of ways. It gave me a long time to think and to understand what I needed to do when I got back. I was known as a very good rebounder, but I put a lot of work during that time into doing much more."
Wendell on the strengths to his game:
"Rebounding is the biggest. I bring a lot of toughness and energy to the court when I am on it."
Wendell on what parts of his game he still wants to improve:
"Consistency, especially in my jumper, is the biggest. Being more comfortable with the ball when I make moves to the basket and improving my lateral quickness are other keys areas."
Wendell on his experience playing in the Portsmouth Invitational:
"I enjoyed it a lot. I went down there, played very well. I got to play with a lot of great players and a lot of guys from high major schools. I like to compete, and Portsmouth gave me a chance to show what I can do at the next level if given a chance. As I played, I gained even more confidence and I think I stood out. Initially I wanted to go and show off my jumper, but as we played, I went and did all of the things I am best at, showing my rebounding skills and my motor."
Wendell on how he sees his role at the next level:
"Initially, I just want to go in and work hard and do whatever is asked of me. I think I can go and be a good defender, hit the open shot if I need to, and do a lot of the little things the team needs to win games."
Wendell on training in preparation for the NBA Draft:
"I will be graduating this weekend, and then I will head right into training. I will be focusing on making moves off the dribble and working on tightening up any other weaknesses."

Wendell on his reputation of being "outspoken":
"It is just who I am naturally. I like to speak my mind and it may ruffle some feathers, but at the end of it all, I am just being myself."
Wendell on the use of social media by student-athletes & the origins of #TeamWensday:
"You just need to remember that it is supposed to be fun. If you have a good personality and a good sense of humor, there is no harm in sharing that with as many people as you can, just keep it clean. #Wensday and #TeamWensday is just my way of telling people to make the day their own."

Wendell on what he wants teams and fans to know about him:
"Don't always judge a book by its cover. You may see me and my height and all the tattoos and think you know about me, but go a few pages in and you will see I have the heart of a champion. I am like the rose that grew out from concrete. Wherever I go, I will be a true professional, I just need the opportunity. Once I get a foot in the door, there will be no stopping me."
I want to thank Wendell for his time and I wish him the best of luck as he looks to fulfill his dream of getting to the NBA. Thank you also to his agent, Calvin Andrews at BDA Sports for the chance to talk to Wendell. If you haven't seen Wendell play yet, make sure you do. There is a good chance you will want to be part of Team Wensday.
Photo credit: Tim Barnett-Queen