The Ohio Valley Conference had an almost unprecedented year in terms of publicity, fueled by Murray State's quest for a perfect regular season. With the national spotlight on the Racers, other players in the OVC had an opportunity to show just how much talent the conference had to offer. One of the best of that group was Tennessee Tech's senior star, Kevin Murphy. Murphy has quietly established himself as one of the top scorers in the nation, including averaging over 20 points a game this season, including shooting over 40% from behind the three-point line. With great size at the guard position and the ability to score in a variety of ways, Murphy has a game which could easily fit into many NBA teams' offenses. I had the chance to speak to Murphy recently about his development as a player, the rise of the OVC, the Portsmouth Invitational, and much more: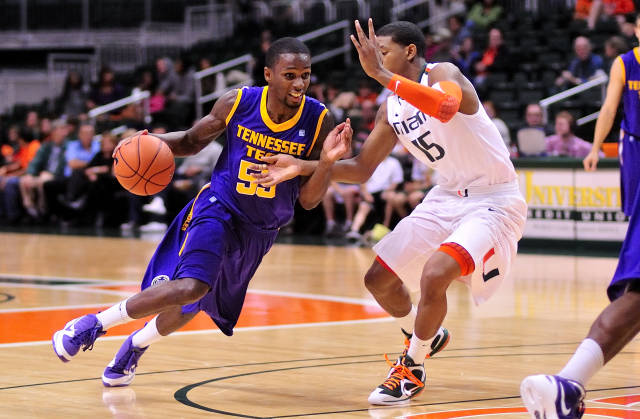 Kevin on how his game developed at Tennessee Tech:
"Every year, I made sure to improve different parts of my games, whether it was my shooting percentage, my defense, or anything else. Little by little, I did what I needed to become a better player overall."
Kevin on the strengths to his game:
"Definitely scoring, being able to shoot the ball consistently, especially from mid-range."

Kevin on what parts of his game he still wants to improve:
"I want to make sure I get bigger and stronger, more athletic. I am also working on becoming a much better defender."
Kevin on his experience playing in the Portsmouth Invitational:
"It was a great experience, getting to be recognized and play with the best seniors in the country. Coming from a smaller school, I want to go in and prove that I belonged to be with the guys from the major conferences. I enjoyed getting to show all the NBA scouts and teams what I am capable of."

Kevin on playing in the Ohio Valley Conference:
"Playing at Tennessee Tech, I was always working my hardest, making sure I could get people to look past that I played for a smaller school. The season and publicity that Murray State had this year was definitely beneficial to all of the teams and players. It gave everyone the chance to see how many good players were in the conference. The OVC is starting to put good players into the league now. Lester Hudson came from Tennessee-Martin and Kenneth Faried from Morehead State went in the first round last year."
Kevin on how he sees his role at the next level:
"Starting off, I just want to be able to bring energy to the team, score when I can, and fill whatever role the team needs me to do."
Kevin on training in preparation for the NBA Draft:
"I will be graduating this weekend, and then Monday I will be heading to IMG for a couple of weeks getting my body and game ready for workouts."

Kevin on what he wants teams and fans to know about him:
"I am a good person, outgoing, fun to be around, but I am also a competitor. I am a hardworking guy and just want to let my game speak for itself"
I want to thank Kevin for his time and I wish him the best of luck as he looks to fulfill his dream of getting to the NBA. Thank you also to his agent, Lance Young at Octagon for setting up this interview. Make sure to keep an eye on Kevin, as many are already talking about him as we head to the NBA Draft.
Check back for many more interviews in the coming weeks. Follow me for updates on Twitter @NBADraftBlog or feel free to email me: [email protected]