Today's NBA Draft Blog Scouting Report looks at a senior who has shown significant improvement over the last 4 seasons, and has the makings of someone who will continue to improve – Vanderbilt senior Festus Ezeli. Ezeli still has a lot of areas where he can get better, but will what he has shown already be enough to get him into the 1st round? Let's take a look at Festus Ezeli: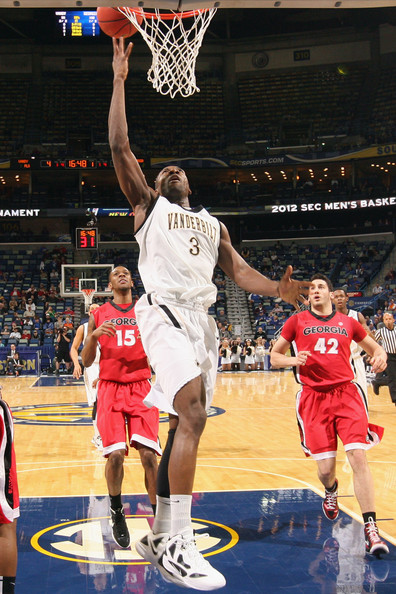 Festus Ezeli, Vanderbilt – Senior
Forward – 6'11, 255
10.1 ppg, 5.9 rpg, 2.0 bpg, 53.9% FG, 60.4% FT

Offense
Post Skills- It is still surprising to see how much Ezeli has improved in 4 seasons, and nowhere is it more obvious than in his play in the offensive post. Naturally strong, Ezeli uses his body well to establish position on the blocks. He uses his arms well to seal the defender, but he could still get a bit lower, using his lower body to create more space. His post moves are limited, relying on strength rather than finesse to get to the rim, though he has shown an improved dribble move into the lane. Ezeli can be explosive around the basket, but rarely shows it. He is much more comfortable when set up on the left block than the right, and rarely tries to finish with his left hand. He does have very good touch out to 5 feet or so, and he uses angles off the backboard very well. He has also improved his ability to flash into the lane and make an explosive move to the basket. He understands his role in the pick-and-roll and has worked to improve all areas of it. He sets solid screens, though he still has a bad habit of moving or leaning into it, picking up bad fouls. He has also improved his ability to open up quickly after the screen and make his move to the basket with his hands ready to receive the pass.
Footwork- Ezeli's footwork has also improved over his college career, but similar to his post skills, he still has room for a lot of improvement. His post moves are very deliberate and are not very fluid. He needs to add some variety to his movements to keep the defenders off-balance. He tends to rely on a dribble move into the lane and going at the basket hard. Good defenders have learned to overplay him to one side to force him further away from the basket.
Ballhandling/Hands/Penetration- Ezeli rarely handles the ball, other than in the post, but he needs to keep better control of the ball. He needs to do a better job keeping his dribble low and close to his body, while being aware of a help defender looking for a steal. He has very good hands and rarely mishandles passes. Ezeli almost never looks to make a move from the perimeter and I don't expect this to be part of his game any time soon.
Perimeter Shooting- This is one area where Ezeli will need to show marked improvement if he is going to get decent time at the NBA level. This was not part of his game, so will need to be evaluated at another time.
Rebounding/Passing- Ezeli has room to improve on the offensive glass, specifically, establishing better position when the shot goes up and honing his anticipation skills and having a better idea of where the miss will go. When he is positioned correctly, he does a good job going after the ball strong and going right back up with miss. As a passer, there is very little to say about Ezeli. He needs to have better court awareness and vision, and improve his ability to hit open teammates quickly out of the post.
Free Throw Shooting – Ezeli is a below average free throw shooter. He needs to become more consistent with his form at the line, while also refining his shot itself. Ezeli is very good at drawing contact and gets to the line a good amount of time, especially when you look at how many minutes he plays.

Defense
Post Defense- Another area where Ezeli has improved greatly is in his post defense. He positions himself well and uses his body to force the offensive player away from the rim. He does need to improve his footwork and his susceptibility to quick moves, especially drop steps. He is a good help defender, and is a threat to challenge the shot of anyone who gets into the lane. He needs to do a better job with his pick-and-roll defense. When hedging on the screen, he tends to give too much space, which allows the ballhandler to have at least a good look momentarily for a shot. However, he does this because he needs to also improve his ability to recover to the roll man. To make up for this, he gives himself that cushion, which will backfire quickly in the NBA.
Perimeter Defense- Ezeli is an average perimeter defender, and he needs to improve some major areas if he gets drawn out by a player who can play inside and out. The key is to improve his lateral movement and quickness. He positions himself well, but after a few steps, his footwork seems to slow and skilled big men can turn the corner quickly on him. He does a decent job closing on shooters, going at the shooter hard and with his arms extended.
Rebounding/Blocking- As with offensive rebounding, Ezeli has the makings of a good rebounder, but he needs to improve a bit in some keys areas. He boxes out well, goes after the ball strong, and does a good job securing the board. However, he needs to improve his positioning, especially where he finds himself out of the play. Also, better awareness and anticipation will be a great step in improving his positioning. Once he gets the rebound, he is a very good outlet passer and does a good job getting rid of the ball before he can get pressured. Ezeli has improved his shot-blocking ability in a very key area – his timing. He is very quick at getting to the shot and he gets very good extension with his arms. Now, he does a better job timing his block, and with it, picking up bad fouls.

Summary & Intangibles
Athleticism – Above Average
BB IQ – Above Average
Ezeli's improvement really has been great to watch, but there is still a feeling that he is a project at the NBA level. However, he has shown that he can be taught and he has the raw ability which can be molded into a good post player one day in the NBA, if his improvement continues. Right now though, he would still be a good option as a backup center and will give a team very good minutes off the bench, a slong as he avoids silly fouls. His best scenario would be to go to a team with a skilled veteran post player who can work with Ezeli. Look for Ezeli to go in the late 1st- early 2nd round (27-34)

Remember, leave any comments below, follow me on Twitter – @NBADraftBlog, or feel free to email me at [email protected]