As we head towards the 2012 NBA Draft, it is time to give some looks at players who are not locks to be drafted, but may have the skills and intangibles which could translate to a NBA career. The Case For….takes a look at these players and tries to give a brief outline of what skills they have, what they are missing, and what steps would eventually lead them to the to the NBA. This edition looks at one of college basketball's best stories Purdue's, Robbie Hummel. One of the NCAA's future stars before he missed the end of the 2009-2010 season, as well as all of the 2010-2011 season, after tearing his ACL twice, Hummel came back strong this season, leading Purdue in scoring, rebounding, minutes played and blocks while also making it to the Round of 32 in the NCAA Tournament. Faced with a strong Kansas team, Hummel played possibly his best game of the season against the eventual National runner-up, scoring 26 points and grabbing 9 rebounds in a 3-point loss. Tough, versatile, and skilled, will it be enough to put the knee injury stigma to rest? Here is The Case For…Robbie Hummel.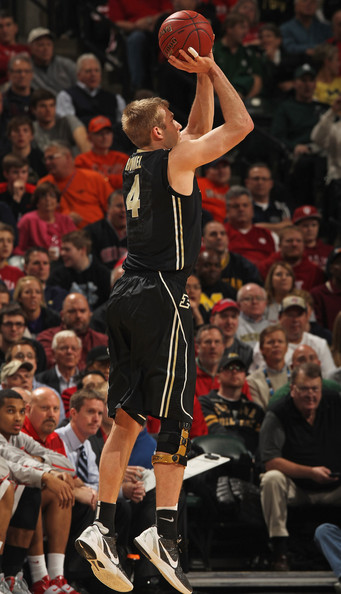 Robbie Hummel, Purdue, Senior 6'8, 215
16.4 ppg, 7.2 rpg, 1.9 apg, 41.7 FG%, 82.5 FT%, 38.3 3FG%
The Good – Hummel is very versatile on the offensive end. He knows how to work in the high and low post, as well as being a threat from the perimeter. In the post, he uses his body well to screen the defenders, has a few reliable moves to score, and also has the ability to face up and hit the short jumper or take the ball to the rim. He has good form on his jumper, has done a good job shortening his release time, and moves well without the ball, especially off of screens. Hummel is an excellent screener, and combined with his shooting ability make him a very good option on pick-and-pop plays. His shooting ability extends also to the free-throw line, where he has shown that he can hit consistently and in big situations. He is a good rebounder on both ends, fundamentally sound and going strong after the miss. He sees the floor well, doesn't make many bad passes, and can be dangerous hitting open men from any spot on the floor. Defensively, he positions himself well in both the post and the perimeter, and makes up for a lack of quickness with a good understanding of how to cut off angles. Hummel has good court awareness, allowing him to react well as a help defender.
The Bad – On the defensive end, I noted above the lack of quickness on Hummel's part. Along with that, he needs to improve his lateral movement guarding on the perimeter, especially to guard the forward positions at the next level. While he does rebound well, I would like to see him get stronger and use his body more to create space before going after the missed shot. On the offensive end, he needs to work on his ballhandling skills, which would give him the ability to get to the basket quicker, or to create space for his jumper. Regarding his jumper, he has to do a better job shooting off the dribble. Also, he needs to watch an occasional tendency to rush his perimeter shot, which makes the ball come off his hand flat and as more of a line-drive.
The Verdict – Many people are quick to dismiss Hummel as a serious NBA prospect due to the knee injuries, but he showed this year that he is still a very good basketball player who can play at a top level. The knee will be a concern to teams, but their doctors will make sure to look at it closely. Either way, besides being skilled and versatile, Hummel is tough and he is a winner. If you look at the makeup of championship teams, a good portion of their roster have one or both of these character traits. Coaches love to have these players on their team, and while they may not be the stars, they are ready to play when you need them and they will give all they have. Assuming that his knee and other physical tests check out well, I don't see how at least a few teams don't give him a serious look in the mid-to-late 2nd round. While there is a chance he will go undrafted, I would expect plenty of teams will want to give him a look at Summer League, and if that goes well, at training camp in the fall.
Leave your comments below, email me any comments or suggestions at [email protected], and remember to follow me on Twitter – @NBADraftBlog.