An original member of the Big East conference, Seton Hall has had many great players come through its campus over that time. While the years under Coach Bobby Gonzalez were not great for Pirate fans, Coach Kevin Willard came in and breathed new life into the program. One of the first things he did when taking over was giving the ball to point guard Jordan Theodore and letting him do what he does best – create scoring opportunities. Showing the ability to score from the perimeter or break down the defense and get to the rim, Theodore took it to another level by showing a great ability to get his teammates involved as well. His great play this past season was rewarded by being named to the 2nd team All-Big East team and garnering an invite to the Portsmouth Invitational Tournament, where the nation's best seniors get to play in front of a gym full of NBA executives and scouts. I had a chance to talk to Jordan recently about his rise from New Jersey High School star (Paterson Catholic) to one of the top players in the toughest conference in the NCAA, and how he is preparing to impress NBA teams before the draft in June: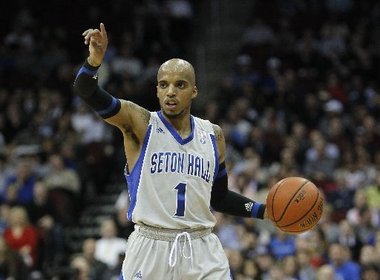 Jordan on being from New Jersey and getting to play for Seton Hall:
"I played high school ball at Paterson Catholic and the coaches there were like father figures to me. I wanted to stay home and play in front of my family and friends. I wasn't sure if Seton Hall was going to recruit me, but they did and it was a blessing to be able to play in New Jersey for them."
Jordan on how the coaching change at Seton Hall (Bobby Gonzalez to Kevin Willard) affected his game:
"My first 2 years under Coach Gonzalez wasn't that hard. I was more focused on learning how to play basketball at the college level. He only really played 6 players, so we were sort of thrown in the fire and learned that way. When Coach Willard came in, it was great for me. He gave me the basketball and just let me play, gave me the freedom to create. My role also changed, and I had to become more of a scoring point guard, which helped my game."
Jordan on how his game progressed in college:
"My outside shot definitely got better, but also I had to take on a greater leadership role. I learned what to do to make my teammates better also. "
Jordan on his experience playing in the Portsmouth Invitational:
"It was an unbelievable time, getting to play with great players, in front of all those general managers and NBA teams. The atmosphere there was great. The people in the area love the tournament and work very hard to make the players comfortable and put on a great event. Also, I loved getting to play with so many great players at such a high level."

Jordan on the strengths in his game:
"Leadership. Getting a group of guys to play together as a team. I learned how to become a general on the floor and lead the pace of the game. Being able to push the ball and finish in transition is another strong part of my game."
Jordan on parts of his game he wants to improve:
"Definitely my three-point shot, being able to hit from the NBA three-point line consistently. Larry Marshall has me training on the beach, on the court and lifting weights. We're working on getting me stronger and making sure my conditioning is as good as it can be."
Jordan on what he wants teams and fans to know about him:
"I am a humble guy, but I am hungry for this opportunity. I have been working hard my whole life for this and I am going to give it 110% every time. People may see that I am only 5'11 and 180 pounds, but I have a lot of heart and I want to show everyone that I can be a great player in the NBA."
I want to thank Jordan for his time and I wish him the best of luck as he looks to fulfill his dream of getting to the NBA. Thank you also to his agent, Jeffrey Dobin of Athlete Advocates for setting up this interview. Make sure to keep an eye on Jordan, as he will make some noise in the months leading up to the NBA Draft.