Today, the NBA Draft Blog Scouting Report looks at another North Carolina sophomore looking to make the leap to the NBA, point guard Kendall Marshall. Marshall is the best pure point guard in the draft, but is his complete game good enough to be a starting NBA guard? Let's take a look: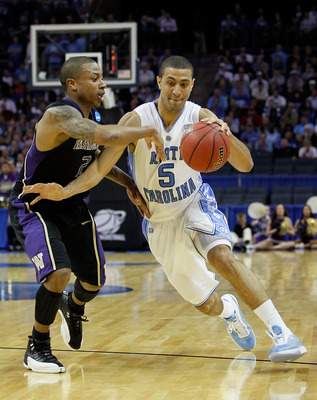 Kendall Marshall, North Carolina – Sophomore
Guard – 6'4, 195
8.1 ppg, 2.6 rpg, 9.8 apg, 3.5:1 a/t, 46.7% FG, 69.6% FT, 35.4% 3FG

Offense
Perimeter Shooting- Probably the most glaring weakness of Marshall's, his jumper has a few major areas that need to be fixed. His form is slightly off, with his feet not given proper spacing, which allows his upper body to drift while he shoots. Also, his shot comes off very flat off his fingers, leaving it with very little arc or rotation, giving it even less of a chance to get a generous bounce if off target a bit. Marshall uses his dribble well to create space for his shot, and he has improved his ability to use ball and shot fakes to get the defense off-balance. He doesn't use screens often to take a jumper, but when he does, he comes off of them tightly and gets good looks. He has a limited mid-range jumper, which could improve if he works consistently on his shot. Until he shows he can shoot from the perimeter consistently, defenders can afford to give him some space in isolation.
Ballhandling/Penetration- Marshall is an excellent ballhandler, able to use both hands very well, though he prefers his natural left, and able to use a variety of advanced dribbles to keep defenders on their heels. He does need to watch a tendency to try and make plays before he has complete control of the ball, but overall Marshall does an excellent job protecting the ball and handling pressure well. Marshall does not have a great first step and is not very explosive, but he has a variety of ways to get into the lane and breakdown the defense. He uses his dribble well to get defenders in their heels allowing him to make a quick change of direction to get by them. He also uses screens well, turning the corner quickly and getting into the lane. Once he gets into the lane he is very dangerous, able to find ways to basket for a layup, or more often, drawing help defenders and quickly finding an open teammate for an easy basket. He gets into the lane so easily that he needs to watch trying to force plays when there is nothing there. Sometimes he just needs to pull the ball out and reset he tries to make plays up until the last second, leading to him getting stuck with nothing and throwing the ball away. He needs to look more for his own shot once he is in the lane. He has very good body control and is able to weave through traffic to the basket. Around the rim, he is effective, though I would like to see him use his right hand more when on the right side of the basket instead of going to his left.
Rebounding/Passing- Marshall is not a major factor on the offensive glass, but he does have the athleticism to get rebounds on the perimeter and get reset the offensive or find an open man in the scramble quickly for a quick basket. Marshall may be the best passer in college basketball and his court vision is the best I have seen in the draft in a few years. His head is always up, and he has great anticipation of where his teammates are going to be. His passes are crisp and put in places where teammates can make a play quickly. He is very good at making post-entry passes, and he knows where exactly his big men like the ball to be. He is also very good at making long passes – either crosscourt or the length of the court, and is very accurate. There is a downside to his vision and passing ability. More than a few times he has made great looks and delivered a clean pass, but his teammates don't realize that they are open, or that Marshall could get them the ball in that position. He also needs to make sure he doesn't get in a habit of trying to force a pass, especially of penetration. He understands how to run the pick-and-roll very well and he does a good job making good passes off of the screen.
Free Throw Shooting – As with his perimeter shooting, Marshall is not a great free throw shooter. Also, because of his lack of attacking the basket looking for a shot, he takes very few free throws for his position. He will need to both improve his consistency at the line while also looking for more opportunities to get there. While his percentage overall is low, he is fairly reliable in clutch situations when fouled in close games.

Defense
Perimeter Defense- Marshall is chided for his defense, or lack of, from many people, but when watching him over and over, you see that he does a lot of things very well. On-the-ball is his biggest weakness. He positions himself well and he moves laterally well, but his foot speed is severely lacking. He also needs to improve his balance when defending, which would allow him to switch directions quicker, and not be put in a position where he is chasing his man off the dribble. He also could be more active with his hands on defense, making the offensive player have to limit his options in making a move. Off-the-ball, Marshall is much better. You can see when he was away from the ball, he is aware of what is going on all over the court, his head constantly moving and watching. He does a decent job denying passing lanes, though he needs to get better at anticipating and jumping the passes for an easy steal. He does need to do a better job getting through screens, though he does have the awareness to get over screens when he needs to on good shooters.
Rebounding- Marshall is always looking to get the offense going, so once the opponent puts a shot up, he gets around the basket quickly looking to get the ball and start the break. Physically, he isn't going to be much of a factor on the boards. He does need to box out better or at least put a body on his man, even if he is out on the perimeter and not getting beat to long rebounds.

Transition
Marshall is extremely dangerous in transition. He gets the ball up the court very quickly and sees the whole court very well. He is very good at placing passes over the top of players who leak out in transition, or taking the ball right at the defenders on the break, giving his teammates wide open looks. He could look the be more explosive once he gets near the lane and look to finish the break himself more often, but he is just as effective just as a distributor.

Summary & Intangibles
Athleticism – Above Average
BB IQ – Excellent
Marshall is going to be picked apart by many for his lack of scoring ability, but that is a poor assumption. He can score once he gets into the lane, and made teams that thought differently pay for it during this past season. However, he is going to be chosen for his passing ability and how well he runs an offense. There is nobody in this draft as good as a pure point guard, and while he certainly needs to improve his on-ball defense, he is not as bad as some would lead you to believe. He will certainly be one of the top 2 point guards picked, and based on history and assumption of team needs, this should be in the lottery. He will most likely go in the late lottery, in the 9-14 range. Whoever drafts him will have a point guard capable of stepping in from Day 1 if needed and he should be one of the top point guards in the league at some point in the future.
Remember, leave any comments below, follow me on Twitter – @NBADraftBlog, or feel free to email me at the link up top.