Today, the NBA Draft Blog Scouting Report looks at one of the most-hyped high school players in recent memory, who also enjoyed 2 solid years at North Carolina – sophomore forward Harrison Barnes. Barnes put up good numbers, but that didn't stop people who expected much more based on the recruiting experts. He has a NBA level offensive game, but is the complete package worth a lottery pick? Let's take a look: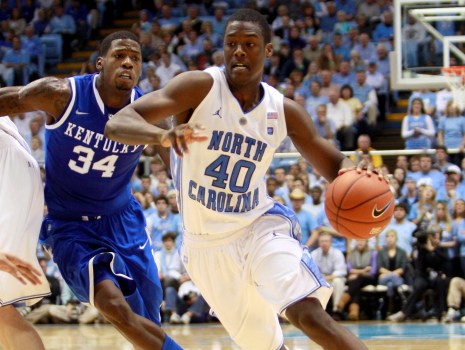 Harrison Barnes, North Carolina – Sophomore
Forward – 6'8, 215
17.0 ppg, 5.2 rpg, 43.8% FG, 72.3% FT, 35.8% 3FG
Offense
Perimeter Shooting- Barnes is a good perimeter shooter with excellent form and the ability to hit his jumper in a variety of ways. He has good range, has a high, quick release, and he does an excellent job having his body square before he shoots. He is an effective shooter of the pass or the dribble, and he does a great job using his dribble to create space for his shot. He can do a better job moving without the ball, especially coming tighter off of screens, but he is always ready to shoot when he finds an opening. He has a good mid-range jumper, though, and this goes for a lot of his shooting, he needs to be much more careful with shot selection.
Ballhandling/Penetration- Barnes is a good ballhandler with the ability to use both hands well and to mix in very smooth advanced dribbles, such as hesitation and change-of-pace, to keep the defense off-balance. He does need to watch a tendency to lose focus when he has the ball, leaving him open to be pressured by help defenders. While Barnes does not have an explosive first step, he does do a very good job using a variety of means to get into the lane. As noted earlier, he has developed a very good set of advanced dribbles to keep the defense off of him. He hits open spots in the lane very quickly and can be a threat cutting from the weak side. He needs to come tighter off of screens to shake defenders, but he does an excellent job turning the corner and using long strides to get to the basket. Once he gets into the lane, he has excellent body control, though he needs to watch forcing himself into multiple defenders. He has the ability to finish in a variety of ways at the basket, but he needs to do a better job recognizing help defenders and pulling up for a short jumper if necessary.
Rebounding/Passing- Barnes does an excellent job crashing the offensive glass, especially from the perimeter. He anticipates where misses will end up and he uses his athletic ability to get to the ball quickly, often being able to get off a good shot in the process. On the other hand, Barnes is not a great passer, often having sole focus on getting a shot off instead of seeing the whole court. When he does look to pass, he does a good job not forcing passes beyond his skill, but he does need to watch out for the occasional lazy pass. Also, with his ability to draw defenders to him when he penetrates, he needs to work on seeing the court around him and kicking the ball out to open teammates.
Free Throw Shooting – Barnes is a decent free throw shooter, but with his ability to get into the lane, he should look to do that more, trying to draw contact. His mechanics are the line are good, he just needs more repetitions to get better results.

Defense
Perimeter Defense- Barnes is an average perimeter defender. When he is on the ball, he shows decent lateral movement and positioning, though he could be more active. He also needs to do a better job getting through screens, especially recognizing when he needs to get over the screen on a shooter. Off-the-ball, he needs a lot of improvement. He often positions himself too far off his man, even when he is a known perimeter threat. He also has to have better court awareness – seeing screens, knowing when to help, putting a body on cutters around him. While he reacts quickly when closing out on shooters, because of his positioning, he is often susceptible to shot fakes, the end result being Barnes flying right by his man while he gets a clean look at the basket.
Rebounding- As good as an offensive rebounder as Barnes is, he is almost the opposite on the defensive end. Part of this may be attributed to having great rebounders like Henson and Zeller on the court with him, but when you watch him play, it looks like he almost expects them to always get it, and he makes little effort unless the ball comes right to him. He has the body and the athleticism to be a good defensive rebounder; it will just take more effort on his part.

Transition
Barnes is very good in transition, especially when streaking down one of the wings. He has the ability to take the ball off the pass and get to basket quickly, or to set up on the wing and bury open jumpers. He could work on his decision making when he is pushing the ball himself on the break, and doing a better job hitting open teammates.

Summary & Intangibles
Athleticism – High
BB IQ – High
People will often point to the hype around Barnes coming out of high school and conclude that he was a disappointment in his 2 years at North Carolina. While he definitely could improve in some areas, Barnes is the real deal as a player and his style, especially on offense, will allow him to flourish. He can create his own shot, can get to the basket fairly easily and he has excellent instincts on the offensive end. While not a big part of his game, Barnes also has the ability to exploit mismatches in the post with a variety of great moves. He certainly needs to shore up his defensive skills, especially away from the ball or on the weak side. The skill is there, it is a question of effort. Barnes is certainly worth a Top 10 pick in this draft, and I have hard time seeing him fall past 6 or 7. His scoring ability will instantly help any of these lottery teams, and it may be tough for them to pass up. I will call his probable range as 4-10, most likely among the higher picks in that group.
Remember, leave any comments below, follow me on Twitter – @NBADraftBlog, or feel free to email me at the link up top.