Today, the NBA Draft Blog Scouting Report looks at another Kentucky player, but this one is an oddity – he is a senior. Darius Miller got the chance to cap off his Wildcats career with a Championship, and while he was skilled, his experience has helped guide the flood of 1 and 2 year players the last couple of years. Miller has shown that he can do a lot of little things on the court to help his team, but does it all add up to a good NBA player? Let's take a look: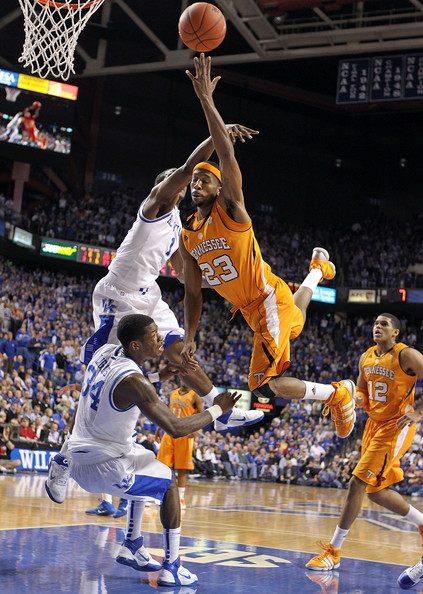 Darius Miller, Kentucky – Senior
Guard/Forward – 6'8, 235
9.9 ppg, 2.8 rpg, 2.1 apg, 47.4% FG, 79.7% FT, 37.6% 3FG
Offense
Perimeter Shooting- Miller has the makings of a good perimeter shooter. He has good form, a high, quick release and decent range. He will need to make improvements in a few key areas. First, he is an average shooter off the dribble, but he needs to do a better job getting himself square before shooting, and not drifting back or to the side. Also, he needs to become more consistent from mid and long-range. He uses screens well to get good looks at the basket and his ability to pass or shoot off the screen makes him a threat on the perimeter. He needs to improve his ability to create his own looks, especially of the dribble.
Ballhandling/Penetration- Miller is a decent ballhandler, able to use both hands well, and he has developed a decent crossover and hesitation dribble. He has control issues when pressured, but overall, makes very few mistakes with the ball. Miller has a deceptively good first step, uses ball fakes and jab steps well, and takes long strides to get into the lane quickly. He has very good body control and does a good job drawing help defenders. He needs to have more confidence in making plays once he gets into the lane, and not cut off his penetration too soon. He does a good job finding teammates if he is cut off by help defenders, but I want to see him learn to hit mid and short-range jumpers more consistently.
Rebounding/Passing- Miller has the ability and athleticism to be a factor on the offensive glass, but his offensive role left him out of position to do so. Miller has good understanding of court spacing, and sees the court very well. His size lets him see over the top from the perimeter and he has the passing touch to hit backdoors and cuts on the weakside. He takes very little risk with his passes and does a good job getting the ball to teammates where they can make a play.
Free Throw Shooting – Miller is a good free throw shooter, but the Kentucky offense left him few opportunities to get to the free throw line. If he was to look to get to the basket more, his ability to hit free throws could become an asset.

Defense
Perimeter Defense- Miller is an above-average perimeter defender. He isn't very quick, but he positions himself well, has decent lateral movement and sees the whole court. On the ball, he stays active, doesn't get over-aggressive and knows how to force his man into help defenders. He does a good job working through screens, though he needs to do a better job getting over screens on shooters, and not relying on switches too often. While he isn't very fast, he does close well on perimeter shooters – getting out with his arms extended.
Rebounding- Miller has the body and skill to be a good rebounder, but he did not get much of an opportunity to show it this season. He uses his body well to box out and goes strong after the ball to secure the miss. Once he gets the ball, he does a good job looking up court for outlet passes and avoiding backcourt pressure.

Transition
Miller's ability to hit from the perimeter and take the ball strong to the basket make him a very good choice running the wings in transition. While he isn't very explosive, he makes good choices when he has the ball and doesn't force the ball if the numbers aren't there.

Summary & Intangibles
Athleticism – Above Average
BB IQ – High
Watching Miller can be very enjoyable. He does a lot of things well, and is the embodiment of a "team player." The issue draft-wise is that there is nothing that he is great at, nothing that separates him from others in the second and third tier of wings in this draft. I do like his size, and though not mentioned in this report, but he did show a good understanding of how to post-up when he has a mismatch. If he was to make a leap in any one area – shooting, defense, getting to the basket – we may be looking at a late first round pick. As he stands now though, he falls into the early-mid 2nd round (35-45). No matter who gets him though, I wouldn't be surprised to see him get some decent playing time by the middle of next season.
Remember, leave any comments below, follow me on Twitter – @NBADraftBlog, or feel free to email me at the link up top.