Today, the NBA Draft Blog Scouting Report looks at another Kentucky underclassman looking to make the leap to the NBA after the NCAA Championship win – Kentucky sophomore guard, Doron Lamb. Lamb is known for his perimeter shooting ability, but is his complete game good enough for the NBA? Let's take a look: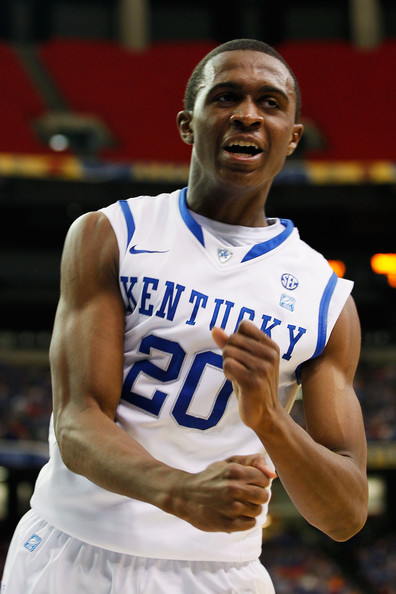 Doron Lamb, Kentucky – Sophomore
Guard – 6'4, 210
13.7 ppg, 2.7 rpg, 1.5 apg, 47.4% FG, 82.6% FT, 46.6% 3FG
Offense
Perimeter Shooting- Lamb has excellent form on his shot – a high release, uses his legs well, gets good lift and arc on the shot, and is square to the basket. One area he will need to improve is to make his release time a few fractions of a second shorter. He is an excellent spot-up shooter with deep range. He also uses screens well to get open, but he needs to do a better job coming off of screens tighter to give him space for his shot. He is not a great shooter off the dribble and he has difficulty creating his own shot, leaving him to rely on defensive breakdowns and multiple screens to get a good look.
Ballhandling/Penetration- Lamb is an above average ballhandler, able to use both hands well, and he has developed a decent crossover and hesitation dribble. He handles the ball well when pressured, and makes very few mistakes with the ball. Lamb does not have a very quick first step and needs to be more aggressive attacking the lane. He can go to either side very well, but does get better shots off going to his left. He often cuts off his penetration after a few dribbles and doesn't really do a great job drawing in help defenders. As with his jumper, Lamb relies mostly on screens to get free and find space to get to the rim. If given space, he has shown some explosiveness, but he needs to not be so deferential. When he does get to the lane, he doesn't shy away from contact and he has very good body control, allowing him to get good shots off around the basket.
Rebounding/Passing- Lamb is not a major factor on the offensive glass, but he does have the athleticism to get long rebounds on the perimeter and get a quick shot back up, so defenders will need to keep an eye on him. Lamb has shown the ability to distribute the basketball, but it is mostly limited to short passes on the perimeter. He does a good job taking very little risk with the ball and keeping the offense moving.
Free Throw Shooting – Lamb is a very good free throw shooter, but he needs to adjust his game to get to the line more and capitalize on his ability. Combined with his ability to handle the ball and pass, Lamb is a great option to have on the court at the end of close games.

Defense
Perimeter Defense- Lamb is an average perimeter defender. He has good foot speed and decent court awareness, but the areas where he has problems could be exposed more at the NBA level. When he is on the ball, he positions himself well, but his lateral movement needs a lot of work. He prefers to chase the defender instead of sliding with them, leaving him exposed to quick crossovers or hesitation moves. Also, he does not do a very good job getting through screens – either trying to fight through them or not knowing when he needs to get over a screen on a shooter. Off the ball, again he positions himself well and does a good job denying passing lanes, but he tends to be over-aggressive in looking to help on penetration or leaking out in transition when the ball hasn't been secured. He does a good job closing on shooters and has the ability to get out quickly and affect the shooting motion.
Rebounding- Lamb could be a decent rebounder, using his athleticism to get to missed shots, but he really didn't get much of a chance to show it at Kentucky. Once he grabs an offensive board, he has the ability to get out quickly on the break. One area he does need to watch is boxing out, even if he is out on the perimeter and not getting beat to long rebounds.

Transition
Lamb has the ability to both push the ball and run the wings in transition and can be a dangerous scorer either way. On the wings, he is a very good spot-up shooter, forcing transition defenders to come out on him. When he takes the ball himself, he does a good job seeing the court in front of him and making smart choices.

Summary & Intangibles
Athleticism – High
BB IQ – High
Lamb is known as a shooter, and in breaking down his game, he hasn't shown a lot of anything else. While shooters are always needed in the NBA, the ability to not be able to create his own shot and his need to get a lot better shooting off the dribble leave him behind other shooting guards in this draft, and as purely a situation role player. Part of this may be due to his role in the Kentucky offense, but if there is more, he will need to show it to teams pre-draft to maximize his draft position. Defensively, he has the makings of a decent defender, but as noted above, there are some key areas he needs to improve. Based on this, he is most likely an early to mid-second round pick (32-40) range, which could rise if he shows more to his game in workouts.

Remember, leave any comments below, follow me on Twitter – @NBADraftBlog, or feel free to email me at the link up top.