Today's NBA Draft Blog Scouting Report looks at a freshman who exceeded even the huge expectations for him this year while leading his team to the National Championship and garnering the majority of the Player of the Year awards– Kentucky's Anthony Davis. Davis showed that he can alter a game on defense alone, but what does he need to do to fulfill his massive potential in the NBA? Let's take a look: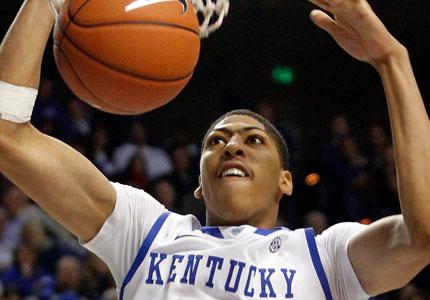 Anthony Davis, Kentucky – Freshman
Forward – 6'10, 220
14.2 ppg, 10.4 rpg, 4.6 bpg, 1.4, spg, 62.3% FG, 70.9% FT
Offense
Post Skills- Davis has most of the tools to be an excellent post player, but there are some adjustments he will need to make at the NBA level. He uses his body well to get set in the post, keeping his body low and his arms extended to shield a defender from coming over the top on him. He has good touch around the rim, and has shown the ability to finish strong when around the basket. However, he needs to get stronger. When he plays against most big men and he gets the ball in the post, he doesn't have the strength to back them down. This has led to him relying on either facing up and looking for the short jumper, or to look for fadeaways/short hooks from the baseline, which he has done a decent job incorporating into his offense. He needs to get stronger and look to be more aggressive in getting the ball to the basket. He understands his role in the pick-and-roll well and has used his athleticism to make some spectacular plays when rolling to the basket or cutting from the weak side.
Footwork- The story is well known at this point – Davis had a huge growth spurt late in high school which changed his game completely. To his credit, his footwork in the post is not awful for someone who has not played that way for too long. He has developed a decent drop step, though he has, more than a few times, drop stepped his way out of bounds or under the basket. These are the kind of things that will improve with repetition. He is more comfortable making moves over his left shoulder than his right shoulder, and you can see it in how smooth his footwork is on each side. The most important thing for Davis will be to be able to make his moves quicker, with more purpose, and towards the basket, not looking for fadeaways and baseline hooks constantly.
Ballhandling/Hands – Davis handles the ball well for his size, and does a good job using his body to shield his dribble. He is equally strong using either hand, though he needs to watch the ball when the defense attacks him on the perimeter. He has excellent hands, and there aren't many passes he can't handle. Though he has soft hands, he gets a firm grip on the ball and it is tough to get it away from him.
Perimeter Shooting- On occasion, Davis has shown the ability to step out to 10-15 feet and hit the jumper, and will throw in a few three pointers while he is at it. He has good form on his jumper and with his high release point; there could be little way to stop him from getting it off. He does need to improve his release time on his perimeter shot, but other than that, shot selection and repetition should make him enough of a threat that defenders cannot leave him open, and eventually it could become a larger part of his game.
Rebounding/Passing- Davis is a great offensive rebounder, having a combination of physical tools and instincts which put him in play on almost any miss around the basket. Even when a defender puts a body on him, he does a very good job going straight up for the ball without fouling. Once he secures the rebound, he does need to do a better job going stronger with second shots and not allow himself to be pushed further away from the basket. Davis is a good passer, but is better from the perimeter or high post than from out of the low post. His ability to see over the defense and to time his passes correctly can lead to very easy baskets on backdoors and weakside cuts. When he is doubled in the post, he does need to do a better job reacting, anticipating where an open teammate will be, and getting the ball out quickly.
Free Throw Shooting – Davis is a solid free-throw shooter, with consistent form and good confidence at the line. He needs to do a better job drawing, not shying away from, contact and getting to the line, but this should improve once he is in a pro offense.

Defense
Post Defense- Similar to his post offense, Davis has many of the tools to be a very good post defender, but he still needs to make some improvements/adjustments for the NBA level. He positions himself well behind the offensive player, keeping his body low and base solid, but he lacks the strength to keep stronger players from backing him down. To compensate, he doesn't use his body to keep defender away from the basket, but has himself ready to block the shot once it goes up. While this technique proved effective at the college level, he will not be able to rely on it at the NBA level – he will need to get stronger. He also will need to improve his footwork, which can be awkward, to be effective against quicker post players. He has shown that he understands guarding the pick and roll well, doing a good job hedging and then recovering quickly to his man.
Perimeter Defense- Davis is a decent perimeter defender. He doesn't have the speed to stay with quicker players on the outside, so he needs to give a cushion, which can be exploited by a good shooter. If he comes up too tight, he is prone to getting beat off the dribble, where he ends up chasing and hoping to make a play on the shot. While his shot blocking ability can be an equalizer, he will not be able to rely on it like he did in college. He does have good reaction time on shooters, and closes well for his size, altering more jumpers than other player I can remember.
Rebounding/Blocking- As on the offensive end, Davis has the makings of a very good rebounder at the NBA level. Everything about the way he approaches rebounding is done right – blocking out, positioning, going after the ball and securing it. Again, getting stronger is going to be a key to avoid getting pushed out of position. I don't know how much more I can add about his shot-blocking ability. He has an incredible combination of physical ability, timing and instinct to alter and block shots all over the offensive end. Even better, he is not overly-aggressive, picking his spots well and avoiding silly fouls, while also doing a great job guiding his blocks to his teammates.

Summary & Intangibles
Athleticism – High
BB IQ – High
Davis has the makings of a special player and the consensus of him being the #1 pick in this draft is more than justified. However, his game is still very raw, especially on the offensive end, and NBA fans who expect him to come him and have the same impact right away that he did in college are going to be disappointed. If given the right coaching and some time to develop physically and skill wise, Davis could be one of the NBA's best, but he is not there yet. No draft range here, he is the #1 pick for whatever team gets it.

Remember, leave any comments below, follow me on Twitter – @NBADraftBlog, or feel free to email me at the link up top.