As we head towards the 2012 NBA Draft, it is time to give some looks at players who are borderline draftees, but may have the skills which could translate to a NBA career. The Case For….takes a look at these players and tries to give a brief outline of what skills they have, what they are missing, and what steps would eventually lead them to the to the NBA. This edition looks at another in a long line of effective Georgetown big men – Henry Sims. It took until his senior year for him to show some flashes of potential, but has he shown enough to get a spot in this year's draft? Let's lay out the case for Henry Sims: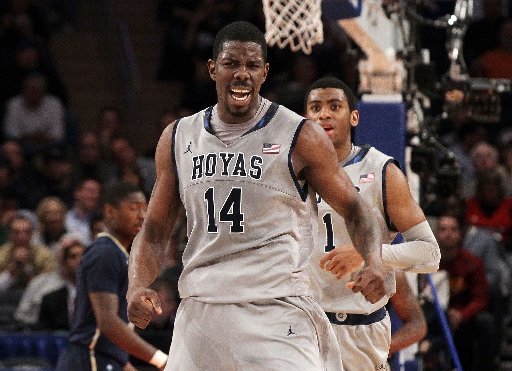 Henry Sims, Georgetown, Senior 6'10, 232
11.6 ppg, 6.0 rpg, 3.5 apg, 46.2 FG%, 70.8 FT%
The Good – After 3 years of little production, Sims got his opportunity this past season and made the most of it. Sims showed the ability to play in both the low and high posts, and in the right matchups, even work on the perimeter. He has developed an effective short hook shot and improved footwork around the basket, and can knock down the mid-range jumper if left open. As the center in the Georgetown offense, he has a good understanding of court spacing, setting screens, and passing lanes. He has good length and athleticism allowing him to rebound well on both ends of the floor, and block and alter shots on the defensive end. He moves his feet well for his size on the perimeter and he does a good job hedging on the pick and roll and being able to recover.
The Bad – While Sims showed flashes with his improved offensive game, he is very inconsistent. Part of this is due to playing in different spots on the court on offense, but he needs to work harder on his positioning and post moves to become a legitimate low post threat. He doesn't handle double-teams well, and needs to learn to get the ball out quicker in those situations. Shot selection has also been an issue for Sims, though he has improved a bit from earlier in the year. He is a very good passer out of the high post, but he still has to watch a tendency to try and force passes. Defensively, he needs to improve his lower body strength and footwork to force players away from the basket. Sims also needs to become more aggressive on the defensive end, especially going after rebounds.
The Verdict – It was great to see Sims finally breakout this season, and I wish he had one more year in college to build on this. While he isn't great at any particular skill, he is good at a lot of things, and there seems to be room for more improvement if he becomes more aggressive and he can play to his strengths as a facilitator on the offensive end. Defensively, he will also need to be more aggressive, though his ability to step out away from the basket should benefit him. Sims would certainly be worth the risk near the end of the 2nd round (50-60) and with some training camp and D League experience, could possibly be with a NBA team in a year.
Leave your comments below, email me any comments or suggestions up top, and remember to follow me on Twitter – @NBADraftBlog.