Today, the NBA Draft Blog Scouting Report looks at another Pac 12 underclass shooting guard (see Terrence Ross here) who believes they are ready to make the leap to the NBA – Oregon State junior, Jared Cunningham. Cunningham is extremely quick and makes plays on both ends of the floor, but will his game translate to the NBA, or will he need to make big adjustments? Let's take a look at Jared Cunningham: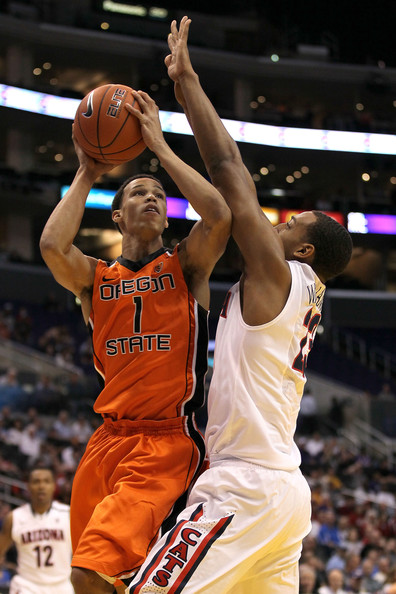 Jared Cunningham, Oregon State – Junior
Guard – 6'4, 194
17.9 ppg, 3.8 rpg, 2.8 apg, 2.5 spg, 45.0% FG, 73.7% FT, 33.8% 3FG

Offense
Perimeter Shooting- Cunningham is an above average perimeter shooter. He has good form, gets nice lift and arc on his shot and has NBA 3-point range. He moves well without the ball, and uses his dribble and ball fakes well to create space for his jumper. He is more comfortable when he can shoot off the catch – when he shoots off the dribble, he has difficulty getting square and his natural inclination is to fade away. Cunningham does a good job coming off of screens tightly and getting set to take a quick shot. He needs to do a better job looking for mid-range jumpers instead of forcing it into the lane.
Ballhandling/Penetration- Cunningham is an above average ballhandler, able to use both hands well, and uses hesitation dribbles and ball fakes well to create space for his jumper. He handles the ball well when pressured, though he needs to do a better job keeping his head up and looking for open teammates. Cunningham has a very quick first step and is very aggressive attacking the basket. He doesn't shy away from contact, and is very good at still getting shots off when being fouled. He can be a little overly-aggressive when penetrating, focusing solely on shooting, and leading to some very poor shots. He needs to do a better job of seeing the court once he draws the help defenders, learning to either kick the ball out or pulling up for a short jumper or floater. He does a good job using screens well to get into the lane.
Rebounding/Passing- Cunningham is not a major factor on the offensive glass, but he does have the speed and athleticism to rush from the perimeter and steal an offensive rebound or get a quick putback, so defenders will need to keep an eye on him. Cunningham has developed as a distributor, but he is still a long way from being able to handle the position at the NBA level.
Free Throw Shooting – Cunningham is a good free throw shooter, but there is room to improve. Cunningham was one of the tops in free throw attempts in the NCAA, which isn't surprising based on his attacking style. He takes a lot of hits during the course of the game, which may lead to his having trouble at the line late in games.

Defense
Perimeter Defense- Cunningham can be a very good defender at the NBA level, with a few adjustments. He has excellent foot speed, positions himself well and he has decent lateral movement. His biggest problem is he is often too aggressive looking for turnovers, leading him to overplay his man, and smart players make him pay for it. On the ball, he keeps his feet and hands active, and off the ball he does a very good job denying passing lanes and reacting quickly as a help defender. Again, however, his aggressiveness leads him to fall for fakes easily and end up out of position and chasing his man. He does a good job getting through screens and he is also good at knowing when he needs to go over screens against a shooter. He closes on shooters well, and uses his speed effectively to make up a lot of ground if needed.
Rebounding- Cunningham is a decent rebounder for his size, using his quickness and athleticism to get to missed shots. Once he grabs an offensive board, he has the ability to get out quickly on the break. He will need to add body strength to be an effective rebounder in the NBA, but his speed will allow him to get to long rebounds.

Transition
Cunningham, is dangerous in transition, able to be the ballhandler or running on one of the wings. He pushes the ball extremely quick up the court and can get to the rim quickly, though he needs to do a better job with his control and seeing where his teammates are on the floor. On the wings, he is a very good spot-up shooter, forcing transition defenders to come out on him, or if the defense tries to cut him off, he can take the ball to the rim.

Summary & Intangibles
Athleticism – Very High
BB IQ – High
Cunningham is an interesting case. He can get to the basket and draw fouls, which teams love, he can shoot somewhat consistently from the perimeter, and he can be a pest on defense. There are a couple of things which hold him back. At his size and with his frame, I don't know how effective he will be getting to the rim and handling getting hit often. Also, his style of defense, which gets him in trouble at the college level, could be a disaster at the NBA level. As I noted, he has made some strides a distributor, but I think if he can make the adjustment to being more of a point guard, combining that with his scoring ability could make him a great piece in a team's rotation. I think he is going to test well and should do well in pre-draft workouts, and if he can show that he is skilled enough to play some point, I can see him going near the top of the 2nd round, likely in the 35-42 range.

Remember, leave any comments below, follow me on Twitter – @NBADraftBlog, or feel free to email me at the link up top.