Today, the NBA Draft Blog Scouting Report looks at another underclassman who is thrown their name into the NBA Draft, with the intention of staying in – Washington's sophomore scorer, Terrence Ross. Ross has great scoring ability and is a fantastic perimeter shooter, but is his game ready for the NBA? Let's take a look at Terrence Ross: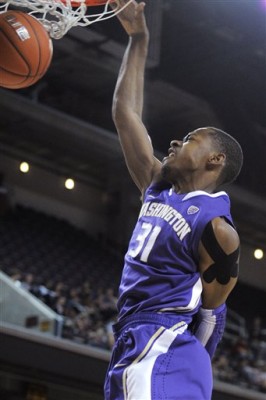 Terrence Ross, Washington – Sophomore
Guard – 6'6, 195
16.4 ppg, 6.4 rpg, 45.7% FG, 77.4% FT, 37.1% 3FG

Offense
Perimeter Shooting- Ross has all the traits of a good perimeter jumper. He has a quick, high release, gets good rotation and arc on his shot and he has very good range. He is best when he is able to get set and catch and shoot. He does a good job creating space with his dribble and shot fakes, though he needs to watch his tendency to fade away when he shoots his jumper off the dribble. Ross moves well without the ball and does a good job finding holes in the defense. He also does a good job using screens to get open, though he should come off the screens a bit tighter and ready to shoot when he is open. Ross also has the ability to hit the mid-range jumper, using his dribble and screens well to get into that area.
Ballhandling/Penetration- Ross is an above average ballhandler, able to use both hands well, though he prefers going to his right, and an array of advanced handles which he uses to create space, mainly for his jumper. He does a decent job controlling the ball when pressured, though he does tend to pick up his dribble too quickly in these situations. Ross doesn't look to penetrate often, preferring to rely on his jumper to score. He lacks a great first step, instead using his dribble, especially a good crossover, to try and break down his defender. Once he gets into the lane, he can either pull up for a mid/short jumper, or use his good body control to get to the basket. He tries to avoid contact and this often leads to bad or awkward shots .
Rebounding/Passing- Ross has the size and athleticism to be a factor on the offensive boards. However, since he spends the majority of his time on the perimeter, he isn't very involved on the offensive glass. When he is around the basket, Ross has a quick first jump, and can get to misses quickly, though his lack of strength could get him pushed around. Ross sees the floor well and understands positioning in order to create lanes. His role was to create scoring opportunities for himself, so his passing has been limited to mostly moving it around the perimeter.
Free Throw Shooting – Ross is an above average free throw shooter, but there is room to improve. His shooting form is fine, so it is a matter of concentration and repetition. Averaging less than 3 free throw attempts a game is not good, and he will need to look to get to the basket and draw contact in the NBA.

Defense
Perimeter Defense- Ross is a decent defender, especially on the ball, but he still has some major areas he needs to work on to be good at the NBA level. He has good lateral movement, and he keeps his hands and feet active to stay in front of his man, especially when he has the ball. He does need to watch his reaching for the ball and silly fouls. He needs to do a better job with his positioning off the ball. He has issues leaving too much space when he is playing off the ball, making it easy for him to lose his man. He also needs to improve his court awareness on the defensive end, allowing him to help if necessary. Ross also needs to do a better job getting through screens, especially learning how to go over screens better. Over the last 2 seasons, he almost always goes under screens, leaving shooters plenty of room to get an easy jumper off. If he does this too often in the NBA, he is going to get burned.
Rebounding- Ross is a good rebounder, boxing out well and using his quickness and athleticism to get to missed shots. He has strong hands, keeps the ball high, and clears the ball quickly. He will need to add both upper and lower body strength to be an effective rebounder in the NBA.

Transition
Ross is versatile in the open court, able to be the ballhandler or running on one of the wings. He pushes the ball quickly up the court and can get to the rim quickly, though he needs to do a better job with his control and seeing the floor ahead of him. On the wings, he is an excellent spot-up shooter, forcing transition defenders to come out on him, or if the defense tries to cut him off, he can take the ball to the rim.

Summary & Intangibles
Athleticism – Very High
BB IQ – Above Average
Ross is certainly going to be valuable to some NBA teams – his ability to stretch the court with his shooting will always be in demand. However, he needs to become more versatile to maximize his potential. He has to look to attack the basket more, not shy away from contact, and not settle for long jumpers. He is a good athlete, a decent defender and could possibly contribute fairly quickly with the right team. However, at the end of the day, he is still, right now, primarily a perimeter shooter. The ability to create his own shot does help him and he should find himself in the 1st round of the draft in June, most likely in the late 1st (20-30). If he uses the pre-draft period to show that he can attack the rim, he may go a bit higher.
Remember, leave any comments below, follow me on Twitter – @NBADraftBlog, or feel free to email me at the link up top.