Today's NBA Draft Blog Scouting Report looks at one of the most intriguing players in the NCAA this season – Iowa State's Royce White. White, who was originally supposed to play at Minnesota a few years ago, before a suspension and then transfer to Iowa State, has a strong, wide body and he has some guard-like skills with the ball. When he finally did take the court this season, he proved to be the player many were hoping to see. Will his unique game help or hinder him on draft night? Let's take a look at Royce White: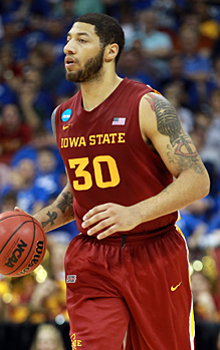 Royce White, Iowa State – Sophomore
Forward – 6'8, 270
13.4 ppg, 9.3 rpg, 5.0 apg, 53.4% FG, 49.8% FT, 1.2 spg
Offense
Post Skills- White has a great body to operate in the post – he has a wide, strong base, and at 6'8, has the strength to post up larger players. He is able to work effectively on both sides of the lane and make moves to the basket over either shoulder, though he does a much better job making scoring moves on the right block. He has a soft touch around the rim, and if he is given space, White can go strong to the basket. He has the ability to face-up and either hit the short-jumper or take his man off the dribble, though body-control can be an issue. He needs to do a better job calling for the ball and asserting himself when he gets position near the basket.
Footwork- White has good footwork and surprising agility for his size. He has an impressive array of moves, including a great baseline dropstep and strong step to the lane and short hook. His movements are very strong and decisive, which can also get him in trouble. Once he gets moving, he has a tough time stopping or adjusting. When on the perimeter, he makes quick cuts, though he could do a better job rolling or popping off of screens.
Ballhandling/Hands/Penetration- White is a good ballhandler, often bringing the ball up for the Iowa State team (though not recommended against pressure.) He uses both hands well, though he does have a tendency to overdribble when he gets the ball, especially on the perimeter. Though he isn't great handling against pressure in the backcourt, he is a great option as release in the middle. White has very strong hands, and is able to handle passes well. He does have a bad habit of holding the ball out with one hand as he makes decisions which can get him in trouble in the NBA. White has the ability to beat bigger defenders off the dribble, or outmuscle smaller defenders to the basket. He has a decent first step, but he does use ball fakes well to keep defenders off-balance. He has some control issues once he gets into the lane, though he does a decent job drawing defenders and dishing the ball out to the perimeter.
Perimeter Shooting- White is a decent perimeter shooter and has good range on open jumpers. He has solid form, though when he is out past 15 feet or so, he tends to drift to the side on his shot. He has the ability to create space for his shot against bigger defenders, and he eventually may become a pick-and-pop option as he develops a more consistent stroke.
Rebounding/Passing- White is a very good, active offensive rebounder, using his wide body to clear space and strong hands to secure the ball. He also does a good job getting shots up around the rim quickly off the rebound, though I would like to see him go up more explosively in this area. White has very good court vision, has good understanding of offenses and defenses, and can deliver quick, crisp passes. He makes a great high post option with his passing ability. While he does have great vision, he still has a tendency to try and be too cute with no-looks and such, instead of making a simple, effective pass. Also, he needs to do a better job getting rid of the ball quicker on double teams in the post.
Free Throw Shooting – White is a below average free throw shooter, but he does do a good job drawing contact around the basket. He will most likely not have the freedom he did in college, so he will need to do a better job converting free throw opportunities that he draws in the post area.

Defense
Post Defense- White is a good post defender at the college level, but he will need to improve his footwork and quickness to be able to defend the post in the NBA. He uses his lower body well to keep defenders off the blocks, and he has also become much better at fronting the post. He needs to improve his footwork against quicker offensive post players, where he is susceptible to quick drop steps. In pick and roll situations, he does a good job hedging, and he often does a good job when he ends up in a switch situation.
Perimeter Defense- White is an average perimeter defender, but he needs to improve his lateral movement to be able to guard the perimeter in the NBA. While he has good court awareness, he needs to improve his positioning, especially when he guarding a player who is active on the offensive end. He does a good job closing on shooters – but he could become much better with improved quickness and reaction time.
Rebounding/Blocking- White is a very strong defensive rebounder and will be as good in the NBA. He does a great job using his width to shield players from the basket, forcing them to try and go over him. He goes strong after the ball, securing it high with both hands. The intriguing part is how well he can grab a rebound and push it quickly himself up the court, though he still needs to work on his control. White doesn't block many shots, and he is smart enough not to overestimate his abilities and end up in foul trouble.

Summary & Intangibles
Athleticism – Above Average
BB IQ – High
After a few seasons and a transfer, we got to see what they hype about Royce White had been all along. He is remarkably skilled on the offensive end for his size, and could provide mismatch potential. However, he will still need to become a consistent mid-range shooter, and a better defender, especially on the perimeter, to get him a good amount of playing time. When it comes to the draft, he is the type of player that will not fit with many teams' styles, so his draft range can be large compared to most. Also, though his off-court incidents seem to be behind him, and his anxiety disorder is under control, they will be revisited by teams as they look at him. He is certainly a first round talent, but he can go almost anywhere in the 2nd half of the 1st round depending on the order and what they are looking for. I think he will most likely go around the 18-22 range, but again, wouldn't be surprised by higher or lower.

Remember, leave any comments below, follow me on Twitter – @NBADraftBlog, or feel free to email me at the link up top.