As the season winds down, we are now starting to hear from the underclassmen declaring for the NBA Draft. Today's NBA Draft Blog Scouting Report looks at the first major freshman to throw his name in the ring – St. John's Maurice Harkless. The Big East Freshman of the Year has had some spectacular moments this season, but also had too many "What was he thinking?" moments. He intends to sign with an agent, so going back will not be an option – is he making the right decision? Let's take a look at Maurice Harkless: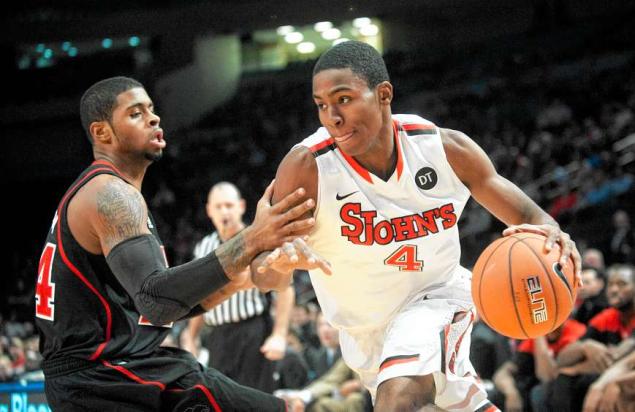 Maurice Harkless, St. John's – Freshman
Forward – 6'8, 208
15.5 ppg, 8.6 rpg, 1.5 apg, 45.1% FG, 67.6% FT, 21.5% 3FG
Offense

Perimeter Shooting- From a fundamental view, there is very little wrong with Harkless' jump shot. He uses his legs well, has a quick, high release, and gets himself square to the basket. However, when you watch him play, you notice his biggest flaw right away – shot selection. Rarely will Harkless look for the best shot, but will take the first available shot. He has great range, but too often settles for the long jumper instead of using a screen or dribble to get a better look. His length does give him a decent advantage on the perimeter, and he rarely has trouble getting his shot off. While he does a good job moving without the ball looking to get open, he needs to do a much better job coming off of screens ready to shoot the ball.
Ballhandling/Hands/Penetration- Harkless is a very good ballhandler for his size, using both hands equally well and with a variety of dribble styles. He has the ability to help bring the ball up against pressure, and his handle may be good enough to bring the ball up himself. When he gets the ball on offense, he has a tendency to overdribble, looking to make plays that just aren't there. He has good hands and handles passes well, though he needs to make sure he actually has the ball before he starts to make his move. These concentration lapses lead to too many easy turnovers. Harkless has a great first step, and his long strides allow him to get into the lane quickly. Once he gets into the lane though, he has the ability to absorb contact and finish strong. He does need to be more aware of the help defenders and to either pull up for a short jumper or get the ball to a teammate. While he has good body control, he is often too focused on getting to the basket and misses what is around him.
Post Skills/Footwork- With good size and good instincts, Harkless can make for an interesting post option at times in the NBA. He uses his body well to get position on the blocks and he has a variety of moves once he gets the ball. If he is being guarded by a smaller player, he can back them down and finish around the rim, and if he is being guarded by a larger player, he has the ability to face-up and go around them. While this wouldn't be a primary option for him at the next level, it does add some versatility to his offensive game. His footwork is quick and smooth, though he needs to again be aware of the court around him before he makes his moves.
Rebounding/Passing- Harkless is very athletic, and he uses his ability well to hit the offensive glass. If you don't get a body on him when a shot goes up, he will beat you the ball. Once he secures the rebound, he does a good job using his instincts, body and length to get a good shot up around the rim. On the other hand, passing is not one of Harkless' strong areas. He needs to do a much better job seeing the floor and not trying to force the ball. He also needs to do a much better job reacting to double teams and getting the ball quicker to the open man.
Free Throw Shooting – Harkless is a below average free throw shooter, but as with his jumper, form doesn't seem to be the issue. Part of it may be attributed to the large amount of minutes he was forced to play this season, but you can also see concentration lapses where he just takes the shot too quickly. Also, he has the ability to get to the line a lot more often than he showed this season if he would stop relying on perimeter jumpers.

Defense
Perimeter Defense- Harkless has the potential to be a good defender at the next level. He has very good lateral movement and he has the speed to guard multiple positions. However, he does have some major areas to work on. First, he has to understand positioning on the floor much better. While his athleticism may help him recover at the college level, it is not going to work in the NBA. He needs to have a better understanding of who he is guarding, what their strengths are, and to not play into them. He does do a decent job getting out on perimeter shooters, and his length can certainly disrupt shots, but he needs to be in position to close first.
Rebounding/Blocking- Harkless is a good rebounder, but he could be better. He relies on his athleticism to out jump players to the ball, but he needs to do a better job using his body to block out. He has good instincts for where misses will and, but with the speed of NBA players, using his body more will be important. Harkless has the ability to block shots, and his length and athleticism could make it tough for players to get good shots off. Again, depending on positioning, this could become a factor to his game.

Transition
Harkless can be spectacular in transition, especially when he takes the ball to the basket. He has the ability to push the ball himself or to fill the lanes, though his decision-making needs to be improved. If he is pushing the ball, look ahead for the open man; if he is filling the lane, get out in front and look to finish strong. If the defense sags, then look for the jumper.

Summary & Intangibles
Athleticism – Excellent
BB IQ – Above Average
It is a testament to Harkless' ability that he was able to have the season he did among the chaos of the St. John's season. I firmly believe that Harkless is going to be a good NBA player. Just not yet. While his athleticism and pure ability will get him on a team, the weaknesses in his game need too much work for him to be any kind of factor at the next level for a few years at least. If he is willing to accept his role next year and continue to work on his game, he will get his shot eventually, but he would be much better served returning to St. John's and having the opportunity to work it out on the court. Based on what I have seen, he should be a first round pick, but in the mid to late first round (19-30) range. Next year, he could have found himself in the lottery.

Remember, leave any comments below, follow me on Twitter – @NBADraftBlog, or feel free to email me at the link up top.