Today's NBA Draft Blog Scouting Report looks at one of the best senior leaders in the country – Michigan State's Draymond Green. The Big 10 Player of the Year can score from the post and the perimeter, and is a very good rebounder. However, his lack of athleticism can hurt. Should we expect to hear his name called on Draft night? Let's take a look at Draymond Green: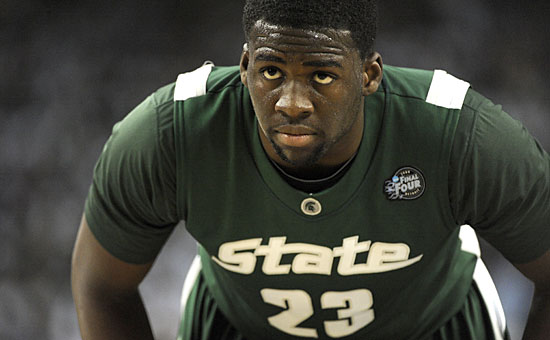 Draymond Green, Michigan State – Senior
Forward – 6'7, 230
16.2 ppg, 10.2 rpg, 3.5 apg, 45.0% FG, 72.2% FT, 40.5% 3FG

Offense
Post Skills- Green has always been comfortable playing in the post, but with his commitment to an off-season weight loss program, it was going to be interesting to see how it affected his post game. It didn't. Green still has a strong, though lighter, body, and a very solid base. He does a good job getting low on the defender and making his body as wide as possible, giving his teammates a nice target. He uses his body well to back down defenders and he has very nice tough around the rim – including the ability to score with either hand. The most impressive part of his post game can also be his biggest problem. He always goes strong with his moves to the basket. If he beats his man, it's an easy basket. However, there are plenty of times where he ends up forcing shots up when defended well. He needs to do a better job recognizing when the clean look is not there. He is a solid screen-setter, and with his improved perimeter shot, he has become a decent pick-and-pop option.
Footwork- Green's weight loss has led to some better footwork in the post area, but he still needs to make some improvements. While he has added a decent drop-step move, his basic post game is back the guy down until he gets as close as possible and put it up. That could work against a lot of the NCAA, but he isn't big enough to do that in the NBA. With his added quickness, he needs to learn some quick hitter moves when he gets the ball deep – improve the drop step over both shoulders and add a quality face-up move.
Ballhandling/Hands/Penetration- Green is a decent ballhandler, able to use both hands well, but he has some major areas he needs to work on. In the post, he needs to do a better job keeping the ball close to his body to avoid a quick steal. On the perimeter, he does a good job not getting to careless with the ball. He has good, strong hands, allowing him to keep control of the ball and handle all kinds of passes. While Green's quickness has improved a bit, he still has trouble beating defenders into the lane. When he does get by his man, he has little body control and just forces his way towards the basket. He also needs to do a better job using screens to get a step by his man and clear some space to get to the rim.
Perimeter Shooting- This is the area where Green has made the most improvement over his 4 year college career. He has expanded his range out to the 3-point line, and has tightened up his form well (uses legs well, good lift and arc, high release point). He does need to lower his release time, as NBA level defenders will get to him quicker on the perimeter. Shot selection is also an area he needs to improve. He takes too many shots with a hand in his face. He should use his dribble more to try and create space to get a better look. He also needs to do a better job coming off screens in position to either take a quick jumper or go to the basket.
Rebounding/Passing- Green is a very good offensive rebounder, using his wide body to clear space and strong hands to secure the ball. As with the other offensive areas, he needs to be more selective in the shots he puts up after grabbing the offensive board. He has a tendency to force up touch shots when he doesn't need to. Green has good instincts for passing whether in the post or on the perimeter, though he needs to do a better job getting rid of the ball in the post on double teams.
Free Throw Shooting – Green is an average free throw shooter, but he does do a good job drawing contact around the basket. However, since he has shifted his game to a more perimeter based game, he doesn't get to the line as often as he can.

Defense
Post Defense- Green is a very good post defender at the college level, but he will need to improve his footwork to be able to defend the post in the NBA. He uses his body well to keep defenders away from the basket, but his lack of speed or leaping ability make this is only real option. He is very good at knowing his opponent's strengths and working hard to deny these. In pick and roll situations, he does a good job hedging, but he needs to do a better job switching or recovering to his man.
Perimeter Defense- Green is an average perimeter defender, but he needs to make some strong improvements to be able to guard NBA forwards. Most important, he needs to improve his lateral movement and quickness. He positions himself well, and has very good court awareness. He does a very good job closing on shooters – he gets to his man as quickly as he can with his arms extended to alter the look.
Rebounding/Blocking- Green is a very good defensive rebounder and he should be able to be as good in the NBA. He does a great job putting a body on people, makes himself wide and goes strong after the ball, securing it high with both hands. He knows where to find his outlet man, and is a decent enough ballhandler to push the ball himself if needed. Green isn't much of a shot-blocker, but he does pick his moments if he knows he has a good chance at getting to the shot.

Summary & Intangibles
Athleticism – Average
BB IQ – High
Green was made the Big 10 Player of the Year for a reason. He isn't that athletic and his skills aren't great, but he is a leader and a winner. That's not to say he isn't a good basketball player – he is good. His ability to play inside and out makes him valuable and he is capable of being a good rebounder at any level. However, his lack of athleticism may hurt him, especially on the defensive end, in the NBA. Add to that his inability to create his own shot, and we start looking at Green somewhere in the 2nd round, probably in the mid-to-late 2nd (45-55). His versatility, work ethic and attitude should earn him a chance, whether in the draft or in the pre-season.

Remember, leave any comments below, follow me on Twitter – @NBADraftBlog, or feel free to email me at the link up top.