Today's NBA Draft Blog Scouting Report looks at a senior who has turned himself into a threat from all parts of the court, and is one of the best rebounders in the country – North Carolina's Tyler Zeller. A seven-footer who is a great rebounder and runs the floor as well as anyone, Zeller certainly has a bright future in the NBA. Will all of this make him a lottery pick? Let's take a look at Tyler Zeller: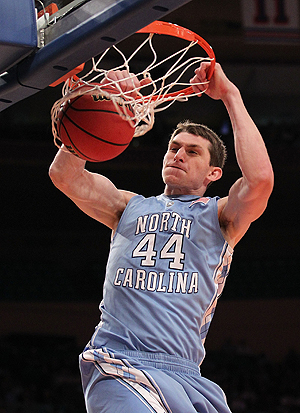 Tyler Zeller, North Carolina – Senior
Forward – 7'0, 250
15.7 ppg, 9.3 rpg, 54.5% FG, 79.2% FT
Offense
Post Skills- Zeller has shown marked improvement as an offensive post player over his college career, but he still has some work to do to be effective at the NBA level. He does a good job setting a wide base and giving a good target to get him the ball. He has average footwork, and handles his dribble well once he has the ball. I would like to see him add some moves to his repertoire, where he has become overly reliant on a hook shot from the lane. While he has added some bulk over the seasons, he still needs to get stronger with his lower body – unless he gets the ball in deep, defenders have an easy down forcing him away from the basket. I also would like to see him improve his face-up game, allowing him to hit the shot jumper or take players off the dribble.
Footwork- Zeller's footwork has also improved over his college career, but similar to his post skills, he still has room for a lot of improvement. He has the ability the set up on either block and make his move over either shoulder, and, for the most part, his moves are pretty fluid. What he really needs to work on varying his footwork – using more dropsteps and up-and-under moves. Right now he tends to rely on a couple of dribbles towards the lane and a short hook. Good defenders have caught onto it and force him to take these shots from much further than he should have to.
Ballhandling/Hands/Penetration- Zeller handles the ball well for a seven-footer, both in the post and on the perimeter. He is skilled with both hands, but he needs to do a better job keeping his dribble lower and closer to his body. He has good hands and rarely mishandles passes. While Zeller, rarely works from the outside-in, he has on occasion shown to use his dribble and long strides to get past his man, though this is not a very strong part of his game.
Perimeter Shooting- Zeller has shown that he could hit 10-15 jumper, though he needs to become more consistent, especially with his possible role at the next level. He has good form, has a high release, but he needs to stop hesitating before he takes the shot. I appreciate that he is looking for other options, but he can hit the jumper. Being able to show this consistently will also allow him to use shot fakes better, and to become a legitimate option as a pick and pop player.
Rebounding/Passing- Zeller is a fantastic offensive rebounder, combining great length to get to balls quickly with excellent instincts to know how missed shots will come off the rim. He also does a very good job keeping balls alive that he know he may not be able to get to right away. If he was stronger, he may be able to also get strong 2nd shots up instead of forcing it back up. Zeller needs to become a much better passer in the post – reacting to double teams quicker, keeping the ball high, and knowing instinctively where cutters or open men will be.
Free Throw Shooting – Zeller is a very good free throw shooter – near 80% for the season – while also doing a very good job drawing contact to get to the line often.
Defense
Post Defense- Zeller is a very good post defender at the college level, but he will need to improve his strength and footwork to be really effective in the NBA. While he holds his position well on the blocks, he to have a stronger lower body. He uses his upper body to lean on the offensive player, and that can leave him off-balance against players with good footwork. Zeller's footwork isn't bad, but it isn't very quick. Because of this, he needs to do a better job anticipating the offensive player's moves. Also, because of this, he has become susceptible to players who face-up well out of the post, allowing them to get off a quick jumper before Zeller can react. In pick and roll situations, he does a good job hedging and recovering, but needs to be more aware of switches will leave him in a mismatch.
Perimeter Defense- Zeller is average as a perimeter defender, but he still has a long way to go to be good at the NBA level. The key is to improve his lateral movement and quickness. He positions himself well, and has very good court awareness. He does a decent job closing on shooters, but just doesn't have the speed to always get to the man quick enough to affect the shot. However, he does go at the shooter hard and usually with his arms extended.
Rebounding/Blocking- Zeller is one of the best rebounders in the country. His fundamentals are solid – blocking out, positioning, going after the ball fully extended and securing it. Zeller is a solid shot-blocker with good timing and the ability to avoid fouling while going after the shot.

Transition
This is the area where Zeller separates himself from other big men in the country. He runs the floor incredibly well for a seven-footer, and has the body control to take the ball strong to the basket. He can either get out in front of players on the break, or can find the space to get a good path to the rim as a trailer. I would like to see him work on the mid-range jumper, which just make him even more dangerous on the break.

Summary & Intangibles
Athleticism – High
BB IQ – High
While many people thought Zeller would be a good college player, especially for a seven-footer, but the total development of his game has been great to watch. As noted above, there are still a lot of areas – footwork, strength, perimeter shot – which need to improve, but the skills and athleticism he brings will give him the ability to play in the NBA almost right away. There aren't many teams who will pass on a big man who is so active on the glass, has good touch around the rim, and can run in transition with the rest of his team. He is a solid lock for the 1st round. I like him in the late-lottery (10-14), though if he can show that he can hit the mid-range jumper during workouts, he may climb a little higher.
Remember, leave any comments below, follow me on Twitter – @NBADraftBlog, or feel free to email me at the link up top.