Today, the NBA Draft Blog Scouting Report heads to the MAAC to look at one of the leading passers in the country – Iona's Scott Machado. Machado has done a lot the last few seasons to thrust himself and the Gaels onto the national scene, and enough NBA front-office employees have taken notice. Has he done enough to get picked this June? Let's take a look at Scott Machado: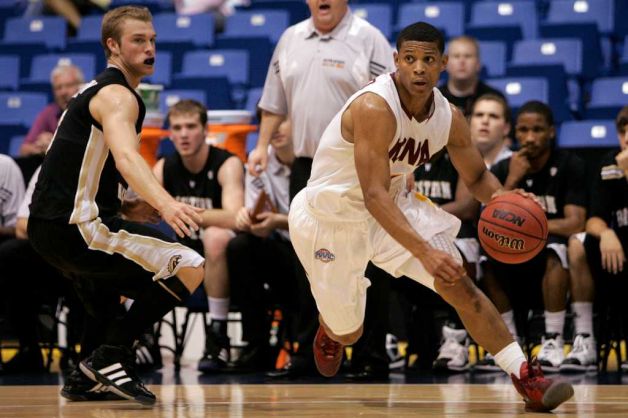 Scott Machado, Iona – Senior
Guard – 6'1, 180
13.3 ppg, 10.1 apg, 47.9% FG, 82.5% FT, 40.5% 3FG

Offense
Perimeter Shooting- Machado has become a much improved perimeter shooter over the last 4 seasons. When he spots up, he has good form – gets his feet set, he is square to the basket, good lift from his legs and a nice arc and rotation on his shot. He has increased his range, and can hit from 17 feet out when he gets a good look. However, he is nowhere near as good when he takes his jumper off the dribble. He needs to learn to slow himself down just a bit when he takes his jumper off the dribble. He doesn't get set and tends to drift in different directions while shooting. He does a good job though using his dribble and screens to create space to take his shot.
Ballhandling/Hands/Penetration- Machado is an excellent ballhandler and handles himself well under pressure. He is very quick, uses both hands very well and can vary his dribble to keep defenders off-balance. He has very good hands and can control the ball very easily. Machado has a very quick first step, and can get into the lane very easily. He has very good body control, and he is good at finding ways to get around help defenders. He needs to improve how he uses screens to get into the lane, and he needs to learn that full speed isn't always the best way to attack the basket. Because of his speed, he often ends up getting himself stuck at bad angles or without anywhere to dump the ball off if needed.
Rebounding/Passing- Machado is so quick that he can get to missed shots, especially his own, before the defense can. However, since he is spending more time on the perimeter with his offense, he isn't very involved on the offensive glass, but he does a good job getting to long rebounds quickly. Machado sees the court very well and he knows exactly where his teammates should be at any given time. Sometimes he sees things on offense that you wouldn't consider an option. He can get a little risky with his passes, and he is susceptible to very bad unforced turnovers. One major area he needs to improve is his passing in pick and roll situations – he needs to learn to give plays time to develop and to let his screener find the space to either roll to the basket or pop out for a jumper.
Free Throw Shooting – Machado is an excellent free throw shooter. He is in very good shape, and has the ability to hit free throws even when he has played almost the whole game. However, since the development of his perimeter jumper, as well as much more transition based offense, he doesn't get to the line as much as he had in recent years. When a game is on the line, he is very confident to step up and take big shots when needed.

Defense
Perimeter Defense- This is one of Machado's biggest problem areas. He positions himself well, and he has quick hands and feet, but he doesn't have good defensive technique. He needs to stay lower in front of his man and his lateral movement needs to improve. He has a tendency to try and reach for a quick steal which leaves him off-balance and susceptible to a quick step on the perimeter. He also needs to do a better job guarding against pick and roll situations. He has to do a better job getting through screens, and knowing whether he needs to switch, go over or go under depending on the matchup. Machado does a good job of closing on shooters, and has the speed to get out on them even when out of position. He has become very good as a double team defender in the post, and his quick hands allow him to get some easy steals.
Rebounding- Machado is a very good rebounder for his size, using his speed to get to missed shots before other players can get moving. He is very tough and has no problem mixing it up with much larger players. Once he gets a rebound, he can start the fast break before the other team knows what is happening, and this leads to many easy points for the Gaels.

Transition
Machado is at his best when in the open court. He pushes the ball up the court extremely quick, keeps his head up and sees the floor very well. When he gets moving, there are very few defenders who can get back against him. Machado does have to watch his tendency to get moving too quick, where he starts to lose control. He also has the ability to run the wings and hit wither a spot up jumper or take the ball strong to the basket.

Summary & Intangibles
Athleticism – Very High
BB IQ – High
There is no denying Machado's ability to score and pass in the open floor, but his lack of progression of running a half-court offense will hurt his ability to transition to the next level. Also, he will need to do a much better job as a perimeter defender if he wants to see the court at the NBA level. However, there is a lot of talent here, and if given time to watch and learn, I don't doubt that he could be a back-up point guard in the NBA. There could be a huge lack of depth at the point guard position in this draft, but it is still tough to pinpoint a range for Machado's stock. He could go anywhere from the mid-2nd round (45-50) range or he could easily go undrafted. This is a player who will need to show a lot more of his abilities come pre-draft workouts.
Remember, leave any comments below, follow me on Twitter – @NBADraftBlog, or feel free to email me at the link up top.