Today's prospect watch looks at two big man matchups in the Big East and the Big 12. Fab Melo and Gorgui Dieng will go at it in Louisville, while Royce White will have a chance to go head to head with top prospect Perry Jones. All 4 of these players are future NBA players, so a lot may be told by how they do against each other.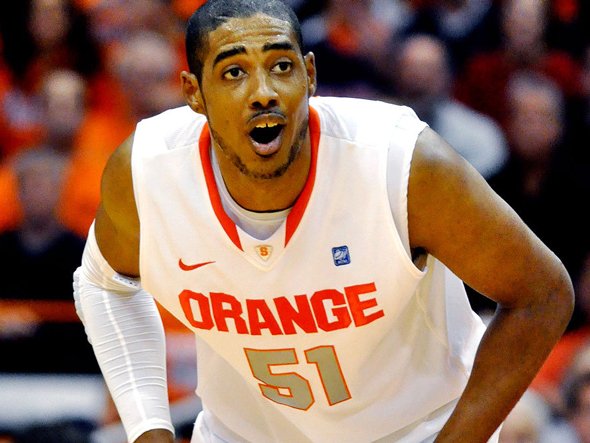 Syracuse at Louisville
Fab Melo has come back from his three game suspension to give Syracuse a much-needed low-post presence on both sides of the court. While the numbers are not staggering (7.7 ppg, 5.5 rpg), Melo has become a solid defender in the middle of the Syracuse zone, and when he does get his hands on the ball on the offensive end, he knows how to finish strong.
What to watch tonight? Syracuse has had their rebound woes on the defensive end, and with one of the best offensive rebounders in the Big East in Gorgui Dieng on the floor tonight, Melo will need to use his size advantage to keep Dieng off the glass. On the offensive end, look for Syracuse to go to Melo early to try and get Dieng into foul trouble.
Gorgui Dieng has made great strides in his sophomore season, averaging almost a double-double for the Cardinals (10.1 ppg, 9.2 ppg). With the Louisville perimeter players shooting so many three-point shots, the length of Dieng has enabled him to become a fantastic offensive rebounder.
What to watch tonight? Dieng will have his hands full with the bigger and stronger Melo in the post. Look for Dieng to do more of what we have seen all season – hit the offensive glass and alter shots on the defensive end.
Iowa State at Baylor
Royce White waited a long time to play basketball after leaving Minnesota and transferring to Iowa State, and he is making the most of his chance. At 6'8, 270 pounds, White is one of the toughest post players in the country, even when at a height disadvantage.
What to watch tonight? Iowa State has good perimeter shooters, and this should stretch the Baylor zone enough to allow White room to operate against the Baylor bigs. If the zone collapses on him, White will need to do a better job getting the ball back out to the perimeter instead of forcing shots up in traffic.
There may be no more scrutinized player in the country than Baylor's Perry Jones III. Considered a Top 5 NBA pick since his high school days, the flashes of talent have become fewer and farther in between. Still, the talent is there, and when he plays with enthusiasm, there aren't many people in the country capable of stopping him.
What to watch tonight? Royce White will go right after Jones tonight, and if Jones doesn't go right back at him, the Baylor big man may be in for a long night. On the offensive end, Jones should have plenty of opportunities with the ball one on one in the post. If Baylor is to avoid another disheartening loss, Jones will need to convert his opportunities on the offensive end.
Make sure to check back for daily Prospect Watches for the rest of the season, plus tomorrow, a Scouting Report on Vanderbilt's Jeffrey Taylor and a Freshman First Look at Duke's Austin Rivers.