As we get closer to the NCAA Tournament, NBA Draft Blog will be taking a closer look at underclassmen whose play or potential warrants the possibility that they could declare for the draft. Sophomores and juniors will get full scouting reports now, but freshmen I will handle a bit differently right now. Without a full college season under their belt, I believe the best approach will be to break the report down into 2 broad sections – what skills and abilities they have shown so far, and what I would like to see them do in the next 6-8 weeks. Once the season is over, they will receive a full scouting report.
The first freshmen I will look at are Kentucky's Big 3 – Anthony Davis, Michael Kidd-Gilchrist and Marquis Teague (While Kyle Wiltjer may be NBA material one day, he isn't close yet.) All 3 have definite strengths which should make them successful at NBA level, but they also have various deficiencies – some major, some minor – which will need to be worked on to maximize their potential.
Anthony Davis (6'10, 220, F, 13.9 ppg, 10.1 rpg, 4.8 bpg, 66.3 FG%) has already established himself as one of the most dominant defensive forces in college basketball over the last decade. Incredibly long and agile, Davis has remarkable shot-blocking instincts. He gets full extension, does a great job avoiding contact and looks to send blocks towards his teammates. While he doesn't have a lot of experience playing in the post, he has good technique and footwork on both ends. His athleticism and body control really make him stand out, and he knows how to finish strong at the rim.
All of that alone has Davis in the running as the #1 pick of the 2012 NBA Draft if he chooses to leave school. However, there are certain key areas where he needs to improve in order to justify that kind of pick. Bulking up will need to be a priority for him. While he has good footwork for his size, he doesn't have the strength to back down larger players, and he doesn't have the short to mid-range jumper to offset that yet. The extra strength will also help him on the rebounding size, where right now he gets away a lot with just using his length to grab rebounds. At the next level, he is going to need to use his body more to clear out space around the boards. He has good instincts in the pick and roll game, but I would like to see him do a better job setting stronger screens and holding them a bit longer. Davis should, and deservedly so, be among the top 2 picks in the draft, but he still has a lot of work to do to become a game-changer at the NBA level.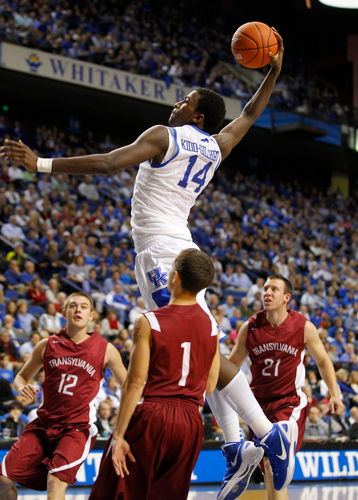 Michael Kidd-Gilchrist (6'7, 235, F, 12.6 ppg, 7.5 rpg, 47.8 FG%) has become very popular among Kentucky and non-Kentucky fans alike for his toughness and effort every game. But there is much more to his game than that. While there is no part of his game that is spectacular, he does contribute in almost every facet of the team's offense and defense. On offense, he is a decent first step, goes hard to the rim, and handles contact better than almost anyone while getting a good shot off. He is a tenacious offensive rebounder, and uses his strong body well to clear out space and put back shots. He is active on the defensive end, moves his feet well and gets good position on the perimeter or post. As on the offensive end, he is a tough rebounder, using his body well to get position and anticipating where missed shots will go.
A couple of issues stick out with Kidd-Gilchrist, the main one being a consistent mid-range jumper. He doesn't have great speed, and will not be able to get into the lane easily at the NBA level without a jump shot to keep defenders honest. While he is effective around the rim, his strength will be matched by bigger players at the next level. Along with this, he will need to improve his ballhandling skills in order to find ways to beat his man other than overpowering them. Defensively, he will need to work on improving his lateral movement as well as working through screens. Kidd-Gilchrist should also be a lottery pick if he chose to come out this season, but projections that have him in the Top 5 may be a bit far-fetched. If he can put together a consistent jump shot, he may be tough to stop a few years into his NBA career, but right now he relies on strength and effort, and at 6'7, he will be overmatched.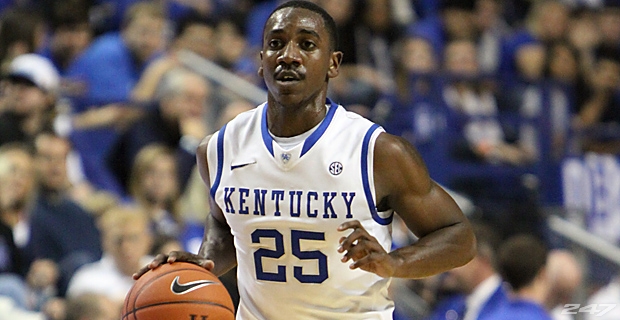 Marquis Teague (6'2, 189, PG, 9.6 ppg, 4.3 spg, 41.0 FG%) is very quick, can get into the lane easily, and finds creative ways to get shots off. He is developing as a distributor, but he is far off from being a NBA level point guard. It's not that he doesn't have the skill or athletic ability, he clearly does. It is in his mindset as a scorer. However, he is also not a consistent shooter. His game revolves around getting into the lane and trying to shoot a floater or an acrobatic layup. For as often as he gets into the defense, he doesn't look to initiate contact and doesn't go to the free throw line nearly enough for his style of game. Defensively, he does a good job with positioning and lateral movement, keeps his hands and feet active and does a decent job getting through screens. He really needs to watch his tendency to overplay looking for steals – he isn't always going to have Anthony Davis protecting him near the rim. Where he shines is in transition – pushing the ball up the court quickly, keeping his head up and making good decisions. If he was to come out this season, a team may take a flier on him in the mid to late first round, but he would be better off staying at least another year and developing the skills needed as a NBA point guard.
Remember, leave any comments below, follow me on Twitter – @NBADraftBlog, or feel free to email me at the link up top.