The SEC is looking strong almost from top to bottom, with one team – Kentucky – being a legitimate National title contender. There are qualities players at every position and every class, and some great coaching minds. Even the teams that won't compete for the conference title will not be easy games. Part 1 (Click here) covered Alabama, Arkansas, Auburn, Florida, Georgia and Kentucky. Here is the NBA Draft Blog SEC Conference Preview – Part 2 as well as season-ending predictions: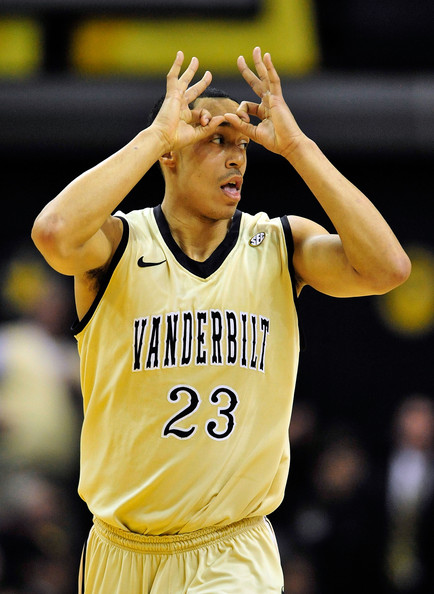 LSU
The Good: Coach Trent Johnson is coming off of back-to-back 11 win seasons, and is hoping that the players he has recruited since becoming head coach 4 years ago will start to pay off. Most of the Tigers' significant contributors are back this season and will be joined by an impact freshman. The sophomore backcourt of Ralston Turner and Andre Stringer handled the pressures of the SEC well as freshmen and should show marked improvement this season. Turner has great size on the wing and does a great job creating mid-range jumpers. Stringer is a good point guard in both half-court sets and transition, and can keep offenses honest with his long-range shooting ability. Seniors Storm Warren and Malcolm White anchor the frontcourt. Both have strong bodies and are effective around the basket. Iowa State transfer Justin Hamilton is a wide-body who has a nice touch around the rim and is fundamentally sound. Freshman Johnny O'Bryant has true back-to-the basket post skills and still has the frame to add some more strength. He also has the ability to move between the high and low posts well.
The Not-So-Good: Stats-wise, Aaron Dotson, Garrett Green and Matt Derenbecker were not significant, but their transfers do affect the amount of depth Johnson has at his disposal. Eddie Ludwig and Chris Bass are the only experienced reserves, while Jalen Courtney is coming off an injury-plagued freshman season. If healthy, Courtney should be an asset to the frontcourt, especially on the defensive end. On the offensive end, Turner and Stringer will need to do a much better job with shot selection, and Warren and White need to do a better job getting open. The wings also need do a better job helping on the boards, as the Tigers are undermanned.
The Question Mark: How patient will the school be with another losing season? Johnson has made some strides in recruiting, but transfers are keeping the program from finding solid footing. The additions of O'Bryant and Hamilton this season will important, but if the team doesn't at least inch closer to a winning record, Johnson may be in trouble.
What Will March Bring?: The non-conference schedule is average, but I think they only win 4-5 in the SEC. That is improvement though. 12-14 wins overall this season and no post-season, but I think Johnson gets one more shot after this.
Mississippi
The Good: Andy Kennedy has done a great job with the Ole Miss basketball program and this season's team may be ready to surprise some people. Team leaders Chris Warren and Zach Graham are gone, but Kennedy has a very athletic team which should be able to put a lot of points up. Senior forward Terrance Henry is long and athletic, does a good job altering and blocking shots, and is a strong rebounder. Sophomore point guard Dundrecous Nelson can score in a variety of ways, has good speed, and is improving as a distributor. Guard Nick Williams is a strong defender and rebounder on the wing, and does a lot of little things to help the team. Junior forward Reginald Buckner is a fantastic defender, blocking and altering all types of shots. He is also a strong rebounder in traffic. The X-factor for the Rebels this season may be Memphis transfer Jelan Kendrick. Kendrick is a great all-around player – can shoot, drive, rebound, pass and defend. Once he is eligible in the 2nd semester, look for the Ole Miss offense to get more explosive. Murphy Holloway is back at Ole Miss after leaving the program to transfer to South Carolina. He will provide instant help on defense and rebounding on both ends of the floor. He also has shown that he can be a strong scorer in the lane.
The Not-So-Good: The loss of Warren hurts as both a scorer and distributor. Nelson has great scoring instincts, but he doesn't have the court awareness or passing skills of Warren. Freshman Jarvis Summers could help alleviate this problem. He has great size for the point position and has very good court vision and passing skills, but his defense really needs to improve to keep him on the court. The frontcourt is thin, especially on the offensive end. Demarco Cox has the body to set up in the post and create space to get a shot off, but his effort needs to be more consistent.
The Question Mark: Are Kendrick's problems behind him? A highly-ranked recruit entering Memphis, a series of on and off-court incidents had him leave before ever playing a game. Word is that he seems to have settled down since entering Ole Miss, but, at least this season, this will be something on everyone's mind. If he has put it behind him, the Rebels have a potential superstar.
What Will March Bring?: The non-conference schedule is a nice mix of easy games and winnable games against potential NCAA schools. With the chance for some good momentum heading into the SEC schedule, Ole Miss can be a surprise to a lot of people. I think they win 19-21 games, 8-10 in the SEC this season, and they should be firmly on the bubble with a good shot at getting into the NCAA Tournament.
Mississippi State
The Good: Rick Stansbury enters his 13th season as head coach of the Bulldogs, and this year's edition may have the makings of a team that can make some noise come NCAA Tournament time. Senior point guard Dee Bost may be among the best in the country – a great combination of scorer and distributor. He is also a solid on-ball defender with a good feel for the game. Junior forward Renardo Sidney remains one of the biggest enigmas in all of college sports. Blessed with the size and skill to dominate the low-post, his effort has been inconsistent at best. If he is prepared to play this season, he will be among the best centers in the country. UTEP transfer Arnett Moultrie is a unique player, great size and athleticism, runs the floor well, and hits the offensive glass better than most. His length should also pose some match-up problems on defense. Freshman wing Rodney Hood has the potential to be a lethal scorer with his ability to step out and hit the 3 or take the ball the basket and handle contact. Guards Jalen Steele and Brian Bryant can provide valuable minutes in the backcourt, and junior center Wendell Lewis is an effective scorer around the basket.
The Not-So-Good: There is a good deal of talent in the starting lineup, but not much experience or firepower coming off the bench. The seven players listed above will play almost all of the important minutes. The loss of 3 players from last season, plus recruit DJ Gardner severely hampered the depth. The team does have good shooters, but the big men will need to be effective to enable them to get space on the perimeter. Players like Bost, Hood and Moultrie are most effective in transition, but the lack of depth may cause the team to have to slow the pace much more than it would like.
The Question Mark: 2 words – Renardo Sidney? The suspension, the fight with a teammate, the lack of conditioning, not playing with the team in Europe over the summer – all of these have contributed to Sidney becoming more of a hindrance to the Bulldogs than a contributor. This will have to be his last shot to get it right with this program. But if he does, the Bulldogs may be in for a very good year.
What Will March Bring?: Most of the non-conference schedule is winnable, and there are a few games which will answer a lot about this team (Texas A&M, West Virginia, Baylor). How they show will most likely determine where they fall in the SEC. I am thinking 19-21 wins and 8-9 in the SEC seems right, and if they pull off 2 solid non-conference wins, they should be right in the think of the hunt for a NCAA Tournament bid – probably one of the last 8 or so who get in.
South Carolina
The Good: Coach Darrin Horn is still looking for the answer since he took over the South Carolina program 4 years ago. The team is young, but there is some talent here to build a foundation. Bruce Ellington was the team's leading scorer and distributor as a freshman and should only get better – though he is pulling double-duty with the Gamecocks' football team and won't be available until after the season. Senior forward Malik Cooke is a strong defender and rebounder, and plays much bigger than his size (6'6). Junior forward Lakeem Jackson is a versatile player who can score, rebound and defend. Forward Damontre Harris is long and athletic, giving the team a good rebounder and shot-blocking presence in the middle. Freshman Anthony Gill is undersized, but is effective as a post player on both ends of the court. Defensively, he needs to get better on the perimeter, but he will improve quickly. Freshman shooting guard Damien Leonard is probably the best shooter on the team already and should be able to get good shots off with his size.
The Not-So-Good: Not having Ellington until at least January is going to hurt the team. He sets the tempo for the team well and finds ways to get into the lane and score or dish the ball off to the open man. The frontcourt is undersized and thin. Cooke and Harris do an admirable job, but if Horn can get improvement out of Carlton Geathers, it could help alleviate the pressure on the forwards. Turnovers were a problem last season, and without Ellington, it may not get better.
The Question Mark: When can we expect to see Ellington? Mid-January would seem the earliest right now, but I wonder if there is a chance that he doesn't come back to basketball, given his success on the football team. I'm not saying this is remotely possible, but it is a thought. I do expect him back after the football team plays in their bowl game, which could be in January.
What Will March Bring?: Not much. Even with Ellington all season, this team doesn't enough to compete in the SEC this season. 11-13 wins seems likely, with 3-5 in the SEC, most likely finish last in the conference.
Tennessee
The Good: New coach Cuonzo Martin has one huge task ahead as he looks to rebuild the program in the wake of the Bruce Pearl scandal. 4 starters are gone from last season, so Martin will have a chance to make changes immediately. The lone returning starter, Cameron Tatum, is a good all-around player, doing a little of bit of everything to contribute. Sophomore Trae Golden should take over the point guard spot this season. He will do a good job keeping the offense moving and setting the defensive intensity on the other end. Jordan McRae has come scoring ability and does a good job finding holes in the defense. Junior forwards Jerrone Maymon and Kenny Hall will have a shot to anchor the frontcourt. Freshman Josh Richardson is a great athlete who can defend, block shots, push the ball up court and finish.
The Not-So-Good: Obviously, the stink surrounding the program after the Pearl recruiting violates were uncovered can take years to recover from. On top of that, the Vols' two best players – Tobias Harris and Scotty Hopson – left for the pros. I could make this section very long, but there is no need for that. There is some talent here, but no top-level talent. There will be plenty of opportunities for players to prove themselves.
The Question Mark: Will martin be able to turn this program around? Time will tell, but he is a good choice to lead this effort – a young coach who can relate to his players, and he learned from some great coaches. I am guessing it will take one 4-year cycle of players, but he will get the program back near the top of the SEC.
What Will March Bring?: Not much – 9-11 wins, 2-4 of them in the SEC. But things will improve.
Vanderbilt
The Good: Coach Kevin Stallings returns 5 starters from last season's NCAA Tournament team. Pre-season All-American John Jenkins may be the best shooter in the country this season. He can hit the 3 off-the-dribble or off the spot up, has a deceptive first step past his defender, and does a good job drawing contact. He is joined on the wing by senior Jeffrey Taylor, a streaky shooter who has added muscle allowing him to draw contact and finish. Big man Festus Ezeli has improved over 4 years more than almost any player in college. He has developed his body and his game into that of a legitimate center. Point guard Brad Tinsley runs the offense well, is a good perimeter defender, and can score if he needs to. Forward Lance Goulborne is good rebounder, runs the floor well and can defend multiple positions. Steve Tchiengang is long and athletic, and provides good depth down low, while Kyle Fuller is a solid back-up at the point to Tinsley. Freshmen guards Dai-Jon Parker and Kedren Johnson will contribute valuable minutes immediately for Stallings.
The Not-So-Good: The team will need to navigate the first 6 games of the season without Ezeli, who was suspended for accepting improper benefits. While Tchiengang is capable of filling the role, he is no Ezeli. Jenkins has a tendency to slack off on defense, allowing teams to pick up easy points. They need to be careful of a tendency to sit around and watch Jenkins shoot the ball. The wings will also need to contribute on rebounding, taking some of the pressure off of Ezeli and Goulbourne to do it all.
The Question Mark: Will they win a NCAA Tournament game this year? 3 years, seeded #5 or higher each time, and 3 straight disappointments in the 1st round. With Ezeli and Taylor seniors, and Jenkins a possible early entry to the NBA at the end of the season, this is the Commodores best shot for at least a few years. I think they break the streak this year.
What Will March Bring?: They are playing a very good non-conference schedule, with some winnable marquis games. They should be one of the top 3 teams in the SEC – 22-24 wins, 11-12 in the SEC. Should get another high seed this season, but I think they have enough to make a run in the Tournament, at least to the Sweet 16.
Overview
Player of the Year: Terrence Jones, Kentucky
Freshman of the Year: Michael Kidd-Gilchrist, Kentucky
Defensive Player of the Year: Jeffrey Taylor, Vanderbilt
Predicted finish
Kentucky

Vanderbilt

Florida

Mississippi State

Alabama

Mississippi

Arkansas

Georgia

Auburn

LSU

South Carolina

Tennessee
That wraps up Part 2 of the SEC Preview – make sure to check back this weekend for the Big East. Leave your comments, email me at [email protected] and follow me on Twitter: @NBADraftBlog