The Big 10 has shown a lot of improvement as a whole over the last few years, but it has been a consistent mix of Ohio State, Purdue, Wisconsin and Michigan State near the top. They will all be there again, but it is clearly the Buckeyes' conference to lose. There will be plenty of other storylines to follow though – will Northwestern finally get to the NCAA Tournament? Can Michigan actually be a better team without Darius Morris? Will Indiana's rebuilding finally take the next step? Let's take a look at the Big 10: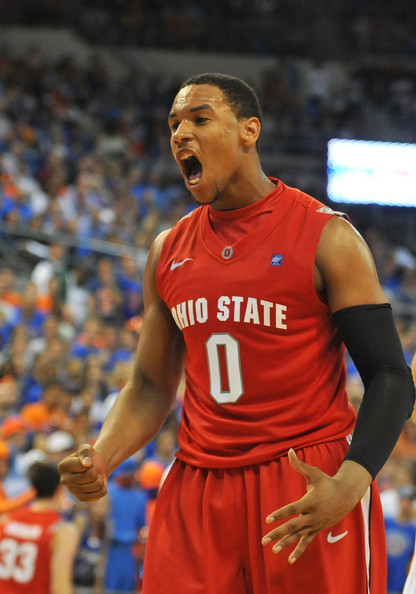 Overview
Player of the Year: Jared Sullinger, Ohio State
Freshman of the Year: Cody Zeller, Indiana
Defensive Player of the Year: Jordan Taylor, Wisconsin
Predicted finish
Ohio State

Michigan

Michigan State

Purdue

Wisconsin

Northwestern

Minnesota

Indiana

Illinois

Iowa

Nebraska

Penn State
Illinois
The Good: Even with the loss of Dmetri McCamey, the backcourt should still be in good hands with the junior duo of Brandon Paul and DJ Richardson. Both are very capable scorers and defenders, with good size and the ability to hit the long-range jumper. The frontcourt suffered biggers losses with Mike Davis, Mike Tisdale, and Bill Cole all graduating, and Jereme Richmond making the ill-advised decision to declare for the NBA Draft. They will be replaced by 7-footer Meyers Leonard, and a slew of talented freshmen – Nnanna Egwu, Mike Shaw, and Mychael Henry. Leonard still needs to add some more strength, but showed great athleticism in limited minutes last season. Egwu is raw, and also needs to bulk up, but he shows a great feel for the game and is very athletic. Shaw and Henry also show great promise and should be good role players right away. There is some decent backcourt depth in sophomore Crandall Head, Bradley transfer Sam Maniscalco and freshman Tracy Abrams.
The Not-So-Good: Two major problems standout for the Illini: First, the frontcourt, while having talent, is very young and inexperienced. They are also missing a physical presence like Davis provided. Second, the backcourt, while having scoring ability, lacks a true point guard. Both Paul and Richardson are capable, but this team is going to need them to focus on scoring.
The Question Mark: Which guard will step up as the playmaker? Both Paul and Richardson prefer shooting jumpers than attacking the basket, but one, or both, will need to become better at making the defense react. The answer may be pairing the two of them with Maniscalco, who showed at Bradley that he can run an offense efficiently and distribute the basketball.
What Will March Bring?: With a decent non-conference schedule, the Illini should be able to build up momentum heading towards 2012. However, in a tough Big 10 this season, they may not get to .500 in conference. Look for Coach Weber's squad to get 18-20 wins, but miss out on the NCAA Tournament.
Indiana
The Good: Tom Crean's rebuilding project enters its 4th season with arguably his best team yet. Junior forward Christian Watford had a breakout season last year, leading the team in scoring and rebounding. With the ability to play on the perimeter or take the ball down low, Watford's versatility on both ends of the floor gives Crean may line-up options. Joining him in the frontcourt are heralded freshman Cody Zeller, veteran power forward Tom Pritchard, and junior Derek Elston. Zeller is highly-skilled in the post and move his feet very well. It will be important for him to bulk up quickly to play the post in the Big 10. The backcourt is in very good shape with guards Verdell Jones III, Victor Oladipo, Jordan Hulls, and a healthy Maurice Creek. Jones and Oladipo are quick and do a great job getting into the lane. Hulls is the best shooter of the group, and Creek will give them quality minutes at the shooting guard spot. Add a great fundamentals coach to a talented group and the future is bright.
The Not-So-Good: If Zeller struggles or gets into foul trouble, there is no reliable back-up option in the middle. While the guards are good scorers, there is no true point guard who has emerged from the group. Defensively, the team as a whole needs to do a better job keeping opposing players out of the lane. Finally, if the team gets off to a bad start, will talk about Crean's job become a distraction?
The Question Mark: How will Zeller handle the hype? Not only is he an Indiana native playing for his storied state university, but with Tom Crean's rebuilding process still in progress, fans will probably get a bit antsy if there isn't a big leap this year. As soon as Zeller was signed, you could hear the chatter that he was the school's savior? Is he ready for all that goes along with that moniker? With a talented group around him, I think he is.
What Will March Bring?: I like this team a lot, and I think they are surely capable of 18 wins and possibly .500 in the Big 10. They should be a NCAA bubble team, and that should be enough to tide the school over until next year's Top 5 recruiting class. I still think they steal a win or two they probably shouldn't and are one of the last teams out of the Tournament.
Iowa
The Good: Coach Fran McCaffery's second season in Iowa has him returning most of his key players from last season, led by the backcourt duo of Matt Gatens and Bryce Cartwright. Gatens is always a threat in the mid and long-range game, while Cartwright showed excellent court vision and passing on his way to leading the Big 10 in assists last season. Melsahn Basabe is back to build on a terrific freshman season. Extremely athletic, Basabe is a quality defender and uses his explosiveness to get some easy baskets on the offensive end. Eric May and Roy Devyn Marble provide athleticism on the perimeter, while Zach McCabe can provide quality frontcourt minutes off the bench. Freshman Josh Oglesby should get some court time with his ability to hit the 3.
The Not-So-Good: The frontcourt is not very big and not very deep. Basabe uses his speed and leaping ability to outplay much bigger players, but he still doesn't have ideal size for a power forward. The loss of Jarryd Cole will mean Basabe and McCabe will need to contribute more on the defensive boards. Shot selection is important for the team as a whole, but it should be better in the 2nd year of McCaffery's system.
The Question Mark: Will Basabe supplant Gatens as the go-to player for the Hawkeyes? Basabe was easily the best player Iowa had during the Big 10 conference season, but consistency was an issue (5 games with more than 20 points, 8 games with 8 or less.) While I expect him to fix that a bit this season, I still think the veteran Gatens will be the guy with the ball in his hands down the stretch of tight games.
What Will March Bring?: They should definitely do better than last year's 11-win season, but the Hawkeyes are still a year away from making a dent in the upper half of the Big 10. Probably 15-16 wins this season, 6 or 7 of them coming in the Big 10.
Michigan
The Good: There is reason for excitement in Ann Arbor, even with the loss of Darius Morris to the NBA. Coach John Belien has done a great job adding talent each season, and this should be his best one yet. Tim Hardaway Jr. and Jordan Morgan both had highly successful first seasons for the Wolverines last year. Hardaway, who spent the summer with the US Under-19 team, is a consistent long-range jumper away from being one of the conference's better scorers. Add to that a high basketball IQ and solid defensive skills, Hardaway has what it takes to replace Morris. Morgan has a strong body and has started to develop some good moves in the post. He is still raw, but has great potential. The team has a pair of solid veteran leaders in Stu Douglass and Zach Novak. Sophomores Jon Horford and Evan Smotrycz will join Morgan in the frontcourt. Horford, who has bulked up considerably since getting to Michigan, has the ability to play in the low or high post, while Smotrycz is more comfortable playing on the perimeter, where is size is a big advantage. The backcourt is solidified by a pair of freshmen in Carlton Brundidge and Trey Burke, both who are excellent at creating scoring opportunities.
The Not-So-Good: Even with the remaining talent, the loss of Morris can be a big one, as the amount of attention he received from opposing defenses made it easier on everyone else. On the defensive end, Morgan and the other big men will need to do a better job forcing their man away from the basket and hitting the defensive boards.
The Question Mark: Who will replace Morris at the point? With a plethora of guards to choose from, Beilein has options here – the experience of Douglass, the dynamic freshman Burke, or does he go with Hardaway, who is much better when he has the ball in his hands. Unfortunately, I think we will see some hybrid of these players, but in a close game, the ball will be in Hardaway's hands.
What Will March Bring?: There is enough talent here to be a Top 4 Big 10 team and to make it to the Sweet 16 in the NCAA Tournament. If Hardaway and Morgan progress as they did last season, the Wolverines can definitely hit the 25 win mark.
Michigan State
The Good: Coach Tom Izzo's squad is looking to get back on track after an off-season (19 wins and a first round NCAA exit.) He will need to do it with a basically young team, save for senior leader Draymond Green. Green has been a workhorse for 3 years under Izzo, doing anything the team needed from him to win. Green has developed into a decent perimeter shooter as well as high post passer, while Roe is an excellent defender, and finds ways to get himself involved in plays on both ends of the floor. Keith Appling is the team's best shooter, but with the loss of Kalin Lucas and Korey Lucious, he may be called on to become more of a distributor. He will have help in the backcourt from Valparaiso transfer Brandon Wood. Wood is an excellent scorer, but most likely won't get as many shots as he did at Valpo. Freshman Branden Dawson is strong and active on both ends of the floor, and should be a future star for the Spartans.
The Not-So-Good: With the graduation of Lucas and the dismissal of Lucious, the team lacks a true point guard. Both Appling and Wood are more scorers and freshman Travis Trice will need to become a better defender before he gets quality minutes from Izzo. The sudden decision by Delvon Roe to end his playing career last week due to a degenerative knee condition, leaves the team with one less leader. The transfer of Garrick Sherman leaves the Spartans without an experienced big man. Derrick Nix garnered some back-up minutes last season, but needs to get in better shape to stay on the floor. When he is on the floor, he shows great skill and uses his wide body well on both ends of the floor. His back-up will be Adreian Payne, who can be an effective shot-blocker, but is still raw on the offensive end.
The Question Mark: Does Izzo have the program back on track? The dismissals of Chris Allen and Korey Lucious were distractions and it showed on last year's team. But Izzo is one of the best in the business, and he is still bringing in big talent. While this season may not be up to MSU standards, they will still be near the top of the conference.
What Will March Bring?: As I just stated above, I wouldn't expect for the Spartans to rebound completely after last season, but they will be in much better shape come tournament time. Figure they are good for 23-25 wins and a Top 4 Big 10 finish, and possibly a chance to steal a NCAA Tournament game or two.
Minnesota
The Good: The starting frontcourt may be one of the best in the Big 10, led by one of the country's top players, Trevor Mbakwe. Mbakwe, whose constant motor has him involved on most plays on both ends of the court, is good for a double-double almost every night. He is joined by center Ralph Sampson III and small forward Rodney Williams. Sampson has improved as a low-post player, but he still needs to be more aggressive around the rim. Williams has yet to become the player the Gophers thought they were getting out of high school, but he is very athletic and if he makes better decisions, he could improve immensely. Austin Hollins showed great court awareness in limited minutes last season.
The Not-So-Good: With the graduation of Al Nolen and Blake Hoffarber, as well as the suspensions and ultimate transfer of Devoe Joseph, the backcourt is in flux. Austin Hollins could be joined in the backcourt by freshman Andre Hollins. Andre is more of a scorer than distributor, but he has great quickness and can get into the defense. Same can be said of fellow freshman Joe Coleman. Also, the transfer of Colten Iversen will hurt the depth of the frontcourt.
The Question Mark: Where will the scoring come from? There is only so much Mbakwe can do, and without a true point guard, Sampson may have a hard time getting the ball where he needs to be effective. Rodney Williams will need to step up this season if this team is to have any chance of being successful this season.
What Will March Bring?: A fairly easy non-conference schedule could give Coach Tubby Smith the chance to find the right mix in the back court to give this team a chance in the Big 10. If he does that, Minnesota could win 20-22 games, but I think only 6-8 will come in-conference, leaving them most likely on the outside of the NCAA Tournament this year.
Nebraska
The Good: Coach Doc Sadler will enter the Big 10 this season with the large majority of his rotation intact, led by center Jorge Brian Diaz. Diaz had a good sophomore season, showing improvement across the board. At 6'11 with a good frame, he uses his body well to create space and get good shots. If he can improve his touch, he could do very well in the Big 10. The backcourt of Brandon Richardson and Toney McCray is a good one. Richardson is an excellent on-ball defender and is capable of controlling the offense. McCray is the team's best deep threat and adds good size on the wing. Brandon Ubel is developing as a post player and could make a difference with his ability to score around the basket. Freshman wing David Rivers is very athletic and will get quality minutes based on his ability to guard multiple positions.
The Not-So-Good: While there is some talent, it is not a very deep team. Behind Diaz, there are two more huge bodies, Christopher Niemann and Andre Almeida. Almeida is the more experienced of the two, but neither has the skill of Diaz. All of the frontcourt players will need to do a better job rebounding. The loss of do-everything Lance Jeter will also be felt, though Caleb Walker has a similar skill set.
The Question Mark: How will the Huskers adjust to life in the Big 10? Actually, I think the Husker's style of play is a much better fit in the Big 10 than it was in the Big 12. Sadler's methodical offense and preaching of tough defense should help the Huskers compete with a lot of the Big 10 teams immediately.
What Will March Bring?: I think Nebraska will be hard-pressed to match last year's 19 wins. I think 15-16 wins is realistic, possibly 5 or 6 coming in the Big 10. Steal a win or two, and they could see the NIT.
Northwestern
The Good: Coach Bill Carmody returns most of the core of last year's 20 win team. Forward John Shurna is one of the most consistent scorers in the Big 10. He has good size on the perimeter, can hit from long-range, and is skilled enough to get into the lane. Junior Drew Crawford had a solid season last year, providing versatile scoring as well as great on-ball defense. Center Luka Mirkovic is another good defender, though his offensive game is more perimeter based. Alex Marcotullio showed that he is capable of running the offense and he is a good enough shooter to keep defenses honest. JerShon Cobb adds depth on the wings, though he needs to become a more consistent shooter. Freshman Tre Demps will provide a good back-up at the point guard position.
The Not-So-Good: The loss of Michael Thompson will be felt more for his scoring ability than his point guard skills. The lack of a solid low-post presence does hurt, though Northwestern's offense doesn't rely on having a low-post scorer. There is not much depth on the bench and the team's style of play is dependent on controlling tempo.
The Question Mark: Is there a 3rd scorer to go with Shurna and Crawford? Mirkovic would seem to be a good third option, but a lot of the offense runs through him on the high post. Marcotullio is more of a distributor than scorer. Cobb, if he can consistently hit the mid and long-range jumper, could step up as the 3rd option.
What Will March Bring?: Is this the year the Wildcats get to the NCAA Tournament? I think it is. While the non-conference schedule isn't easy, there are a lot of winnable games, and if they can get to 10 conference wins, I think a Top 5 Big 10 finish will get them a bid.
Ohio State
The Good: Last year's team was considered good enough to be a National Champion, and there is still a lot of talent left, starting with Player of the Year candidate Jared Sullinger. Sullinger who is a fantastic scorer and rebounder has also been developing his mid-range jumper to make him that much more of a threat. The other returning starter from last year, William Buford, is a skilled mid and long-range shooter and a solid defender. Point guard Aaron Craft showed great quickness on both ends of the floor and excellent court vision. Deshaun Thomas can score in many ways and is excellent in the open floor. Jordan Sibert and Lenzelle Smith Jr. provide great depth at the guard positions. Add to this, heralded freshmen Shannon Scott, Amir Williams, and Sam Thompson, and you have one of the most talented teams in the country. Williams should make an impact immediately around the rim, freeing up Sullinger to play inside and out.
The Not-So-Good: This is a young team, with Buford the only upperclassman among the main rotation. The loss of leaders David Lighty, Jon Diebler and Dallas Lauderdale could have an impact in close games. Also, freshman LaQuinton Ross did not qualify to play this season, though some have said he may try to qualify in time for the second semester. Ross would have done a good job stretching the defense much in the way Diebler did for Sullinger. Defensively, the loss of Lighty, who could guard multiple positions will hurt.
The Question Mark: Is Craft ready to assert himself as a leader? It will be important for Craft, as the starting point guard now, to put controlling the team on both ends of the floor as his priority. Everyone appreciates the flashy plays he can make, but for this team to go far, he will need to show that he can control the pace of the game as well.
What Will March Bring?: Ohio State should be in position to win the Big 10 and get a #1 seed again in the NCAA Tournament. They have to be considered one of the frontrunners for the National Title, but again, this is a young team, and unless they mature throughout the season, they can see themselves upset again before the Final Four.
Penn State
The Good: New coach Patrick Chambers comes to a team which lost almost all of its major contributors last season. There is some talent here though. Point guard Tim Frazier is very quick, a good defender, and knows how to distribute the ball. Sophomores Jermaine Marshall and Billy Oliver gained valuable experience last season and should improve with more playing time this season. Sasa Borovnjak returns from an ACL injury and should give the Nittany Lions a physical presence in the paint. Freshmen Patrick Ackerman and Ross Travis should gain significant minutes right away. Travis will be counted on to be a slasher and scorer, while Ackerman gives another big presence in the paint.
The Not-So-Good: The loss of 4 of the top 5 players from last season means that a lot of points and rebounds will need to come from elsewhere. Frazier will be a good leader on the floor, but it may be well into the season before Chambers settles on a comfortable rotation.
The Question Mark: Will Chambers be able to make people care about Penn State basketball? Coming off a successful stint as head coach of Boston University, Chambers has the respect of his peers and the dynamic personality to get players to work hard for him. But this is still Penn State, and football has always come first. Chambers can build something here, but people will need to be patient.
What Will March Bring?: A tough non-conference schedule followed by a conference schedule in one of the top conferences is not the recipe for a big season. It will definitely help the team in the coming seasons, but for this year, 11-13 wins may be the best you can expect.
Purdue
The Good: Usually the loss of your 2 best players would be a major cause of concern, but it shouldn't be for Coach Matt Painter this season. He has plenty of talent back, including the return of Robbie Hummel. Hummel who missed the last season and a half due to 2 knee injuries is one of the top players in the country when healthy. He can score inside and out, is a strong defender and a good leader. Point guard Lewis Jackson does a great job controlling the offense and using his size and quickness to get into the defense. Ryne Smith and DJ Byrd give the team two wing options who can stretch the defense with their jumpers. Add Kelsey Barlow, who is a strong ballhandler and defender, and you have a very deep backcourt. Anthony Johnson is back after redshirting last year to provide scoring off the bench. Travis Carroll will provide good defense and rebounding in the post. Freshmen Jacob Lawson and Donnie Hale are raw, but tough, and one of them should work their way into the rotation.
The Not-So-Good: Even though JaJuan Johnson wasn't a true post player, he did give the Boilermakers a legitimate option on the blocks. Right now, Hummel is the only developed post player, but he is better off when he can work in and out. Again, outside of Hummel, there are no proven scorers to replace Johnson and E'Twaun Moore. Jackson's size makes it tough for him, Byrd and Smith are one-dimensional scorers. Barlow has the best shot of stepping up his game to the next level.
The Question Mark: Will Hummel stay healthy and finish off his career the right way? I am just going to leave this as a yes. Hummel deserves to finish off the great career he has had in style.
What Will March Bring?: Last year's 26 win season won't happen again, but this is a team capable of 20 wins. Look for a Top 5 Big 10 finish, a NCAA Tournament bid and the chance to win a game or two if Hummel plays to form.
Wisconsin
The Good: Even with the loss of senior leaders Jon Leuer, Keaton Nankivil, and Tim Jarmusz, Coach Boy Ryan has one of the best guards in the country in Jordan Taylor to lean on. Taylor proved to not only be an explosive scorer, but he showed he can take over games when necessary. Having Josh Gasser in the backcourt with him will allow Taylor to focus more on scoring than distributing, but he is a good point guard in his own right. Mike Bruesewitz is a high energy player who finds a way to get involved in every play. Ryan Evans is an athletic wing who gives Ryan a slasher on offense. Jared Berggren is skilled big man who can play inside and out. Freshman Jarrod Uthoff should get immediate minutes with his long frame and ability to knock down the mid-range jumper.
The Not-So-Good: Leuer was more than a dependable player, his competitive drive fueled the team. He and Nankivil were also the best Badgers on the glass. The remaining frontcourt players are skilled, but they need to bulk up to handle the rigors of the Big 10. Also, Gasser and Evans will both need to become more dependable perimeter shooters in order to keep the court spread. The Badgers play tough team defense, but it is not an extremely athletic group, so they need to control the pace of play more than most teams.
The Question Mark: Who emerges as the team's second scorer? Taylor will not be able to handle the scoring load alone. Gasser and Evans can score, but need to become better shooters. Brusewitz will get his points, but he is not capable of big numbers every night. Berggren has a game similar to Leuer's and the team will probably look to him to start producing more.
What Will March Bring?: While I don't see them matching last year's 25 wins, this is still a team capable of 20. They should finish in the top half of conference and will likely get themselves another NCAA bid.
That wraps up the 2011-2012 Big 10 Preview – make sure to check back later this week for a look at the Big 12 this season. Leave your comments, email me at [email protected] and follow me on Twitter: @NBADraftBlog