With NCAA rules allowing college basketball teams the opportunity to partake in international tours every 4 years, more and more programs are using this to not only get the opportunity to learn more about their players, but to give the players the opportunity to experience new cultures and people. This summer alone, teams played in Italy (Illinois, Iowa State), Netherlands (Mississippi State, Villanova), Brazil (Northern Iowa, USC), Canada (Baylor), and the Bahamas (Creighton, Louisville.) One of the most interesting trips of all was a 2-week, 4-game trip to China and Dubai by the Duke Blue Devils.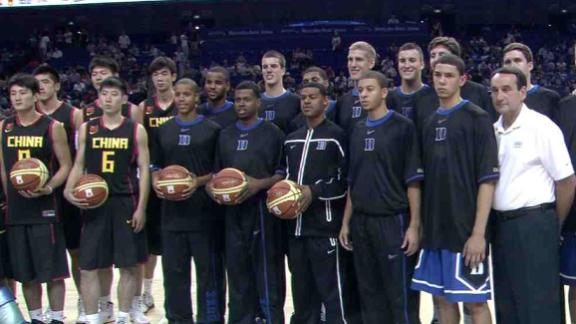 What made this trip an even greater experience for the current Duke players is that they were joined by some famous Duke alumni, including Grant Hill, Kyrie Irving, and Nolan Smith. The alumni, all dealing with the NBA lockout, went along on the trip to provide moral support, and to hopefully help shape the next great Duke team. I had the opportunity recently to discuss the trip with Nolan, both the experience for him and for the team.
While many people point to the fact that teams get to practice for 10 days before any of these trips, which is certainly an advantage for the upcoming season (See Mike DeCourcy's great article on the advantage of foreign trips here), there is much more to these trips than playing basketball. "The opportunity to play against kids in different countries is a big advantage", says Smith. "Beyond that, the cultural opportunities, meeting people you normally wouldn't meet, seeing how much people love the game in different countries are a huge part of these trips."
First up, the team headed to China, where they played games in Kunshan, Beijing and Shanghai. "It was an amazing place, great cities, so many people", said Smith. Among the sites the team visited were the Silk Markets and the Great Wall of China. "It is a very different world over there, but it was good to be the ones looking confused at what was going on."
And while all three games had their competitive moments, Duke managed to win all three games by double digits. Yet, Smith came away impressed with the Chinese players. "They were a very talented team, and you will probably see some of them in the draft one day. There is a lot of size and a lot of talent." While the NBA influence has picked up in China since the year Yao Ming was made the #1 draft pick, Smith saw firsthand that influence. "They watch so much NBA over there, they spend a lot of time imitating the moves they see, and it has made them better players."
From China, the team headed to Dubai to take on the United Arab Emirates National Team. Many have this image of Dubai as a lavish place, and Smith says it's all true. "It is definitely what you imagine. They have a lot of money there, a lot of tall buildings. The construction alone is amazing. Our hotel was a actually a 7-star hotel."
Duke was able to handle the UAE team easily, but Smith saw a lot to take from the game. "It was a great place to finish the trip. The fans were amazing; it was just a great atmosphere for the guys to play in. The players are getting better also by watching the game more and more." It's true that basketball has become a global game, even Smith was surprised by some of what he saw. "The fans recognized me and I haven't even played in the NBA yet. It was great meeting them."
For the current Blue Devils, Smith so many positives comes out of this trip for them. "They are a very talented team, and I think they found leadership for this upcoming year from this trip. Seth (Curry), Andre Dawkins and Ryan Kelly all stepped up and took control of the team. Put that together with the all the talented freshmen and they should have a very good year."
And how about Coach K, what did he learn from this? "Coach (Krzyzewski) learned a lot about his players. It is an adjustment without myself, Kyle (Singler) and Kyrie (Irving) not there this year. But, by getting these games in early, he's gotten a jump start on his master plan. And, I know he will be watching the tape from these games over and over before the season."
I'm sure most will expect another great season from Duke, and with the added advantage of extra practice time in August, could find them in the Final 4 once again. Thank you to Nolan for providing some insight into the trip and the team itself.