It's not often that anyone gets to discuss NBA prospects from St. Bonaventure, but they have not only a real prospect this season, but Andrew Nicholson can find himself in the first round of the 2012 NBA Draft. Having spent many nights fighting double teams, Nicholson has developed great toughness and a willingness to lead his team to victory, both qualities that NBA teams love in their draftees. Can Nicholson become a good enough all-around player to vault into the first round? Let's take a closer look at Andrew Nicholson: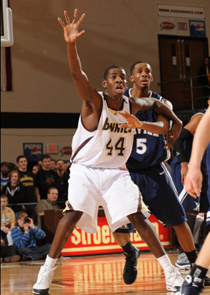 Andrew Nicholson, St. Bonaventure – Senior
Forward – 6'9, 225
(2010-2011 Stats) 20.8 ppg, 7.3 rpg, 57.1% FG, 71.1% FT
Offense
Post Skills- Nicholson has developed into a very strong post player, displaying a nice repertoire of moves and great touch around the basket. He is comfortable setting up on either block, uses his lower body to seal off the defender and is comfortable making his move in either direction. He has long arms allowing him to get most shots off easily against the defense, though he does need to add some bulk to back his man down easier – while he seals his man well, he gets pushed away from the lane too easily. Most impressive is that there is usually very little wasted movement when he gets the ball and no unnecessary dribbles. He needs to develop a better face-up game, as well as get more experience in pick and roll situations.
Footwork- Nicholson has excellent footwork, very fluid movements and the foot-speed to get around defenders in the post. Most important, he does a good job with the amount of steps he makes on a move, preferring to take long strides once he seals his man off, especially on his very effective drop step. On the perimeter, he doesn't have the same fluidness, though he has improved. Oddly enough, he does a great job navigating help defenders when in the post, but he loses control when he encounters help when driving from the perimeter. However, he does have good quickness for his size and I expect him to show more improvement this year from the perimeter.
Ballhandling/Hands/Penetration- Nicholson is a good ballhandler for his size, keeping his dribbles low and close to his body. Much more comfortable going to his right hand, he showed great improvement last season with the use of his left. The one thing he needs to watch out for his awareness of the help defenders when he has his back to the basket. He will make his move not knowing where the help will be coming from and be in the position to be stripped. On the perimeter, he still does a good job controlling his dribble, but needs to get more confident going to his left hand. Nicholson has excellent hands, can handle tough passes and always presents a good target to the passer. As I mentioned earlier, he can lose to tend control on penetration when he runs into the help defenders. Other than that, he does a good job at 6'9 finding ways to get past his man, though he needs to work on making better decisions once he makes the initial move. He has become more versatile, showing the ability to pull up and hit a mid-range jumper, but he needs to look more at taking his move all the way to the rim.
Perimeter Shooting- Nicholson has become a decent mid-range shooter, and has even tried to expand his range out further. When left open, he will knock down the mid-range jumper consistently. When he is covered well, he does a good job using head and ball fakes to create space, and he has improved on hitting the jumper off the dribble, though certainly not up to NBA-level yet. His form is very good – good lift and extension, plus follow-through. His release time needs to get a bit quicker. NBA defenders should be able to recover quick enough to force a bad shot. As of now, he could be a very good option off a pick and pop, he just needs to get his shot off quicker.

Rebounding/Passing- While a very good rebounder, Nicholson isn't a great offensive rebounder. Mainly, it is because a lot of his moves take him away from the basket. While he has the ability to not go directly at the rim and still score, it doesn't put him in the best position for rebounds. When he does get position, he does a very good job extending to secure the ball. He also is very good at getting off good shots of the rebound and generally makes good decisions on whether to shoot or get the ball back out. Passing, especially out of the post, is one area where he really could improve. Part of it is, as his team's only real offensive threat, he is subjected to a lot of double teams. However, he needs to do a better job anticipating them and locating the open teammate.
Free Throw Shooting – Nicholson can stand to become a better free throw shooter, especially since he does a great job getting to the free throw line. His mechanics are fine, though you can definitely see him start to miss more as the game goes on. He almost doubled the amount of times he went to the line in his junior season, so he knows how to draw contact and finish. If he can get to near 80% with his free throws, he will be tough to contain.

Defense

Post Defense- Nicholson is an average defensive post player, showing very good moments, but not quite ready to defend at the NBA level. He positions himself well, but he needs to get more physical, especially with his lower body to force his man off the block. He anticipates well, and does a good job denying the post, as well as fronting it. However, his footwork is only average, and he is susceptible to quick moves, especially drop-steps. He does see the court well and does a good job stepping in as a help defender. If he does get more physical, he should be able to defend the power forward position well at the NBA level.

Perimeter Defense- Nicholson has made improvement guarding outside the lane over the last few years, but he still has significant issues he needs to work on to be able to do it well at the next level. He positions himself well between his man and the basket well, and he does a good job keeping his hands and feet active. While his footwork is fluid on the offensive end, it isn't as good on the defensive side. When defending on the pick and roll, he is often slow to hedge and then slow to recover. He also has to watch a tendency to fall for head and ball fakes easily, as he doesn't have the speed to recover. He does close on shooters well and uses his long arms to disrupt jump shots.

Rebounding/Blocking- Nicholson is a very good defensive rebounder, using his body well to block out his man and going after the missed shot strong. He secures the ball high and looks for his outlet man quickly. He may have issues at the NBA level having the same success unless he gets a bit stronger. Nicholson can be an effective shot blocker. He has good timing and gets great extension. However, he can be a bit slow to react to the shot, so he does a good job just playing tough defense and not picking up bad fouls by going after shots he won't get to.
Summary & Intangibles
Athleticism – Above Average
BB IQ – High
Nicholson is a very good NBA prospect, but his offense is ahead of his defense right now, and if he can make those defensive adjustments this well, he will be a great get for a NBA team. He has the ability to step in right away and play quality minutes, and with a few years experience facing double teams every night should give him the toughness necessary to handle the NCAA season. I think if he plays as well as last season, he could be a high second round pick. If he improves in the areas detailed above, teams will gladly take him at the end of the first round.
Next week, make sure to check back as I start a month of conference previews, starting with the ACC next Tuesday. Leave your comments below, follow me on Twitter – @NBADraftBlog or email me at [email protected]