Making the NBA is not always the only dream that college players look to fulfill once they leave school. Representing your country doing something you love is also a dream for many. Adnan Hodzic is one of these players, and he will have his chance this summer when he represents his native Bosnia in the European Basketball Championship. Hodzic was incredibly successful during his 4 years playing at Lipscomb, averaging almost 19 point and 8 rebounds per game over the last 3 years. Besides being a great player, he is one of the most pleasant players I have had the opportunity to speak to. Here is a look at Adnan Hodzic in his own words: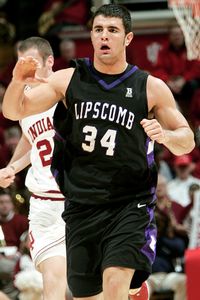 Adnan on his road to Lipscomb:
"My family left Bosnia when I was 8 years old to get me surgery on my eye as well as get away from the problems there. We ended up settling in Indiana. Most of my family is still over in Bosnia though. I was a foreign kid in the States, played AAU ball, but wouldn't say I was all that great. Jay Walton (assistant coach at Lipscomb) would come to all of my games though. Finally, they convinced me and my dad to visit the school. They showed us a lot of attention which was great and after I was visited I knew I wanted to go there."
Adnan on his experience at Lipscomb:
"It was the best 4 years of my life, I definitely made the right decision going there. I had coaches who treated me very well and it was just a great environment to be in."
Adnan on how he changed as a player in college:
"I was just taught so much detail about how to be an effective post player, things I had certainly never learned before. The coaches taught me to understand the little things about playing down there, finding angles, sealing off players, being a big target. I had great teachers who made you want to work hard."
Adnan on the strengths to his game:
"Scoring in the post is definitely one of my strengths. Over the last few years, I have developed a whole package of moves to help me score."
Adnan on what parts of his game he wants to improve:
"Definitely my perimeter skills. I want to become a more versatile player. I think I can play as a pick and pop 4, being able to drive to the basket or shoot from the outside. I am working on my shot a lot now."
Adnan on how he is preparing for the draft and international competition:
"I am working hard on leaning up my body, becoming more athletic. Just doing everything I can to expand my game."
Adnan on what he wants teams and fans to know about him:
"Just know that I am an extremely hard worker. I love what I do and I have a true passion for it. I appreciate the support and want to show everyone what I can do."
I want to thank Adnan for his time and I wish him the best of luck preparing to represent Bosnia this summer as well as looking to fulfill his dream of getting to the NBA. Thank you also to Jordan Brewer of Pro One Sports Management for arranging this interview.