Throughout the college basketball season, and more so leading up to the draft, players catch your eye for a variety of reasons. While the way they play is usually the top reason, sometimes you become a fan because of the person themselves. If you are lucky, you find a great player who is also a very genuine person – Xavier Silas is one of these players. I had watched Silas play more than a few times over the past couple of seasons, first at Colorado, where he made an immediate impact as a freshman, to the last 2 seasons at Northern Illinois, where he was one of the premier players in the MAC.
A big guard who, at times, seemed to score at will, you could tell that he just got how the game should be played. It was later that I learned that he was the son of a professional basketball player, and it became easy to tell that he grew up around the game.
However, it was Silas' use of Twitter that made me realize there was much more than a great player – there was a very thoughtful person there as well. A lot of athletes use Social Media for various reasons – cracking jokes with friends, connecting with fans, or as an outlet for perceived slights. Silas has taken it one step further. If you follow him on Twitter, you will always receive positive messages, whether about how he is trying to fulfill his goals or just giving his followers something to think about.
Silas was kind enough to agree to an interview via email, which you will see below, but I also had the opportunity to meet him in New Jersey during the NBA Draft Combine held there. Various NBA personnel who I spoke to definitely took notice of his game, and I can also say that he is a great pleasure to talk to. So please enjoy this one-on-one with Northern Illinois' Xavier Silas: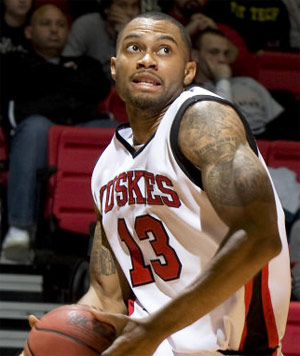 Xavier on his time at Northern Illinois:
"Northern Illinois was a grind. The advantage that I gained from NIU is learning how to play against so many defensive schemes. Because of my abilities and the talent level of my team I was double teamed, triple teamed and box and one'd every game. Teams would try to get the ball out of my hands and make someone else beat them. So that just made me work even harder."
Xavier on what advantages he has over other guards in the draft:
"My efficiency for one. I averaged around 25 for most of the season and was doing this while being double teamed throughout most the game. I also am a big guard at 6'5 and am able to defend multiple positions. Defense has been the focus this entire process. It also doesn't hurt that my father played in the NBA for 8+ years and he has always helped me and educated me on the NBA game and lifestyle."
Xavier on what parts of his game he is looking to improve:
"All aspects can get better. That's why I'm in the gym 3 times a day. I always say the reason I am good is because I realize how much better I can be."
Xavier on how he is preparing for the draft:
"I'm in Las Vegas training with Joe Abussanar at Impact. I have been out here for 5-6 weeks working an all aspects of my game and working on improving my body. I am working out 3 times a day and going up against top competition. I feel like I am getting better every day and building a great foundation for my professional career. "
Xavier on where he thinks he fits at the NBA level:
"I'm a scorer I always have been. But I know that defense will get me playing time and defense will get me on the floor faster. Everyone already has scorers in the NBA but not everyone has guys willing to play defense like I am."
Xavier on his innovative use of Social Media to spread his message:
"I grew up watching my parents helping and being very involved in the community so that's where I get it. I see the social media is a place to change the world. Sounds corny but if I can relate to someone, if i can help someone or make them smile on a bad day then I have changed the world. Just a little but it's a change nonetheless."
Xavier on what NBA decision-makers and fans should know about him:
"I'm a simply complex person who wants to change the world. I'm passionate about my trade and I'm a perfectionist. I only fight for what I believe in and my dreams. And I dont get outworked."
I would like to thank Xavier for his time, and I wish him the best of luck in pursuing his goal of getting to the NBA. I also encourage everyone to follow him on Twitter – @XavierSilas – you will be glad you did.