This year, the NCAA Tournament gave us a new concept called the First Four, 4 opening round games in Dayton. For those who watched, one of the players who stood out was J.P. Primm, a 6'1 guard from UNC-Asheville, whose 22 points and 5 assists led his team to an opening round victory over Arkansas-Little Rock. In the next round versus #1 seed Pitt, Primm was on his way to another very good game, until a knee injury knocked him out of the game. A smooth-scoring guard with the ability to see the floor well and a tough defender, Primm has decided to take the opportunity to test the waters of the NBA Draft before returning for his senior season. I had the opportunity to talk to J.P. recently about the tournament appearance and declaring for the draft: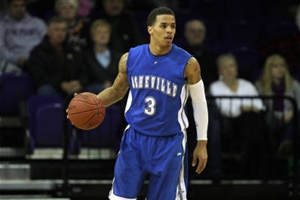 J.P. on UNC-Asheville's Tournament run:
"It was definitely exciting. When we were all together watching the Selection Show, we all figured would be heading to Charlotte to play Duke, but then we saw we were going to Dayton for the First Four. It was a great experience, especially coming from a mid-major conference."
"Winning our first game (against Arkansas-Little Rock) was such a great feeling, but then we had to get on a flight right away to Washington, D.C. to play Pitt. It was exciting to go back to D.C., we had been there earlier in the year to play Georgetown and liked playing there. We played Pitt tough, but then I sprained my MCL. I just wish I could have done more."
J.P. on declaring for the draft:
"I decided on declaring after we finished up in the NCAA Tournament. I had a good season, was named all-conference and had played very well against guards I knew would would be in the draft, like Chris Wright from Georgetown. After we beat Arkansas-Little Rock, I knew people would know my name now, so I talked with my mom and dad about my options, and we decided it would be a good opportunity to expose my game to more people."
J.P. on preparing for the draft process:
"I'm hoping to get a few workouts, and want to be in New Jersey for the large group workout (May 7-8) in front of all of the NBA teams. I see it as a great opportunity to see where I stack up against the other guards out there. I had good games against teams like North Carolina, Georgetown and Pitt, so I know I can play with these other guards."
"I am definitely returning for my senior year at UNC-Asheville, I have a good summer set up and I am hoping to take the feedback I get and make my game better."
J.P. on his preparations for the workouts:
"I am working out twice a day, playing as much as I can. One of our assistant coaches used to coach at Oak Hill, and he was able get some workouts from Brandon Jennings to help me out. Also, I will be working out with Ganon Baker."
J.P. on his goals for next season:
"I definitely want to see us win the conference and have a 20 win season. I want us to make it back to the tournament and hopefully go deeper this time. We are only losing one guy off of this year's team, so I think we have a very good shot. The main core of the team is back and we are all very tight."
"Individually, I want to be All-Conference again and possibly Player of the Year, but more importantly, I want to take the team to next level. I am going to take all the feedback I get, and do what I can to become a better player.
I want to thank J.P. for his time and we all look forward to watching him grow as a player and hopefully fulfill his dream of getting to the NBA. Make sure to follow J.P on the court this season, and also follow him along on Twitter – @Primm_N_Prop3r