I recently had the pleasure of speaking to former Alabama and Manhattan guard Rico Pickett as he is preparing for this June's NBA Draft. A top-rated high school prospect, Rico started at Alabama as a freshman before transferring to junior college and finally to Manhattan, where he exploded on to the MAAC scene, leading the conference in scoring in 2009-10. He left Manhattan after that season, contemplated entering last year's draft, but decided instead to hone his game in Europe and the D-League before becoming eligible for this year's draft. An explosive athlete with the ability to play either guard position, Pickett also comes across as a thoughtful and aware young man. As you can see from the conversation below, he is doing everything he can to show he is good enough to play at the NBA level, but he is not above knowing that he has areas he needs to work on.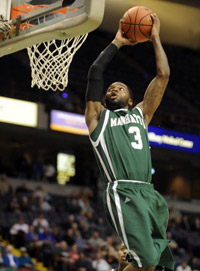 Rico on what he learned from playing in the Ukraine and in the D-League:
"I learned a lot from both experiences. In Europe, the game is more about your skill set, everyone over there is a shooter. The style is not as aggressive, but it is a very smart brand of basketball. In Dakota, the competition level was great. I learned a lot about what NBA teams are looking for, and what kind of work I need to put in to get there."
Rico on what he believes makes him stand out against other guards:
"Definitely my mid-range game. I know how important it is to be able to hit that shot consistently and I can. I let the game come to me, and take advantage of what's there. Also, I look to make sure everyone gets involved in the offense"
Rico on what parts of his game he thinks he still needs to work on:
"Being consistent on both ends of the floor, and making sure I put in my best effort for the whole game. I just need to keep working hard and I can do this."
Rico on what role he thinks he could play in the NBA:
"I can definitely be a true point guard at that level, but the most important thing is just to be able to be on the floor and contribute any way I can."
Rico on how he is preparing for the NBA Draft:
"I'll be coming up to New York and will be working with Jay Hernandez (who has worked with many future NBA players). I'll be looking to get into the best shape possible and the work will be specialized on sharpening my point guard skills. "
"Other than that I will just keep working on sharpening all my skills, staying consistent, look to add some muscle and keep working on my shot."
Rico on what NBA teams and fans should know about him:
"I am a much better player than I was before, and definitely much smarter. Most importantly though, I have matured a lot, and I just want the opportunity to show that."
I want to thank Rico for his time, and also a special thank you to his agent BJ Bass of RBA Sports. You can check out more about Rico at – www.rbasports.com, including a great highlight reel. Rico is definitely a guy you want to root for and see him live his dream.