Tomorrow kicks off the official start of Draft Season with the opening round games of the Portsmouth Invitational Tournament in Portsmouth, Virginia. Consisting of seniors whose draft status is, for the most part, uncertain, the PIT gives players an opportunity to showcase their skills in a unique atmosphere with the hopes of getting an invitation to the NBA Draft Combine in May. While the must-show allure of the PIT is no longer what it was, it is a good opportunity for players to make a statement for why they belong, though again, the style of game played here is not usually conducive to showcasing most players' skills. Over the next 2 days, I will take a look at 15 players who have the opportunity to solidify their status one way or the other, along with a look at the invitees who have withdrawn and see what effect, if any, will come from this. So here is a look at your first 5: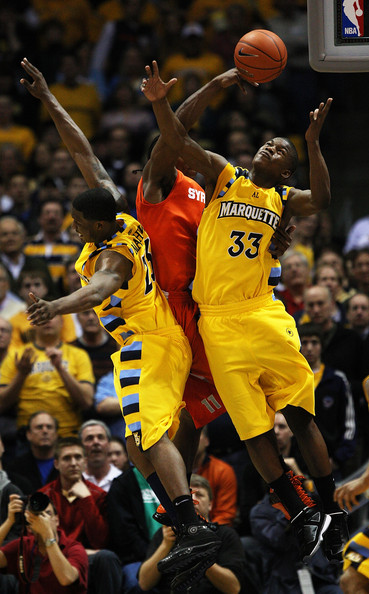 Malcom Thomas, San Diego State, Forward, 6'9, 215
Thomas has great size, is an excellent scorer around the rim, has shown great athletic ability getting up and down the floor quickly, and can battle for boards with much stronger players. While he is a good help defender, with very good shot-blocking ability, he is not a great post or perimeter defender. In the post, he needs to use his body more to force players away from the rim, and not rely on trying to block shots. On the perimeter, he doesn't have great footwork, and needs to improve his ability to guard a player in space.
With all of that, I still like Thomas as a late-second round pick who has the ability to turn heads come training camp. He goes out and gives everything he has to the team, doesn't need a lot to feed his ego, and I believe still has a lot of untapped potential as an offensive player.
What he needs to show in Portsmouth: Ability to defend one-on-one on the perimeter
Jimmy Butler, Marquette, Forward, 6'7, 220
Butler was the epitome of a Marquette basketball team that clawed its way into the Sweet 16 this season. With the ability to operate in the lane and consistently hit the mid-range jumper, Butler turned himself into one of the more well-rounded offensive weapons in the Big East this past season. Add to this his ability to not only guard multiple positions, but to be a lock-down defender, and to rebound well on both end of the color, and Butler has plenty skills which should translate well at the next level. However, while a good basketball player, he would not be considered a great athlete, which may affect his stock in the eyes of some.
Looking at players that have come out of Marquette recently such as Wes Matthews and Lazar Hayward, I would be surprised if there aren't a few teams that will be impressed enough with Butler to make him a mid-late second round pick.
What he needs to show in Portsmouth: The ability to create his own shot out on the perimeter.
Justin Holiday, Washington, Forward, 6'6, 185
Holiday is another interesting player, mainly because we will look at his defensive skills as his possible ticket to the NBA. He has good size and long arms, with the ability to guard the 2 or 3 well, and in certain situations could guard the 1 or 4 positions. He moves his feet well, is active both on and off the ball, and is an excellent help defender. On the offensive end, he is far from polished, but is active on the boards, and can hit the open mid-range jumper. What impresses me the most about Holiday is his basketball IQ – he does all of the little things you want from a player, and he is out there on the court for one reason, to help his team win.
There are a few things he really needs to improve if he wants to get a serious NBA look. 1) he has to become more diversified on the offensive end – increase the range of his jumper, and look to use his length to his advantage going to the rim and 2) build himself up physically, especially his upper body. The NBA is a much more physical game than the Pac 10 – his younger brother Jrue can attest to that.
I can see Holiday getting a serious look from some teams in the late second round, anywhere in the 45-60 range. He would be a great fit for a good team looking for some defensive intensity off the bench, and with his ability to hit the open jumper, teams will not be able to play off him.
What he needs to show in Portsmouth: Can he be a consistent offensive option at the next level?
Austin Freeman, Georgetown, Guard, 6'3, 227 (******UPDATE – Word is Austin Freeman has pulled out of Portsmouth********)
Freeman, the pre-season Big East Player of the Year, is coming off a very inconsistent season, which saw him seem to disappear from games for unusually long stretches. Still he one of the most consistent shooters in the NCAA, and has improved almost all other areas of his game.
Check out his full scouting report here.
While I pegged him as late first – early second round pick near the beginning of the season, he has fallen into that dreaded mid-2nd to undrafted category.
What he needs to show in Portsmouth: The ability to defend the perimeter, as well as a more diverse offensive game.
Damian Saunders, Duquense, Forward, 6'7, 210
One of the more underrated players in the NCAA, Saunders is an intriguing prospect because he still seems to be learning the smaller parts of the game to make him a better all-around player. He is very effective around the rim, is strong enough to finish with contact (though he really needs to improve his shooting stroke, especially at the free throw line) and is an excellent rebounder for his size. Defensively, he is very good at guarding bigger players, though his perimeter defense and footwork needs to improve for him to defend forwards at the NBA level.
I like his NBA potential, only because of the diversity he brings on the court. I would like to see him become more consistent from 12-15 feet and show the ability to hit the open long-range shot consistently. Also, he needs to show better court awareness, especially when he plays outside of the comfort zone of the lane. With a good showing here, and a combine invite, Saunders has enough potential left that teams will take a serious second round look at him.
What he needs to show in Portsmouth: A better understanding of court positioning and how to do a better job exploiting the defense.