The NBA Draft Blog Scouting Report takes a look at one of the best pure scorers in the NCAA this past season – Colorado's Alec Burks. Burks, only a sophomore, is a great athlete who understands how to find different ways to score, and he is still getting better. But will his lack of defensive effort and ability hurt the NBA's view of him? Let's take a closer look at Alec Burks: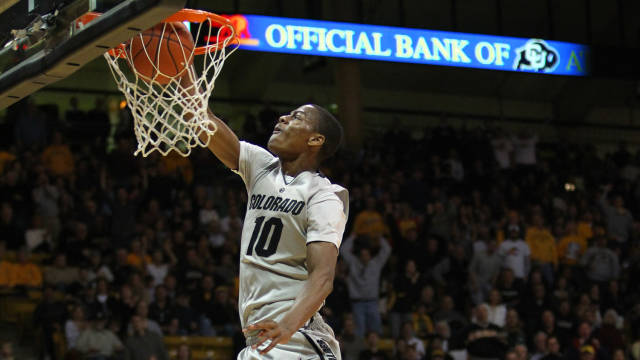 Alec Burks, Colorado – Sophomore
Guard – 6'6, 195
20.5 ppg, 6.5 rpg, 2.9 apg, 46.9% FG, 82.5% FT, 29.2% 3FG

Offense
Perimeter Shooting- Burks has shown flashes of being an excellent perimeter shooter – he squares himself well, gets good lift on his shot and has a high, quick release. At 6'6, he often gets good looks over his defender, and he also does a good job using his dribble to create space when needed to get his shot off. He may be one of the better mid-range shooters in the NCAA, and there are still plenty of things he can improve to get better. He is very good at utilizing screens to get open, but he needs to come of the screens tighter and have his body and hands in position to get a good shot off. Also, he needs to get better moving without the ball – he has a tendency to wander around the perimeter waiting for the ball instead of finding holes in the defense. Range is also an issue with his shot – while he has the mechanics to hit the 3, he just can't seem to find a consistent stroke from that far-out. Adding some lower-body strength can help him in this area.
Ballhandling/Hands/Penetration- Burks is a very good ballhandler for his size, utilizes both hands and sides of the court well, and he has a nice repertoire of dribbles (crossover/change of pace) to help him keep his man off-balance. He has very good hand, handles all kinds of passes well, though he needs to do a better of job of giving his teammate a good target to get him the ball. Where Burks has really excelled is getting into the lane and to the basket. He has quick first step to either side of the defender, and his dribble and long strides get him to the basket quickly. Once in the lane, he is very good at hitting the short jumper, or going strong to the rim, absorbing contact and finishing. While not very strong, he has great body control, can finish with either hand, and finds creative ways to score over larger players. What he does need to improve on is not having tunnel-vision once he gets by his defender – he draws the defense to him, if he saw the whole court better, he would find his teammates in very good position to score.
Rebounding/Passing- Burks is very athletic and crashes the offensive boards well. I mentioned his body control earlier, but he uses it in this sense to find ways to get above and around bigger, stronger players. He has the ability to stay in the air long enough to grab a rebound and get the ball back up quickly. This isn't always going to work though and he will need to get stronger to get rebounds at the NBA level. Passing is one of the weaker parts of Burks' game – not only doesn't he see the court well, but his decision making on passes is not good – either throwing weak passes, or trying to make passes that make little sense. As I mentioned earlier, with the way he draws help defenders to him off of penetration, he should at least be able to get the ball out to open teammates.
Free Throw Shooting – This is what makes Burks special – not only does he get to the line an incredible amount of times, but he converts once he gets there. 11 times he hit at least 10 free throws in a game, and he averaged near 9 attempts a game for the season. This ability Is what separates him from the other shooting guards in this class, and is something he should be able to continue in the NBA.
Defense
Perimeter Defense- Ok, after all of the raving about Burks' offensive ability, this is where we see some real issues. A combination of lack of effort and bad defensive technique makes his defense a major problem. The effort is one thing, but with his length and footwork, he should be able to play better defense. When guarding the ball, he positions himself well, but he plays flat-footed, making it easy for players to get around him off the dribble, and leaves him to try and chase his man down. He needs to improve both his balance when defending as well as his lateral movement. Working through screens is a separate issue – he's not strong enough to fight through them, and will almost always choose to go under them, leaving his man to get a good look at the basket. Off-the-ball, he needs to work on his positioning – he leaves too much of a cushion on the perimeter, leaving him susceptible to easy jumpers, as well as letting the offense move the ball easily. He has long arms and should be better at playing passing lanes, but he prefers to position himself near the lane looking to make a steal. When he finds himself in position, he does close on shooters well, but if there is a lot of space between him and the shooter, he normally won't make the effort.
Rebounding- Burks rebounds well just off of his athletic ability to get to balls quickly. However, he needs to definitely improve on blocking out if he wants to rebound at the NBA level where there are many similar athletes. Also, his defensive positioning issues extend to going for rebounds, he doesn't off find himself in good position to be an effective rebounder, and instead relies on instinct to go after the missed shot. Some added strength could help him, but I don't see him being much of a NBA rebounder.
Transition
Burks can be very dangerous in transition, though if he gets his hands on the ball, most likely he is shooting. With his solid mid-range game and ability to get to the rim, he could easily score in bunches at the NBA level in a fast-paced game. As I mentioned earlier, if he improved his court vision, he could even be more of a threat leading the break.

Summary & Intangibles
Athleticism – High
BB IQ – Above Average
Obviously, Burks has incredible potential as a NBA scorer – with an uncanny ability to get to the rim and draw contact, a very good mid-range game, and long-range shot which still has room to improve, I have no doubt he can be score at the NBA level. But to say his defense is a little more than concerning is an understatement. If it was just an effort thing, I would be a bit more lenient, but there are serious technique issues which could make him a liability against experienced pros. If he declares, he should go somewhere in the late lottery (#10-14) – but any team picking him should know the amount of work he is going to need before he is ready to play a big role.
Remember, leave any comments below, follow me on Twitter – @NBADraftBlog, or feel free to email me at [email protected]