As we head towards the 2011 NBA Draft, it is time to give a look at some players who are borderline draftees, but may have the skills which could translate to a NBA career down the road, maybe even next season. The Case For….takes a look at these players and tries to give a brief outline of what skills they have, what they are missing, and what steps would eventually lead them to the NBA. Not many players made me look at box scores to make sure I wasn't reading incorrectly than Jon Diebler, the sharpshooting guard from Ohio State– seeing that he hit 6, 7, even 10 threes in a game no longer became a shock. But then you would look and see that his stat sheet didn't show much besides the threes. Is there more to Diebler's game than we got to see, and would it be enough to get him into the NBA? Let's look at the Case For… Jon Diebler: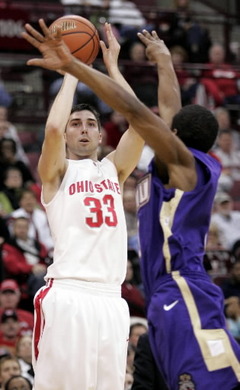 Jon Diebler, Ohio State, Senior 6'6, 205
12.6 ppg, 2.6 rpg, 2.4 apg, 50.7 FG%, 50.2 3FG%, 81.0 FT%
The Good – You assume I am going to discuss his freakish ability from long-range, and I will get to that in a minute, but my favorite part of Diebler's game is his understanding of his role, and all of the smaller components that go with it. He is not just a long-range shooter – he knows how to position himself in the best way on the perimeter to alleviate pressure on the post, he is very good at the 2-man game with a post-man, and he doesn't force the action. It may not seem like a lot, but giving things an extra few seconds to develop can be huge in terms of the best look. Now to his jumper; aside from maybe making his release a tad quicker, there is nothing to dislike about his shot – excellent form, great release point, good lift and rotation, and at 6'6, he gets a lot of clear looks. While it wasn't seen much, Diebler does have the ability to get to the rim – though I don't think he would be able to do it at the NBA level (we will get to the reasons why below). Defensively, he is solid – not great, not horrible – he positions himself well, uses his size to force his man to make adjustments, and he is a good help defender.
The Bad – As good a shooter as Diebler is, he is predominantly a spot-up shooter and will really need to work on creating space for his shot off the dribble. He also needs to show he can get his shot off quickly coming around screens – when he does come off of screens, he doesn't do a good job getting square to the basket fast enough to get a quick shot. While not a bad athlete, Diebler does not have great speed or ballhandling skills, and I see him having a very tough time being able to take NBA level players one-on-one right now. Defensively, while solid, he is prone to getting caught in some bad mismatches, especially off switches. He should be a better rebounder for his size and needs to work on getting stronger and more physical in general.
The Verdict – Right now, Diebler has too much work that needs to be done on his game to really be considered a legitimate NBA prospect. However, when you can shoot like he does, it really does come down to putting in the work to make himself a complete player. I don't expect to hear his name called come Draft Night, but if he can find the right situation to work on his game, he has the potential to be in the NBA – definitely worth seeing where he is a year from now.
More to come this week, including our full reports on Jimmer Fredette, Harrison Barnes and Alec Burks, as well as more The Case For…'s. Leave your comments below, email me any comments or suggestions at [email protected], and remember to follow me on Twitter – @NBADraftBlog.