As we head towards the 2011 NBA Draft, it is time to give a look at some players who are borderline draftees, but may have the skills which could translate to a NBA career down the road, maybe even next season. The Case For….takes a look at these players and tries to give a brief outline of what skills they have, what they are missing, and what steps would eventually lead them to the NBA. This edition looks at the man affectionately known to the Big Blue Nation, and, thanks to a very good NCAA Tournament, college fans everywhere, as "Jorts" – Kentucky forward Josh Harrellson. Harrellson's season got off to a rough start when he turned to Twitter to vent about Coach Calipari, but he took that negative situation and turned in a season that nobody, even Kentucky fans, saw coming. Even with such a good season, where does this leave Harrellson next year. Let's look at the Case For… Josh Harrellson: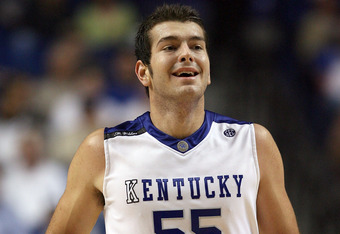 Josh Harrellson, Kentucky, Senior 6'10, 275
7.6 ppg, 8.8 rpg, 1.5 bpg, 61.4 FG%, 60.0 FT%
The Good – For a guy who played 400 minutes combined in the two previous seasons, Harrellson took a small opportunity, and the ineligibility of Enes Kanter, to make a name for himself. With a limited skill set, he has become known mostly for things that don't show up in the stat sheet. Rarely does he not hustle when he is on the court; and he plays with the same intensity from tip to ending buzzer. He has worked extremely hard to get himself into shape this year, and it can be seen in his ability to play long stretches of minutes at a face pace. This isn't to say he has no skills – he is extremely effective around the rim, has the ability to finish with either hand, and has shown some explosiveness at the basket. He has good rebounding instincts, and he is not afraid to throw a body at anyone going for the ball. On the defensive end, he uses his body well trying to keep players off the blocks, and he has shown a bit of improvement guarding outside the lane. While not a great shot-blocker, he does have good timing and always makes an effort to alter shots. He runs the floor well in transition and has the potential to be a good trail option on the break.
The Bad – As I brought up earlier, Harrellson is a post player with very few offensive post skills. He is effective when guards break down the defense and draw his defender, leaving him open. If given the ball in the post, or in a one-on-one situation, he doesn't have the moves or footwork to consistently get to the basket. While he has shown the ability to hit the mid-range jumper, it is far from being a good option for him, and it certainly isn't good enough to force a defender to come out on him. His hands are just average, as well as his passing skills. Though he was rarely doubled in the post area, when he was, he didn't make very good decisions with the ball. On the defensive end, he relies mostly on his strength and size, but he does not move his feet well, and is susceptible to both quick post moves and being matched up against players who have a decent face-up game. He is just an average help defender, and is often a step slow to rotate over when needed.
The Verdict – It is tough not to root for a guy like Harrellson who waited for his chance and took advantage of it, but hustle and hard work are just part of the equation. His skill level is just not there yet, and at this point, it may be fair to say that it never will. Combine that with average atheltic ability and it doesn't bode well. But, he has already shocked most people this season with his play, and if he keeps the hustle and spends some time in an environment where they develop the skills he needs, I wouldn't absolutely rule out him making a NBA roster down the line. I just don't see it happening soon – so I wouldn't really expect to hear his name called on draft day.
Make sure to check back daily now for more The Case For…'s, as well as new scouting reports and many new features. Leave your comments below, email me any comments or suggestions up top, and remember to follow me on Twitter – @NBADraftBlog.