It's Sweet 16 Friday, and today I will be looking at the players to watch in the Southwest and East brackets. First, the Southwest bracket with Kansas, led by the Morris twins, taking on Richmond and their senior duo of Kevin Anderson and Justin Harper, followed by the tough defense of Florida State going up against Virginia Commonwealth's attacking offense. With the draft just a few months away, here are the players to keep an eye on tonight: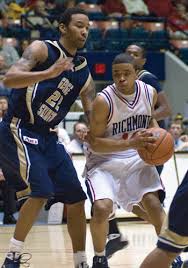 Markieff Morris, Kansas, 6'10, 245, Junior, Forward
Marcus Morris, Kansas, 6'9, 235, Junior, Forward
When the Morris brothers entered Kansas three years ago, they were very similar players. Over that time, Marcus, spurred on by time with the US Select Team, has developed a more well-rounded game, especially on the offensive end. Markieff has slowly developed into one of the purer post players in the NCAA, and they are both two of the toughest players around.
Marcus has developed a solid mid-range jumper to go along with a good post game. He has improved his ballhandling skills to the point where he is now a threat to make a move from the perimeter. Once he learns to create for himself off the dribble, as well as continuing to improve the range and consistency of his jumper, I believe is skilled enough to be a legitimate offensive threat in the NBA. Defensively, many of his issues are related to effort, rather than skill. While he is still adjusting to guarding on the perimeter more often, he has shown that he knows how to position himself and to move his feet in a way that forces his man into his help defenders. He uses his body well to both defend and get position for rebounds, and similar to Markieff, he goes very strong after rebounds instead of waiting for them to drop to him.
Markieff, while not as diverse an offensive player, has worked hard to develop the footwork and presence of a legit post player. He has shown flashes of a face-up game out to 10 feet, but he needs to become more confident in that shot, while also working on his ability to draw the defense out and make a move to the rim. Defensively, he is very good at using his lower body to force offensive players off the block, though if he gets drawn out away from the lane, he doesn't have the footwork or speed to play tight perimeter defense.
They are both 1st round picks if they choose to come out this year, though Marcus is probably more in the 12-18 range, while Markieff is likely to go in the 16-25 range.
Click here for the complete scouting report on Marcus Morris.
Click here for the complete scouting report on Markieff Morris.
Thomas Robinson, Kansas, 6'9, 237, Sophomore, Forward
Robinson has shown flashes of potential in limited minutes this season playing behind the Morris twins, and most people who have seen him play are really looking forward to what he could do with more court time. While not as polished an offensive player as either Marcus or Markieff, Robinson is more athletic and very explosive when he gets the ball in the lane. On the defensive end, he is extremely tough, and can guard either forward or the center positions. The main issue right now that I see is that he seems to play purely on instinct, and needs to still develop those little nuances or traits which make good players great.
While there has been talk of Robinson being considered a first round pick if he was to come out this season, to me that would be too big of a risk for any team to take. Assuming that at least one of the Morris brothers comes out to open up more time for Robinson, he could really blossom into a special player at Kansas. If he comes back, I really think he can make as big a leap as Marcus did from sophomore to junior year.

Chris Singleton, Florida State, 6'9, 220, Junior, Forward
Singleton is primarily known as a defensive player (2010 ACC Defensive Player of the Year), but in the last 18 months has shown significant improvement on the offensive end. Still shaking off the rust from a broken foot in February, he has been a key to Florida State's suffocating defense in the first 2 rounds. He has great size and long arms, plays much bigger than his 6'9 on both ends of the floor, and has developed the range on his jumper to extend defenses. He has also improved his ability to find holes in the defense and either make a quick move to the rim, or pull up for a mid-range shot. Shot selection is still a minor issue with him, and he needs to work on being able to create the best possible for shot for himself or his teammates. On the defensive end, he can be a terror – he is strong, uses his length to force bad shots, is an excellent weal-side help defender and has developed very good timing blocking shots. He has the ability to guard multiple positions, but I would like to see him develop better footwork and positioning guarding on the perimeter.
If Singleton was considering a jump to the NBA this season, I think teams would move quickly to secure a big man with his athleticism and defensive skills – though I have downgraded his range a bit from late lottery to mid-1st round, most likely in the 17-23 range would be great value for him.

Check out the full scouting report on Chris Singleton from earlier this season here.
Justin Harper, Richmond, 6'10, 225, Senior, Forward
Very few players have caused people to be wowed and frustrated this season as Justin Harper. A long, athletic forward with a very good jumper and the ability to score in a variety of ways around the lane, he is also known to disappear for long stretches of games and has been labeled "soft" by many – more on that in a bit.
On the offensive end, Harper has the ability to create many mismatches – he has 3-point range, can put the ball on the floor, can play with his back to the basket and has the court vision to be very tough up top or in the high post. He is more comfortable out on the perimeter, but he really needs to work on moving without the ball – he seems to settle into a spot and wait for the ball to come to him.
Defensively, he is average – long enough to force bad shots in the post, but not strong enough to stop players from backing him down. His length comes into play on the perimeter as well – he disrupts passing lanes and can force shooters to alter their shot, though he falls too easily for head and ball fakes, and he doesn't have great lateral movement. He does a good job getting in position for rebounds, but I would like to see him use his body more to clear out space.
So is he really "soft"? I'm not sure that is exactly the case – he is not physically strong, but that alone doesn't make a player soft. When you combine it with his lack of effort at times – then yes, I can see where he is "soft", but that's not always the case. It is a consistency issue with Harper, one I'm not sure he will be able to shake pre-draft. This is the reason I don't see him going until early 2nd round at best – he is going to need to show the effort before a team is going to pay him. If he can do this, I think he has the ability to be a solid role player immediately for some NBA teams.

Check back after the NCAA Tournament for the full scouting report on Justin Harper.
Kevin Anderson, 6'0, 175, Senior, Guard
Anderson, the 2010 Atlantic 10 Player of the Year, has gone from a point guard who can score to a player who can turn a game around in many different ways. On offense, his ability to get into the lane is excellent, and he has really improved his ability to finish around the rim – either with a soft floater/short jumper, or take the hit and still get the shot off. He is much tougher than he looks, but also has the control and ballhandling skills to weave his way through crowds. He has worked hard at making his jumper more consistent, and he has improved his range enough to force defenders to come out and guard him tight. The next step for him will be to improve his ability to create space for his jumper of the dribble or the use of screens. And while he has improved as a creator/playmaker, I still think he needs to show he can do more of it to play in the NBA.
Defensively, Anderson is a pest with the ability to tightly guard for 90 feet for long periods of time. He has great lateral movement, has active hands, and anticipates the offensive players' movements well.
I like Anderson as a player, but I am not convinced he has enough of that "natural" point guard ability to be in the NBA, right now. But he does have good leadership skills and scoring ability, so I wouldn't be surprised if a team took in a flyer on him near the end of the draft, especially if he works out well pre-draft.
Now for the Virginia Commonwealth players to watch, I discussed them back in Round 1 – which you can find here.
Make sure to check back later as I finish off with the East bracket and see what players you need to keep an eye on towards the 2011 draft. As always, leave your comments, contact me at [email protected], and follow me on Twitter – @NBADraftBlog.