The NCAA Tournament field is now down to 16, and among those 16 are many players who will be a part of the 2011 NBA Draft. Over the next few days, I will be taking a region-by-region look at the players to watch for with an eye towards this draft. First up is the West Region, highlighted by Duke vs. Arizona and BYU vs. Connecticut: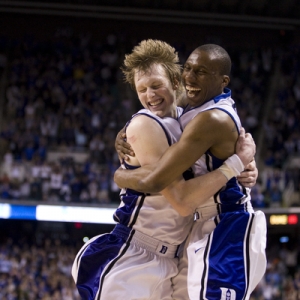 Nolan Smith, Duke, 6'2, 185, Senior, Guard
Smith not only handled the transition to point guard well this season in Kyrie Irving's absence, he flourished into a National Player of the Year candidate. Now with Irving back, albeit in a limited role, Smith has the opportunity to move back into his natural position as a scoring guard. While he still will battle with the impressions that he cannot be a legit NBA point guard, Smith still has shown enough to make him a mid-first round pick.
Check out the full scouting report on Nolan Smith from earlier this season here.
Kyle Singler, Duke, 6'8, 230, Senior, Forward
Singler has endured long stretches of inconsistent play, especially with his jumper, over the last 2 seasons, but that should not take away from the skill and versatility he gives Coach K and the Blue Devils. When his jumper is working, he can stretch defenses, and he also has shown very good ability on the offensive glass. While no one marvels at his athletic ability, he knows how to play the game and is rarely a liability on the floor. Though his lack of consistency has probably dropped him into the second round, he would still be a great value pick in the 35-40 range.
Check out the full scouting report on Kyle Singler from earlier this season here.

Kyrie Irving, Duke, 6'2, 180, Freshman, Guard
While it is tough to judge if there will be any long-term effects from his toe-injury which forced him to miss most of his freshman season, there is no doubt that Irving is one of the most-naturally talented freshmen, if not player, in the country. He has an incredible ability to create, not only for himself, but for his teammates, and has as polished an offensive skill-set then you will find in any 18 or 19 year old. Defensively, he has great instincts, though he still needs to work on the nuances of both on and off-ball defending (positioning, working through screens, etc.) Even with the extended time miss this season, it is hard to believe that if Irving heads to the NBA this year, that he is not a Top 5 pick and the first point guard taken.
Check out the full scouting report on Kyrie Irving from earlier this season here.
Derrick Williams, Arizona, 6'8, 241, Sophomore, Forward
Williams has established himself as one of the most athletically-gifted forwards in the country, with the ability to both out-leap and out-muscle players around the rim, while slowly developing an improving perimeter aspect to his offense. He has great instincts around the rim as both an offensive and defensive rebounder, and while not a great defender, he adjusts to match-ups well and has shown that he can guard both on the blocks and out on the perimeter. He will still need to develop a more reliable 15-17 foot jumper and work on using his dribble to get by defenders to make him a legitimate offensive threat at the NBA level. Assuming he is going to come out this season, it is hard to see him dropping out of the Top 8 picks in the draft, with the potential based on who's drafting to go as high as 3 or 4.
Check out the full scouting report on Derrick Williams from earlier this season here.
Kemba Walker, Connecticut, 6'1, 172, Junior, Guard
I took a look at Kemba here on the site a few months back, and at the point, I was amazed at how he had rounded out his game. Though he didn't put up the eye-popping numbers from the end of 2010 during the Big East season, he showed everyone during the Big East Tournament that if you give him a chance to take the game from you, he will. He shouldered the offensive burden for UConn for most of the season, but he is still one of the best in the NCAA at creating opportunities for his teammates – nobody draws multiple defenders quicker than Kemba, and his younger teammates have all improved because of this. For NBA teams looking for a catalyst to jump-start their offense, Walker may be the best fit. He will certainly need to get stronger to play his style in the NBA, and he will need to tighten up a bit on the defensive end, but I don't see him falling out of the lottery and should be the 2nd or 3rd point guard taken this year, assuming he declares.
Check out the full scouting report on Kemba Walker from earlier this season here.

Kawhi Leonard, San Diego State, 6'7, 210, Sophomore, Forward
I will be the first to admit that even though I enjoy watching Leonard play, I am having a tough time seeing where exactly he fits from a NBA point of view. At 6'7 and 210 pounds, he plays much, much bigger and combined with great basketball instincts, he makes plays you don't think he can against much bigger players. He is extremely quick to the ball on both the offensive and defensive glass, and if he gets his hands on the ball – he's not losing it. He uses his body extremely well to create space in the lane, and he has very nice touch around the rim – though he also has the ability to attack the rim strong and finish. My issue with him is at his size, he really needs to become a much more complete player on both ends of the floor outside of 10 feet. His mid-range jumper has improved, but it isn't quite reliable enough to make you guard him closely, and on the defensive end, I think he has shown great improvement, especially when defending in space, but he still needs to tighten up his positioning and lateral movement.
I think he really could use another season to work on these things, but all things considered, I think he is solid mid-to-late first round pick if he declares this season – a nice addition to playoff team where there is no hurry for him to play major minutes.
Check back post tournament and pre-draft for a full scouting report on Kawhi Leonard.
Billy White, San Diego State, 6'8, 235, Senior, Forward
White has shown himself to be the Aztecs' go-to defender, and with great size and long arms, as well as excellent lateral movement and defensive IQ, he has the ability to guard both forward positions, and is capable of guarding on the perimeter and in the post. Also, over-looked is his ability to pick out situations where he can score – he doesn't force many shots, and is willing to work within the flow of the offense. The major issue for White, is that his offensive skills are very limited outside of put-backs and drive and dish situations. If he can work on his mid-range jumper and add the ability to get to the rim consistently, he may eventually work his way to the NBA – as long defenders are always welcome.
While I don't see him being picked in the 2011 Draft, other than in the lower-half of the 2nd round, I think he is the perfect player to take advantage of the D-League, especially to develop the offensive skills to go along with his defense.

Malcom Thomas, San Diego State, 6'9, 220, Senior, Forward
While Leonard gets most of the publicity for the Aztecs, and a lot of it deservedly, Thomas would be my pick for the player most ready at this point to get minutes at the NBA level. Thomas has great size, is an excellent scorer around the rim, has shown great athletic ability getting up and down the floor quickly, and can battle for boards with much stronger players. While he is a good help defender, with very good shot-blocking ability, he is not a great post or perimeter defender. In the post, he needs to use his body more to force players away from the rim, and not rely on trying to block shots. On the perimeter, he doesn't have great footwork, and needs to improve his ability to guard a player in space.
With all of that, I still like Thomas as a late-second round pick who has the ability to turn heads come training camp. He goes out and gives everything he has to the team, doesn't need a lot to feed his ego, and I believe still has a lot of untapped potential as an offensive player.
Make sure to check back tomorrow as I move over to the Southeast bracket and see what players you need to keep an eye on towards the 2011 draft. As always, leave your comments, contact me at [email protected], and follow me on Twitter – @NBADraftBlog.