As part of the expansion to 68 teams this year, the Play-In portion of the NCAA Tournament has gone from 1 game to 4; from 1 day (Tuesday) to 2 days (Tuesday and Wednesday – making the first week of the Tournament a 6-day week); and instead of a battle of 16 seeds, there are 2 games of 16 vs. 16, but there will also be two other games with 2 teams playing for an 11 seed, and another 2 playing for a 12 seed. NBA Draft Blog will be providing throughout the first week, the top players to watch in each region and their professional potential. After yesterday's look at the Day 1 games, now it is on to the Wednesday games, featuring a match-up between USC and VCU battling for an 11 seed, as well as 16-seed match-up between Alabama State and UT-San Antonio. Four players – 3 big men and a very explosive wing – highlight our look at Day 2: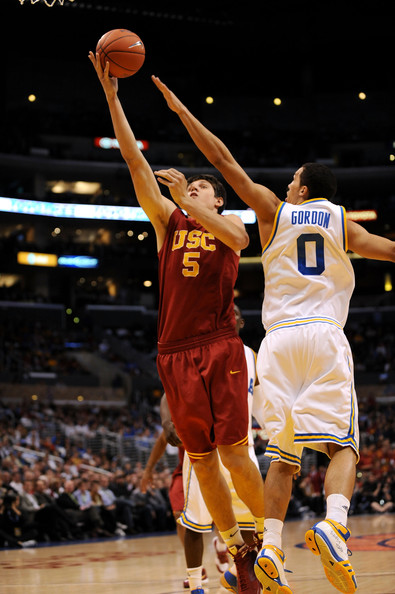 Nikola Vucevic, 6'10, 240, Junior, USC
Vucevic has seen his star rise in the more-disciplined system of Coach Kevin O'Neill. On the offensive end, he has become very effective, especially looking to get position in the high and low posts and using size to create space for a clean shot. He has a nice shot out to 15 feet, and has shown the ability to step out even further and hit the long jumper. He has decent footwork and has become very good with head and ball fakes to draw the defender and contact. One of his best skills is his ability to read missed shots and get rebounds quickly and cleanly. He sees the court well, but he needs to work on getting the ball out of double-teams quicker.
He has the potential to be a good defender, though he needs to work on becoming more aggressive, especially when guarding post players. He is too content to let players establish position and hope to force them into bad shots. Problem is, his defensive footwork isn't great and he has been beaten easily by smaller and quicker players on simple post moves. He is a very good rebounder, and uses his body well to box out and clear space for the board. One area I would like to see him do better is hedging and recovering on high screens – he is a step or two slow in both cases and forces help defenders to try and rotate over quickly to bail him out.
NBA Potential: Above Average – Good size, a nice jumper and a strong basketball IQ will get him a lot of looks, but he really needs to work on polishing portions of his game on both ends, especially relating to his footwork, to enable him to play with NBA level big men. If he can make the same progress between his junior and senior years that he did between sophomore and junior years, he could be in very good shape.
Alex Stephenson, 6'10, 250, Senior, USC
While Stephenson is not the offensive player that Vucevic is, he does almost everything else better as a post player. Stephenson is very strong and uses his body well on both ends of the floor and is one of the most effective screeners I have seen in the NCAA this year. He doesn't have much of an offensive game, but he is very strong around the rim, and can hit the 8-10 foot jumper. Other than the occasional open shot and put backs around the basket, you will not get much out of him on the offensive end, but don't take that to mean he isn't an important part of the offense – he makes the players around him better. Needs to work on his free throw shooting, and should not be in the game in close situations.
On the defensive side, Stephenson is a tough post defender, uses his body well to force players out of the lane, and takes tough defensive assignments to allow Vucevic to not worry about it. He is a very good rebounder and help defender, and while not very athletic, he does a good job altering shots around the rim.
NBA Potential: Above Average – While he isn't going to be a scorer at the NBA level, he does a lot of things that coaches love, and he does them well. He understands positioning on the floor, and his big body helps clear space for his teammates to operate. He is content being a rebounder and defender, and with the right opportunity, could find a spot as a role player down the line.
Bradford Burgess, 6'6, 225, Junior, Virginia Commonwealth
Burgess may not the best athlete on VCU, but may be the best athlete in the Colonial. He has the ability to explode by you to the rim and finish strong, step back and hit the mid-range jumper, or line up behind the 3-point line. He is also very good on the offensive boards, finding ways to jump over bigger players to get his hands on the ball. At this stage, don't expect much more out of him than scoring – he doesn't handle the ball particularly well and has a tendency to only look to score once he get the ball. He runs the floor well and has the ability to take it all the way to the basket or pull up and hit the jumper.
Defensively, he has the ability to be a strong on-ball defender – he moves his feet well, has good lateral movement and active hands. He is a strong rebounder, and as on the offensive end, he has the ability to go up after the ball very quickly. His effort on the defensive end isn't always consistent and he may look to gamble a little too much than his team needs.
NBA Potential: Above Average –I love Burgess' potential, but that is qualified by him working hard to improve his game. But with his athleticism, and the potential to guard multiple positions, he will be very attractive to many NBA front offices. Next season, he will need to show the ability to create his own shot off the dribble, and I really would like to see him use screens better to get his jumper off.
Jamie Skeen, 6'9, 240, Junior, Virginia Commonwealth
The battle between Stephenson and Skeen has the potential to be a very physical one. Skeen has a very strong body, takes up a lot of space, but he has the ability to hit the mid-range jumper consistently. Not a traditional post player, when he gets the ball down low, he just tries to go through players and there haven't been many this season able to stop that. That being said, there is not very smooth about his offensive game, and he doesn't handle pressure very well. With the style of his game, he takes a lot of contact and does get to the line a good amount, and at 73%, is not a bad free-throw shooter.
His defensive style is very similar – he is physical, uses his body well to force players off the boxes, and has shown a good ability to step out and guard on the perimeter in small doses. He does a good job going after missed shots, but I am concerned that he has a tendency to not position himself well for rebounds. With his strength, he should not end up getting pushed away from the basket as much as he does.
NBA Potential: Average – Like Stephenson, Skeen is a strong team basketball player, doesn't need to put up big numbers to contribute, but he does have the ability to score when needed. Defensively, I would like to see him show that he can guard on the perimeter more consistently. He will need time to really polish his overall game and in the right situation, may get a chance to show his stuff.
There will also be some decent point guards on display here in Dayton on Day 2 – USC's Jio Fontan, VCU's Joey Rodriguez, and Texas-San Antonio's Devin Gibson. Fontan is someone who has some NBA potential, but we will take a much bigger look at him next season
That's it for the First Four. Make sure to check back tomorrow for a look at the players to watch on from the Thursday Round 2 games, and look for more updates on the site through the Tournament and on Twitter – NBADraftBlog.