As part of the expansion to 68 teams this year, the Play-In portion of the NCAA Tournament has gone from 1 game to 4; from 1 day (Tuesday) to 2 days (Tuesday and Wednesday – making the first week of the Tournament a 6-day week); and instead of a battle of 16 seeds, there are 2 games of 16 vs. 16, but there will also be two other games with 2 teams playing for an 11 seed, and another 2 playing for a 12 seed. NBA Draft Blog will be providing throughout the first week, the top players to watch in each region and their professional potential. First up, let's take a look at Day 1 in Dayton where Clemson and Alabama-Birmingham are battling for a 12 seed, and UNC-Asheville and Arkansas-Little Rock are playing for the chance to meet the #1 seed in the Southeast Region – the Pittsburgh Panthers.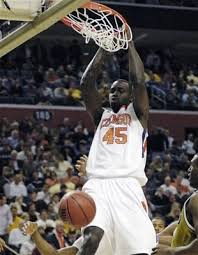 Aaron Johnson, Senior, UAB
The nation's leader in assists at 7.7 per game, Johnson may be on the five fastest guards in the NCAA, and likes to play at top speed for the full game. At only 5'8, Johnson does a very good job weaving his ways through defenses on his way to the lane, and once he is there, he knows where to an open teammate. If he doesn't give the ball up, he can be very effective with short pull-ups or floaters in the lane, but don't expect him to score from much further out than that – at 5'8, he doesn't get many good looks and he just isn't that good of a shooter.
On the defensive end, Johnson can be a terror. He is extremely tough as an on-ball defender, and he uses his quick hands and feet well to get his man flustered. The biggest problem for him on the defensive end is he has a tough time getting through screens, and almost any switch puts him in a potential mismatch. His best weapon is to pressure the ball hoping he can get out in transition, where not many will catch him in the open court.
NBA Potential: Below Average – he will be a lot of fun to watch, and his speed and court-vision are great assets, but his lack of size and scoring ability will make him a tough sell to NBA teams.
Cameron Moore, 6'10, 230, Senior, UAB
Moore has great length and uses it well to be an effective rebounder on both ends of the floor. On the offensive end, he is most effective on quick cuts and flashes to the rim rather than with a traditional post offense. He has decent touch around the rim, shows good athleticism to find ways to get shots off, and has shown an improved, but not great, mid-range game. He gets after missed shots quickly and has a knack for getting put-backs up quickly.
Defensively, Moore uses his long arms well to alter shots, though he needs to work harder at being a legit post defender. His biggest problem is he gives up position too quickly and relies on trying to block shots – which really isn't a strong suit for him. He does to a good job rebounding, though he needs to work on becoming more aggressive, especially getting into position to grab the board.
NBA Potential: Average – His athleticism, size and long arms make him attractive, but he really needs to become stronger and more aggressive on both ends of the floor, as well as polishing his offensive skills around the lane.
Demontez Stitt, 6'2, 180, Senior, Clemson
Stitt, the senior leader of the Tigers, has been a consistent performer at the guard position for Clemson, and this year stepped up his game around the board to get Coach Brad Brownell into the Tournament in his first year at the helm. He has a decent jumper with good range, but is much more effective as a slasher to the basket, and he does a good job using screens or breaking down his man off-the-dribble. He is a good ball-handler and sees the court well, but his role is as a scorer and he does much better not handling point guard duties. He has good speed, and has the ability in transition to hit the long-jumper or finish at the rim.
Defensively, Stitt has plenty of ability, especially on-the-ball, but his effort can be inconsistent. He moves his feet well, has good lateral movement, and quick hands, though he needs to watch his tendency to gamble and reach-in looking for the steal. Off the ball, he does a good job with his positioning and plays the passing lanes well, but again, he needs to temper his desire to gamble on the defensive end.
NBA Potential: Average – While he has good scoring ability, he will need to prove that he can run an offense effectively, while also showing he can defend NBA-level point guards.

Jerai Grant, 6'8, 230, Senior, Clemson
Grant, the son of former Clemson/Oklahoma star, Harvey Grant, and nephew of Horace, a Clemson All-American and NBA champion, has shown very good ability in the face of big expectations at Clemson. While he doesn't have the size and strength that Harvey and Horace had, he has been a very effective scorer around the rim for the Tigers. He uses his body well getting position, has developed a solid set of post moves, and has nice touch and the ability to get the defender in the air. He has added a semblance of a face-up and mid-range game, though he still needs to improve in this area. He has a good motor, and will battle anyone on the offensive glass.
Defensively, he does a solid job usually guarding players bigger than he is. He knows how to use his body well, and does a good job trying to force players away from their strengths. He rebounds well, and does a good job making sure to put a body on someone before going for the ball. His footwork isn't great, but he rarely gives up on a play, even when he has been beat.
NBA Potential: Average – Grant obviously picked up a lot about the game from his family. While there is nothing special about him physically, he knows how to best exploit his strengths while trying to maximize opponents' weaknesses. However, with the lack of any great physical tools, he will need to show a lot more to his game, especially on the offensive end, to get a shot at the next level.
Fans of Arkansas-Little Rock and UNC-Asheville – I really tried to find players to include here, but no one stood out to me, though they are both solid teams. Make sure to check back tomorrow for a look at the players to watch on Wednesday from Dayton, and look for more updates on the site through the Tournament and on Twitter – @NBADraftBlog.