Today's NBA Draft Blog Scouting Report is the second trip out to Lawrence – first time was for Marcus Morris – now we take a look at his twin brother, Markieff. Coming into Kansas, they were very similar players, but Marcus, by virtue of his time with the US Select Team last summer, has developed a better all-around game, possibly good enough to be a lottery pick this year. If Marcus leaves, is his brother ready to go also? Tough question, but let's take a look at Markieff Morris: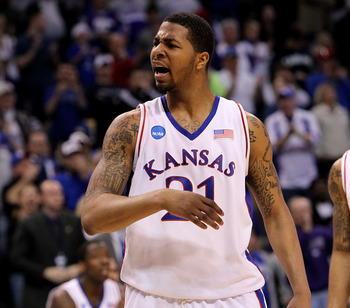 Markieff Morris, Kansas – Junior
Forward- 6'9, 245
13.6 ppg, 8.2 rpg, 60.1% FG, 68.4% FT
Offense
Post Skills- This is where Markieff does his most damage. He has a great post body, uses his lower half very well to get position and has done a great amount of work to develop a nice repertoire of post moves. He has good footwork, gets good spacing, and has the ability to make a move over either shoulder. I would like to see him improve his face-up game and the consistency of his short jumper. He does a great job establishing position, seals off the defender well, though I think he needs to work on getting lower and establishing better balance. He has very good touch around the rim, and has the ability to finish in close with either hand. He does need to work on going stronger to basket around the rim instead of settling for shots moving away from the basket. Along with this, I would like to see him become more aggressive when he gets the ball, not just with a move itself, but in making the defense think he is making a move.
Footwork- Morris has good footwork, has developed the ability to make moves in either direction, and at times, has shown good foot speed with his moves. His largest problem is that he is becomes very hesitant before, and while, making his move, leading him to turn a 2-step move into a 4 or 5-step move – good defenses will be able to help on that. On the perimeter, he is improving his ability to make a quick move to the rim, he just isn't quite there yet – he knows what he needs to do, he just hasn't done it enough to be smooth.
Ballhandling/Hands/Penetration- I have been impressed by the improvement in Morris' control of his dribble as the season has progressed. He has gotten much better in the post with keeping his dribbles to minimum and close to his body, though the hesitation issue does tend to negate this at times. On the perimeter, he I still a work in progress, but his dribble-control is improving. He has good hands in the post, and gives his teammates a big target to get him the ball. From a face-up/perimeter point of view, he has the ability to eventually be a legitimate threat going to the rim – he just doesn't have the control of his move yet. He has a surprisingly quick first step to the rim, and uses his big body well creating space to get to the rim. He needs to work on his control and developing his options if he is stopped going to the rim – a short jump stop and quick jumper would be a big help to his game.
Perimeter Shooting- I have avoided comparisons with his brother on purpose, but this is one area where Marcus has clearly surpassed him at this point. Markieff has solid form and decent range, he just doesn't have the confidence in his 10-18 foot jumper. Eventually, if he develops at the same rate, I see him being a legit threat at least at 15 feet, possibly out to 18. He has good size, but he also needs to get better lift and a quicker release as well.
Rebounding/Passing- Morris is an excellent offensive rebounder – he has a great knack for getting position, reads the angle of misses well and uses his strength to muscle the ball away from the traffic. I would like to see him do a better job getting a second shot off quicker, but he does do a good job of getting the ball in position for a good shot. Morris is also turning into a very good post passer. He sees the court very well, and he is very aware of his teammates, especially in the high post. If there is one knock, it is that he doesn't always react quickly to double teams and he needs to anticipate when it is coming and get the ball out quickly.
Free Throw Shooting – Morris really needs to improve his free throw shooting to become a real threat in the post. 2 things – one a post player with his skill should get to the line much more often, and two, he needs to hit them once he gets there. His mechanics are fine, so it really is a matter of taking his time and just hitting the shot.

Defense
Post Defense- Morris is a solid post defender, uses his lower body well to force players off the blocks and he has decent footwork. He needs to become more aware of the players he is guarding and their tendencies – he has gotten beat too many times by inferior post players because he played them incorrectly. Another major issue is his tendency to not put his arms up on defense – not only does it give players a good shot over him, but he puts himself in danger of getting called for cheap reach-in fouls he can't afford to get. I would also like to see him work on fronting post players as well, and force teams to try and beat him over the top. He shows good awareness off-ball and is a good help defender, though he needs to work on his foot speed.
Rebounding/Blocking- Fundamentally, Morris is a very good rebounder. He boxes out well, uses his body to force players out, and goes strong after the ball. One minor issue is that I would like him to go after the miss quicker after the box out, but he uses his body so well, it's not always necessary. With his size and strength, I see no problem with Morris being an effective NBA rebounder. Shot-blocking is something different. One, the issue I discussed above about not having his arms up on defense makes it tough for him to go after shots quickly, and two, his timing is good, but not great. He gets himself into good position to block shots, but he just doesn't have that explosion to be a legit shot-blocker.
Summary & Intangibles
Athleticism – Average
BB IQ – Above Average
Morris has the potential to have as much of an impact as his brother, but most likely in a much different way. Markieff is much more comfortable in the post, and while he needs to develop some semblance of a perimeter game, he just isn't as athletic as Marcus. Now, if he was to come out this season, I still think he would be a mid-to-late first rounder, most likely in the 18-25 range. But, in my opinion, whether Marcus leaves or not, I really think Markieff could use the extra year at Kansas to develop the ability to be a dominant post player on offense and to work on his defense. If he does that, I can see him having a shot to move into the late lottery in 2012.
All week, I will be posting much more on tourney-bound players, so keep checking back. Remember, leave any comments below, follow me on Twitter – @NBADraftBlog, or feel free to email me at the link up top.