Time for another NBA Draft Blog Scouting Report on a Kentucky freshman – last month we looked at Terrence Jones, today we look at guard Brandon Knight. Knight came to Lexington with a great reputation as a scorer, but many were waiting to see how he developed as a point guard. Has he done enough to be a NBA-level point guard, or will he be known as just a scorer? Time for a look at Brandon Knight: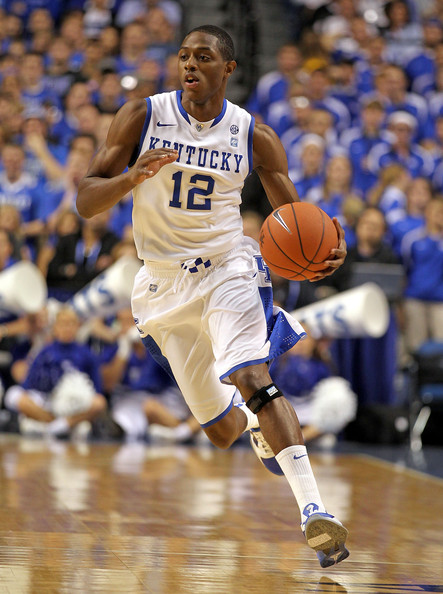 Brandon Knight, Kentucky – Freshman
Guard- 6'3, 185
17.7 ppg, 4.0 rpg, 4.0 apg, 44.9% FG, 79.7% FT, 40.6% 3FG
Offense
Perimeter Shooting- Knight came into college with a great reputation as a perimeter shooter and he has done nothing to dispel that his freshman year. He has great range to go along with solid form – good lift, rotation, gets square to the basket and good release point and speed. He uses screens well to get open, but he does need to work on his positioning coming off the screen – he tends to not come off tight enough, leaving the defender room to get through. Knight has done a great job moving without the ball on the perimeter, looking to find holes in the defense. He also needs to work on using his dribble to create space for his jumper, especially when he has a defender one-on-one on the outside. One of the more impressive things about Knight as a freshman has been his shot selection – he seems to know his limitations, rarely forces bad shots, and does a good job looking to get the best shot possible. He has not been as consistent with his mid-range jumper, but the issues he have seem easy to fix, mainly when he gets into the mid-range area, he never fully gets set before he shoots, often rushing to take the shot before the defense recovers.
Ballhandling/Hands/Penetration- Knight has shown a very good handle and has taken almost immediately to Coach Calipari's offense, especially his ability to run the high pick and roll. He handles well with both hands and has the ability to make a move to either side. The main thing he needs to improve is his use of the dribble to create space or to get defenders off-balance. Adding a good hesitation or change-of-pace dribble could make him much more dangerous. Also, he tends to get frustrated when being pressured, though experience should fix this. On the flip side, though he has a decent first step and is good at getting into the lane, he really needs to improve most facets of his penetration. First, he really needs look to get into the lane more – he has become more and more reliant on the jumper, which defenses are now looking for. When he does get into the lane, he really needs to become much better with his decision-making – now that doesn't mean he always makes bad decisions, it is that he often takes too long to make the decision. What were open teammates, quickly become covered and quickly the pass becomes a turnover. Now, it is good that he at least realize he has options, and doesn't look to solely go to basket. He is very good at finishing once he gets to the rim, has very good upper-body strength and is good at drawing contact. He has also improved with a floater in the lane, though he doesn't get a chance to use it much.
Rebounding/Passing- Because of the nature of the Kentucky offense, the guards are usually not in position to be effective offensive rebounders, other than their own misses or long rebounds. Knight could be an exception – though he doesn't do it often, he is very good at using his speed to get in among big men and get his hands on a board or two. Long-term, I don't see him being much more than that. As a passer, Knight has the potential to be very good – he has shown great growth already this season, and with experience should get better. He sees the court very well, does a good job getting his teammates the ball in places where they will be most effective and is willing to let things open up before he makes a pass. When the pace picks up, he has not been as good, and is prone to getting sloppy with the ball and making not-so-great decisions. Again, his skill-set is solid, experience should fix the rest. One area he will need to improve before the NBA is the post-entry pass – he needs to find ways to get the ball into the post against a variety of defensive looks and not just try to force the ball in.
Free Throw Shooting – Knight is a dependable free throw shooter, he just needs to be more consistent in trying to get to the line – there really is no reason for someone who has the ball in his hands as much as he does, to go full games without a free-throw attempt. But, he is someone who has the mechanics and confidence to want on the line in late-game situations.

Defense
Perimeter Defense- Knight is a decent on-ball defender, very active and trying to disrupt passes. However, he needs to really work on his movements, as he tends to play defense flat-footed, and he ends up chasing his man more than keeping himself between the man and the basket. His foot-speed is good, just needs to work on the lateral movements. He has improved significantly throughout the season getting through screens, and is starting to switch-off less and less, avoiding mismatches outside. He has the ability to defend either guard position and at times, has shown the ability to become a real menace to ballhandlers. Off the ball he has been good as well, positioning himself well, getting into help position quickly and recovering and closing when needed. The main thing he needs to watch for is a tendency to be over-aggressive off-the-ball where he becomes susceptible to back-cuts and screens.
Rebounding- Knight has the potential to be a solid rebounding guard – strong body, good leaping ability and good instincts for the ball. He needs to become more aware of offensive players in his area, and at least make the effort to put a body on them instead of heading right for the ball.

Transition
Knight can be incredible or cringe-inducing when leading the fast break. He is very good at getting the ball out ahead of the defense, he sees the court very well and he can finish in a variety of ways – either a pull-up jumper or taking it all the way. But, sometimes you really have to questions some of the decisions he makes on the break – whether he has been told to try and pass more or if he is seeing some openings that no one else sees. Either way, he really needs to improve the timing and placing of his passes on the break. He is much better running on the wing and setting up for the jumper of the break – if has time and an opening, he will hit the shot. Defensively, he does a good job rotating back on the break, and has improved his positioning between the ball and the basket, becoming good at cutting off passing angles.

Summary & Intangibles
Athleticism – High
BB IQ – Above Average
Knight has the potential to be a very good NBA player – good size, great shot, and very confident – but he really needs to become much better at his decision-making and passing to have a chance to be an impact guard at the next level. Right now, if he was to go to the NBA next season, he could provide some scoring, but long-term he is going to need to become a much better point guard. I just don't think he will pick up the skills he needs playing at Kentucky. Like Jones earlier, the best way to maximize Knight's talent is for him to get some work behind NBA guards and if he is smart he will learn what he needs to. Maturity was a potential issue coming into Kentucky, but he has seemed to be doing well this season. I am guessing we will see him in the 2011 Draft, and would be surprised at this point if he made it out of the lottery – though later lottery (11-14 range), but he could go as low as the mid-first range, 16-20.
Make sure to check back later today for a look at another guard who has shown the ability to score but came into the season needing to show he could do more, Kansas State's Jacob Pullen, as well as a new The Case For… on Seton Hall's Jeremy Hazell. Remember, leave any comments below, follow me on Twitter – @NBADraftBlog, or feel free to email me at the link up top.