In today's NBA Draft Blog Scouting Report we look at a guard who has shown that he can score in a variety of ways and has a reputation as one of the toughest players in the NCAA – Virginia Tech's Malcolm Delaney. Delaney has been the main reason that the Hokies have been on the NCAA bubble the last few seasons, and this year may be the breakthrough year, especially with a big win over Duke, where Delaney took over down the stretch. But at 6'3 and with a small frame, can he be the complete guard he needs to be to play in the NBA? Let's take a look at Malcolm Delaney: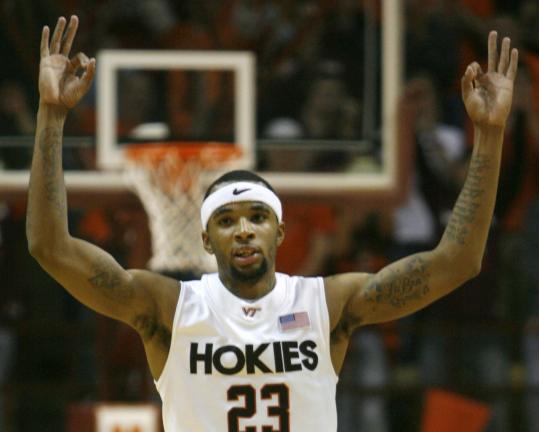 Malcolm Delaney, Virginia Tech – Senior
Guard- 6'3, 190
18.7 ppg, 3.5 rpg, 4.1 apg, 41.8% FG, 85.9% FT, 40.6% 3FG
Offense
Perimeter Shooting- Delaney will always be thought of as a perimeter shooter first and foremost, and with good reason. He has great range on his jumper, very good lift and a good release point. He has had some issues with taking shots too quickly, before he gets square to the basket, but overall, he is a dependable shooter. Shot selection is a different story. This was a major issue for him coming into the season, and while he made strides in the first part of the season, he seemed to regress as the season wore on. The main problem seems to be his hesitation to take the extra dribble or two to get a clearer look, and at only 6'3, this could be a problem at the NBA level. The thing is he is a good shooter off the dribble, he just needs to utilize it more often. Delaney uses screens well and is very good off the catch and shoot. He does a good job using his dribble to create space when in one-on-one situations. Again though, this is something he needs to do more often to get cleaner looks at the basket. Last, and maybe most important as he moves toward the next level, he has full confidence in his shot – he may take some bad shots, but you know he thinks they are going in.
Ballhandling/Hands/Penetration- Delaney is a solid ballhandler, though he needs to watch a tendency to get careless with his dribble. He handles with both hands equally well, and is very good at using a change-of-pace dribble to keep the defense off-balance. Again, this is where we see a paradox in Delaney's game. He is very good at keeping the defender back-pedaling, he just doesn't do it as much as he should. He has a good first step, can get into the lane, and has the ability to hit the shot/mid-range jumper, finish at the rim, or find an open teammate. He is not particularly strong, but he is tough and can take contact at the basket. Unfortunately, the Virginia Tech offense was run mostly with him off the ball, when, after watching them plenty of times, the offense worked better when he had the ball in his hands. While I wouldn't consider him a good point guard, he is much better than people think, and with more work at the position, I can see him not only creating offense for himself, but for his teammates. At least at this level, the defense is drawn to him when he has the ball. If he gets into the lane, he draws 2 or 3 guys, and can easily find a big man around the rim, or the wing for an open jumper.
Rebounding/Passing- While Delaney is far from a great offensive rebound, he does have a good instinct on missed shots and is very quick to the ball. Once he gets a miss, he is very good at getting a second shot up quickly, though it may not be the best option. I think Delaney is very underrated as a passer, again because he spends more time off the ball. As said above, he is very good at drawing the defense and finding the open man, but the one major area he lacks is his ability to run an offense not centered around him scoring. It will be important for him as he progresses to learn how to keep an offense moving smoothly and to show a good ability to get balls into the post.
Free Throw Shooting – Delaney is a very good free throw shooter, doesn't mind the pressure of big free throws and has a very even, consistent stroke at the line. Where he is inconsistent is getting to the line, which plays into the above about him not looking to get to the rim enough.
Defense
Perimeter Defense- Delaney can be a very tough on-ball defender. He has excellent lateral movement, positions himself well and is very good at keeping his hands active. Off-the-ball is a different story – he has a tendency to play very lax when his man doesn't have the ball, often looking for opportunities to gamble on a steal. At the next level, he will not have this opportunity, and will need to learn to deny passing lanes better and to improve his footwork when his man is on the move. He does a decent job getting through screens, but he will need to get stronger to handle them at the NBA level. Also, he needs to be more aware of the shooting ability of his man, and whether going over or under a screen is an option for him. His effort on the defensive end can be inconsistent, but this can be due to him playing a lot of minutes every game. If he does play in the NBA, he will need to be able to show a full effort for whatever minutes he gets on the court. Also, he needs to improve closing on shooters, especially making sure he gets out far enough to make the shooter aware of his presence.
Rebounding- As on the offensive end, Delaney doesn't have the body to be much of a rebounder, but he does give an effort, and is very good at making sure to block out offensive players charging in from the perimeter. His instinct is to leak out on missed shots, but he will need to look for opportunities to get the long rebounds.
Transition
Delaney is very good in transition, with the ability to push the ball himself or to fill one of the wings. If he has the ball, his decision-making needs to improve, especially in drawing the defenders who get back and hitting one of his open men. If he chooses to take the ball himself, he is very good at getting an extra speed burst and beating people to the rim, but he needs to make sure he stays in control, sometimes going too fast for his own good. Also, he can be very dangerous with either the pull-up jumper, or the spot-up shot from the wing.
Summary & Intangibles
Athleticism – High
BB IQ – High
Delaney is a tough player to figure out – the things he does well, he does very well, and the areas that need work, need a lot of work. The one thing that pushes him into the draft for me is his toughness and his willingness to work at getting better. While he showed great promise in his first 2 years at Virginia Tech, he adjusted well to being the focus of the offense and as someone who could carry the team when needed. Physically, he does need to get stronger and I really think his future in the NBA depends on his ability to show he can run a pro offense. If you add that to his scoring ability, you have a very solid back-up guard and a good rotation player. While there is a chance he may go undrafted, I wouldn't be surprised to see a team take a shot on him in the 2nd half of the 2nd round. Even if he does go undrafted, he should get a camp invite this fall with a shot to make a team.
Make sure to check back later today for a look at Kentucky freshman guard Brandon Knight, as well as a new The Case For… on Seton Hall's Jeremy Hazell. Remember, leave any comments below, follow me on Twitter – @NBADraftBlog, or feel free to email me at the link up top.