As the season starts to wind down and we head towards the 2011 NBA Draft, it is time to give some looks at players who are borderline draftees, but may have the skills which could translate to a NBA career. The Case For….takes a look at these players and tries to give a brief outline of what skills they have, what they are missing, and what steps would eventually lead them to the Promised Land of the NBA. This edition looks at one of the Big East's biggest surprises from on the most nation's most surprising teams – guard Dwight Hardy from St. John's. We have seen him score in bunches and seal up some key victories for the Red Storm – but has Hardy done enough to get a look from the NBA? Let's lay out the case for Dwight Hardy: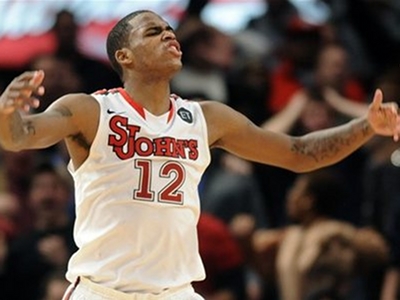 Dwight Hardy, St. John's, Senior 6'2, 196
17.9 ppg, 1.9 apg, 3.0 rpg, 1.4 spg, 35.8 FG%, 41.5 3FG%, 84.4 FT%
The Good – Hardy is a scorer, pure and simple. He has a nice perimeter jumper – good range, nice lift, quick release and smooth follow-through. He uses his dribble well to either create space for his jumper, or combines it with a speed burst to get past his defender. Once he beats his man, he is very good at getting to the rim, and he has improved the consistency of his mid-range jumper. Though not very strong, he has very good body control and finds creative ways to finish around the basket. He can put up points quickly in transition, though he is much better running the wings than pushing the ball up himself. His speed forces defenders in transition to give him space to hit the jumper, or if they close, he goes right by them. Defensively, he positions himself well, stays low, and has very quick hands. Hardy also is very good as a help defender and on double teams, though he doesn't recover quickly to his own man when necessary. He is very confident on the court, and is a key when the game is on the line, as he wants the ball in his hands and is a good free throw shooter.
The Bad – Hardy is a scorer, but he is not very efficient. His shot selection, while it has improved, is still merely average. When he gets penetration, he rarely keeps his head up to see what's around him, intent on only getting to the rim. While he sees the court well, he doesn't have the passing skills to find his teammates in good spots for them to score. He needs to have the ball in his hands to be effective, and while he uses screens well, he has a tough time shaking just above average pressure. On the defensive end, while he has good speed, he prefers to chase his man rather than move with them, and usually it only takes a quick move or change of pace to get by him. His effort on the defensive end is average, though he is a good enough athlete to pick up strong late in the game. He doesn't have the body to contribute much as a rebounder, and even on long rebounds, his instinct is to take off down court rather than secure the ball.
The Verdict – I won't deny Hardy can score and can be fun to watch, but at this stage, he is very far from being 2nd round draft material and I think he is at least a few years from being a NBA consideration. Actually, he may not have the most NBA potential of the St. John's seniors (we will take a look at the others over the next few weeks). He is not a good enough defender to guard at the NBA level and doesn't have the size to be effective just as a scorer – he needs to develop as a ballhandler and distributor. That said, he is extremely confident, and with the proper work, can develop the skills needed. He should get a summer league look, but will really need to put in some work in the D-League or Europe to have a future shot.
Check back tonight for Scouting Reports on Brandon Knight and Malcom Delaney, and a new The Case For… on Jeremy Hazell. Leave your comments below, email me any comments or suggestions up top, and remember to follow me on Twitter – @NBADraftBlog.