Time for another NBA Draft Blog Scouting Report – today we look at a guard who has shown the ability to score in bunches and has been a solid leader for his team over the last few seasons – Purdue's E'Twaun Moore. Moore, along with teammate JaJuan Johnson (whose scouting report for earlier this season can be found here), has helped make the Boilermakers one of the most feared teams in the Big 10, and possibly, the country. But Moore has also gotten that dreaded "tweener" label attached to him by many pundits across the country. Is he much more than a scorer? Let's take a look at E'Twaun Moore: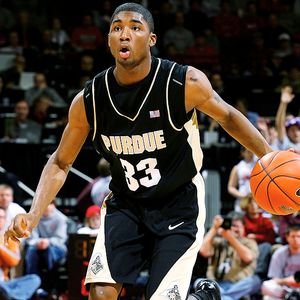 E'Twaun Moore, Purdue – Senior
Guard- 6'4, 193
18.5 ppg, 5.3 rpg, 3.2 apg, 44.8% FG, 70.7% FT, 41.4% 3FG

Offense
Perimeter Shooting- Moore has the potential to be a very good perimeter shooter. His mechanics are solid – he squares his body well, gets very good lift and follow-through and a quick release. Heading into this season, his biggest problem areas were shot selection from the perimeter, especially 3-point range, and the ability to create space for his jumper off the dribble. While he is still not great in either of those areas, he has shown significant improvement this season. He needs to improve his use of ball and head fake and other movements to make the room for his shot. He uses screens well, though he needs to get better at getting using the screens in catch and shoot situations (be square and ready to shoot off the screen), as he is much more of a threat in these situations. He also needs to become more consistent with his mid-range jumper, as he tends to looks either for the long shot or taking it all the way to the basket.
Ballhandling/Hands/Penetration- Moore has improved as a ballhandler, showing much more control and poise than he did in his first few years. He still can get in the habit of over-dribbling while looking for the perfect spot to make a move or find a teammate. He also has to watch his tendency to force plays to the right side, though it is his strong hand, as good defenders have learned to overplay that side. He does a very good job getting into the lane, either off the dribble or off of screens, and he has shown the ability to finish either strong or with finesses at the rim. One of his biggest improvements has come in his body control once he gets into the lane. He has done a good job avoiding help defenders looking to pick up charges or block his shot, and he is strong enough to take some contact and still get a good shot up. If there is one area he needs to work on it is his decision-making once he gets into the lane – it seems he already has made up his mind whether to pass or shoot once he gets past his man, and if he waits a second more, better options can open up.
Rebounding/Passing- Moore is not often in position to get many offensive rebounds other than his own misses, as he tends to either end up at the rim or out at the 3 point line. When he does get an offensive rebound, he has become very good at getting a good second shot up quickly, or determining whether to reset the offense. Moore has also shown that he can be very good as a distributor. While he is primarily a scorer, he does a very good job seeing the floor well and making quick, easy-to-handle passes. He has also become very creative at making good entry passes into the post. When he plays at a quicker pace though, he looks like a different player, looking to be more spectacular than efficient, and his judgment is not as good. He has improved his ability to draw the defense and hit the open man, though as I said earlier, he could create better options if he waited a bit longer before making a decision.
Free Throw Shooting – Moore's free throw shooting is average at best, though he does seem to hit his shots in bigger situations. He does need to work on getting to the line more, as he can go full games without taking a free throw. If he can get to the line more consistently, he has the ability to become a better free throw shooter.
Defense
Perimeter Defense- Moore is a very good defender, with the ability to guard either guard position well. He moves well laterally, keeps his balance well and is active in the passing lanes. He is very good working around screens, making good decisions on going over or under, or switching. If he does get beat off the dribble, he has improved, but is still not great at recovering to his man. Off the ball, he does an average job, though he needs to watch a tendency to overplay his man leaving him to get beat on a back screen or cut. While he can play very tight defense, he has had problems with hands, reaching and holding. He needs to get better closing on shooters, either doing a very good job or putting in little effort to get to the shooter. If he can react better to these situations, he will do a better job affecting shots. One other key area he still has room to improve is as a help defender, as he could be a step slow to help or double, and then recover if needed. He could do much better if he picks his spots better, depending on who he is guarding and if the help is really needed.
Rebounding- Moore is surprisingly effective as a defensive rebounder, going strong after rebounds, anticipating misses well and using his body to find room to get to the ball. He does need to remember to watch for offensive players around him once the shot goes up and try to get a body on them before going after the ball.
Transition
Moore has the ability to push the ball on the break or fill one of the wings. He is much better at taking the ball himself in transition and looking to finish than he is at hitting the jumper or making the transition pass. His decision-making has improved, but it is still not great for a point guard. Defensively, he does a very good job rotating back after a long shot, and looking to beat the ball to the spot and pick up a charge. Again, the one area he needs to watch for his a tendency to reach at the ball.
Summary & Intangibles
Athleticism – Above Average
BB IQ – High
There is a lot to like about Moore's game, most of all his scoring ability. However, he doesn't have the size or body to be an effective shooting guard at the NBA level, and his skills as a point guard are good, but not great. If he can become a better distributor, especially in pick and roll situations and off of dribble penetration, he could find himself as a valuable backup at the NBA level. He has good size for the point position, can guard either guard spot (though he does need to get stronger), and has shown the ability to play in control and be a good leader. I think at this point he has played himself solidly into the mid-2nd round, though I am not sure has shown enough to really go higher than the 38-42 range. No matter where he is picked, I don't have any doubt that he will see a NBA court sooner rather than later if he puts in the work in solidifying his point guard skills.
Make sure to check back later today for a look at another guard who has shown the ability to score like Moore, and then some, Xavier's Tu Holloway, as well as a new The Case For… on Kentucky's Josh Harrelson. Remember, leave any comments below, follow me on Twitter – @NBADraftBlog, or feel free to email me at the link up top.