As the season starts to wind down and we head towards the 2011 NBA Draft, it is time to give some looks at players who are borderline draftees, but may have the skills which could translate to a NBA career. The Case For….takes a look at these players and tries to give a brief outline of what skills they have, what they are missing, and what steps would eventually lead them to the Promised Land of the NBA. This edition looks at Notre Dame guard, Ben Hansbrough. Hansbrough, the brother of Indian Pacer and former North Carolina star, Tyler, has a lot of the same skills and grittiness of his brother, though at 6'3, its plays out very differently. In his second season playing at ND after transferring from Mississippi State, Hansbrough has emerged as a reliable scoring option while running the offense of one of this year's biggest surprises. So will a big senior season be enough to get Hansbrough drafted? Let's see the case for Ben Hansbrough: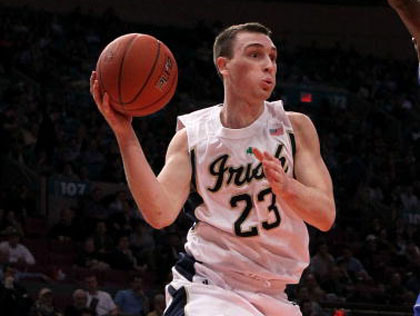 Ben Hansbrough, Notre Dame, Senior 6'3, 203
17.4 ppg, 4.0 apg, 3.9 rpg, 1.3 spg, 46.2 FG%, 41.5 3FG%, 81.3 FT%
The Good – Hansbrough has done a great job establishing himself as one of the most clutch scorers in the Big East this season. Much like his brother, Ben gets better as a game wears on, and saves his best play for late-game situations. Where he has really shined has been in his ability to control the Notre Dame offense, and quality decision-making. While not very quick, he does have a deceptive first step, and is strong enough to absorb contact and finish at the rim. He has very good mechanics on his jumper, though his release could be quicker, and his shot selection and range have improved over the last 2 seasons. He sees the court well and does a good job drawing the defense to him to free up his teammates. Defensively, he can be a tough on-ball defender and consistently positions himself well. He is one of the best I have seen this year in getting through screens, and making the right decisions on going over or under the pick. Off the ball, he does a good job staying active, sees the ball well and is a decent help defender.
The Bad – As tough as Hansbrough is, he just isn't that athletic. While he has had some success getting to the rim at the college level, I'm not so sure how he would do against quicker defenders at the NBA level. While his point guard skills have improved, he is much better in a structured offense than the more free-flowing NBA type of game. Defensively, he will need to make more of an allowance for his lack of speed, which means he may give too much of a cushion for his man to get clean looks. While he does a good enough job pushing the ball in transition, he needs to be able to get it up-court quicker, and the converse is true – when heading back defending against the break, he needs to find ways to get back quicker and pick better pursuit angles.
The Verdict – A lot may disagree, but I think Hansbrough has what it takes to be a decent back-up guard in the NBA. His poise and his basketball IQ is what will set him apart from a lot of others who may be more talented or more athletic. He has a reliable jumper and sees the court well enough to get the scorers the ball in good position. While late 2nd round may be a stretch for him, if I had a pick and no other needs I could fill, I wouldn't hesitate to draft in the 50-60 range.
As we go through February and March, make sure to check back for a few The Case For…'s every week. Leave your comments below, email me any comments or suggestions up top, and remember to follow me on Twitter – @NBADraftBlog.