As the season starts to wind down and we head towards the 2011 NBA Draft, it is time to give some looks at players who are borderline draftees, but may have the skills which could translate to a NBA career. The Case For….takes a look at these players and tries to give a brief outline of what skills they have, what they are missing, and what steps would eventually lead them to the Promised Land of the NBA. To kick us off this year, its time to take a look at Georgetown's man in the middle – forward Julian Vaughn.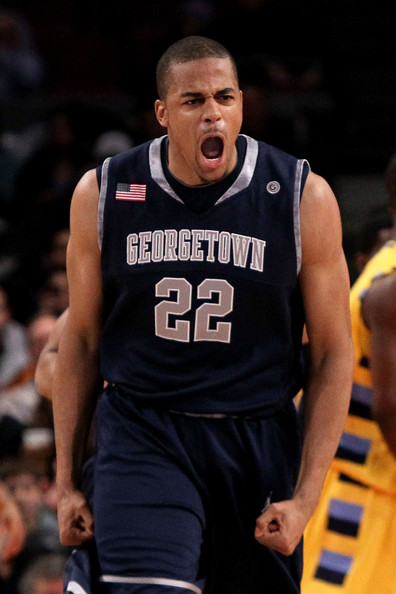 The Good – Since transferring to Georgetown from Florida State three years ago, it is hard to find any part of Vaughn's game which has not improved significantly. First, and probably most important, his understanding of the game and his role within it has changed. No longer does he try to play above his abilities – he knows he is there as a defensive and rebounding presence, with the ability to add some points when the opportunity is there. On the defensive end, he plays much bigger than his 6'8 and is physical enough to guard much larger and stronger players, while vastly improving as a shot blocker. As a rebounder, he does everything you expect, boxing out well and going strong after the ball to looking immediately for his outlet. On the offensive end, he has added a nice little hook shot to what was basically a grab and dunk repertoire (he has had some spectacular power dunks this season), but the best part of his offensive game doesn't include him shooting. He has become a major part of the Georgetown offense, setting screens to free guards, or making strong passes out of both the high and low post.
The Bad – On the offensive end, he really doesn't contribute much outside of the 6-8 foot range, though he has shown on occasion that he can hit the foul line jumper. He doesn't have many post moves, and acts more as a facilitator within the offense more than anything. If the team is playing at a quick pace, he becomes almost a non-factor, as he just doesn't have the foot speed to play the transition game. Defensively, he is more of a brute than a finesse defender, using his strong body to muscle people out of the lane. The danger to this is he has a tendency to pick up a lot of unnecessary fouls if he gets a little too aggressive. He has improved as a help defender, though he doesn't have great lateral movement, and again he gets caught in situations where he picks up bad fouls by being a step late.
The Verdict – While Vaughn has made great strides as a basketball player over the last few seasons, it would be a stretch to hear his name called on draft night. However, he has the defensive and rebounding skills and the knowledge of the game on his side, and he is exactly the kind of player who some time in the D-League could do wonders for the missing parts of his overall game. Vaughn would have been comfortable on John Thompson Jr.'s old Georgetown teams, and many of those guys made their way to the NBA on sheer will, determination and the mindset to go out and do whatever is asked of him (Don Reid anyone?) What it all means is don't be surprised if in the next few years you see a NBA team give Vaughn a shot to show that he belongs in the League.
As we go through February and March, make sure to check back for a few The Case For…'s every week. Leave your comments below, email me any comments or suggestions up top, and remember to follow me on Twitter – @NBADraftBlog.