The NBA Draft Blog Scouting Report heads back down to Texas to take a look at one of the best offensive players in the country, the Longhorns' Jordan Hamilton. While known primarily as a perimeter scorer coming into Texas, and not doing much to discount that his freshman season, Hamilton has worked hard to show a much-more balanced offensive game. With an improved game and Texas one of the top teams in the country, will this add up to Hamilton leaving early as a first round pick? Let's take a look at Jordan Hamilton: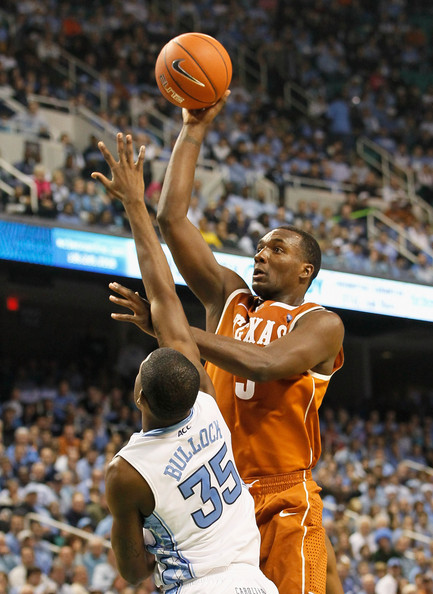 Jordan Hamilton, Texas – Sophomore
Guard/Forward- 6'7, 220
19 ppg, 7.5 rpg, 2.4 apg, 47% FG, 75.6% FT, 41.9% 3FG
Offense
Perimeter Shooting- This is the bread-and-butter of Hamilton's offensive game, sometimes to his detriment. Fundamentally, Hamilton's jumper is very good – good range and release point, quick release, good lift and rotation, though he does need to watch his tendency to want to fall-away from the basket when not needed given his good size. While his shot selection has gotten significantly better than last season, he still has stretches where he takes the first available shot, instead of looking for the best shot (more than half of his field goal attempts are threes). His mid-range jumper has improved, but again, he needs to look for this more often. He works well off the ball looking to get open, though he needs to work harder at finding holes in the defense instead of hanging out behind the three-point line. He uses screens well, but he needs to work on coming off them tighter, putting him in better position to shoot.
Ballhandling/Hands/Penetration- Overall, Hamilton is a good ballhandler, though he needs to watch his tendency to get a bit careless with his dribbles, especially when he is not looking to create a shot. He could make significant gains if he worked on adding a change-of-pace dribble, or a solid crossover to his dribbling skills, though he does a good job of creating space to get his shot off. He has improved greatly at getting to the rim off of penetration, with a solid first step and the strength to absorb contact on the way to the rim and still finish. He does a very good job going to his left off the dribble, and at times he looks more comfortable going left. He has also done a very good job this season getting into the lane and looking for an open teammate rather than forcing a bad shot. One major area he should look to improve his finishing strong at the rim instead of looking to finesse a shot – he has a strong upper body and should be able to go stronger.
Rebounding/Passing- Hamilton can be very aggressive at times, and it can be seen on his activity on the offensive boards. He uses his body well to create space in the lane and he has very good instincts for the ball. He needs to make better decisions once he gets an offensive board – maybe looking for teammates on the perimeter instead of forcing up a shot in traffic. Hamilton's court vision and passing have also improved this season, though again, his decision making is still a work in progress. As I said above, the one major improvement he has made is his ability to penetrate and kick the ball out, and by the end of this season I would expect him to improve more.
Free Throw Shooting – Hamilton has all the makings of a very good free throw shooter, though the consistency he shows on his jumper doesn't always translate to his free throws. I have noticed that, at times, he seems to rush his free throws, often leading to him short-arming the ball, but it is something that can be easily corrected. He has done a great job looking to get to the line more often, and over time he should realize how easily he could draw contact if he goes to the rim.
Defense
Perimeter Defense- Hamilton has shown much better defensive ability this season on the perimeter, but there are still some issues he needs to improve upon. He can be an active on-ball defender with good positioning. He has good lateral movement and he keeps his hands active. He needs to become more consistent with his defensive effort, sometimes going from a lock-down type defender to almost zero effort and standing straight up on consecutive plays. Off-the-ball, he does a good job with his positioning, though he can be overly-aggressive playing the passing lane, leaving him open to back-door cuts. He also needs to work on his handling of screens, either looking to get through them or recognizing when to switch or go over the screen. Right now, he tends to go under on most screens, leaving him vulnerable to open jumpers.
Rebounding- Hamilton has great instincts for rebounds, though he needs to work on the fundamentals a bit more. He has great timing and strong hands, though he needs to make sure he boxes out his man before he looks to grab the board. He also needs to get better at keeping the ball high after getting the rebound and not always look to rush the ball up the court.
Transition
Hamilton works well in the open court, with good speed and excellent leaping ability. While he can push the ball up the court, he is much better on the wings and attacking the basket. He is very good at the wing jumper on the break, though he seems to settle for it too often. If he attacks the basket more, he should see more success in transition. Defensively, he gets back well against the break and does though he needs to work on making sure to stop the ball instead of looking to stop the player at the lane.
Summary & Intangibles
Athleticism – High
BB IQ – Above Average
Hamilton may be one of the top offensive players in the draft, if he was to come out this year. He ahs the ability to score in a variety of ways, and he has the perimeter skills to make him a threat immediately at the NBA level. As I discussed above, he needs to become more balanced on the offensive end – looking to get to the basket more often, and he needs to apply a more consistent effort on the defensive end. Though he can play as a shooting guard, he will probably play more small forward in the NBA, especially for defensive match-ups. If he does declare this year, he is most-likely a Top 20 pick, most likely in the 15-20 range depending on team needs. If he comes back to Texas for one more season and makes the necessary improvements to his game, he can see himself in the late lottery.
Next, I will head out west to take a look at another player who has made significant strides this season – Washington's Isaiah Thomas. Remember, leave any comments below, follow me on Twitter – @NBADraftBlog, or feel free to email me at the link up top.