Today's NBA Draft Blog Scouting Report looks at the epitome of the four-year college star, a player who improves every year and does whatever he can to help his team win – Wisconsin's Jon Leuer. Leuer is very good offensive player with the ability to play in the post and on the perimeter, and with excellent leadership ability that should help him be an effective NBA player. However, will his lack of top-notch athleticism hurt him come draft time? Let's take a look at Jon Leuer: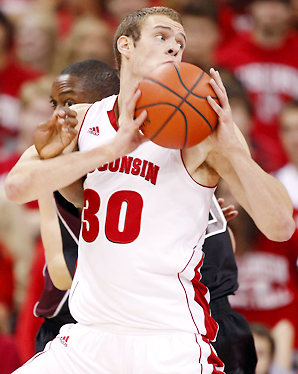 Jon Leuer, Wisconsin – Senior
Forward- 6'10, 228
19.4 ppg, 7.1 rpg, 1.2 bpg, 48.7% FG, 44.8% 3FG, 84.7% FT
Offense
Post Skills- Leuer is an above-average post player who uses his body well to establish position and uses his length well to get off good shots. He is very efficient around the rim, and doesn't force many bad shots. The majority of his post moves will always be over his left shoulder, to the point where he will end up across the lane if he starts on the left block. His primary moves consist of a short hook off the glass or a turnaround jumper from the baseline. Because he lacks ideal strength to play the post, he makes most of his moves away from the defender, and lacks very few power moves to the rim. He has great touch on his shot and is able to hit the short shot from many angles. He operates well out of the high post and can hit the foul line jumper consistently. He has also gotten much better at passing out of double teams in the post, finding open teammates on the perimeter or cutting to the rim.
Footwork- Leuer's footwork is very deliberate, to the point of seeming extremely slow. The plus side to this is that there is very little wasted movement on his part, but against aggressive defenses he may have trouble completing his post moves. He moves well off the ball, looking for holes in the defense, and making quick cuts to rim when overplayed. Tough his foot speed is not great, he does take long strides which get him to his spot easily.
Ballhandling/Hands/Penetration- Leuer handles the ball well for his size, keeping his dribbles tight, and rarely overdribbling. He is much better with his right hand than his left, and good defenders know now to overplay his right hand. His perimeter handle is very similar, rarely taking many dribbles with defenders tight on him, preferring to pass and either cut or post up on the block. He has very strong hands, handles passes well, and rarely has the ball stripped from him. Leuer will not try to take his defender off the dribble often, though he does pick his spots well. He uses ball and head fakes well, and though his first step isn't great, it can be effective. Once he gets into the lane, he needs to work on finishing stronger at the rim more often, as he prefers to settle for short jumpers. When he does get to the rim, he has very good body control and absorbs contact with the ability to finish his shot. He needs to get better at going to his left, including finishing better with his left hand around the rim.
Perimeter Shooting- Leuer has a very consistent jump shot, good range and the confidence to shoot from anywhere on the court. He could increase his release time a bit, and I think his release point may be a bit low if he is going to play on the perimeter in the NBA. That being said, Leuer's perimeter ability is what makes him stand out among other big men this season, as he seems as comfortable on the perimeter as he does in the post. His shot selection is very good, and he does an excellent job of always looking to get a better shot instead of forcing the ball up as soon as he gets it. He is much more of a catch and shoot player, making him a very good option on pick and rolls and pick and pops. He needs to do a better job of getting open off of screens and using his dribble to create his jumper.
Rebounding/Passing- Leuer does almost everything well as an offensive rebounder – he is very good at tip-ins, can go straight up, keep the ball high and put it back quickly for a quick score, and he has very good instincts around the rim. Strength is an issue against bigger players, but he holds his own. Leuer sees the court very well and makes very good decisions with his passes, though sometimes he may play it a bit too safe. He is very good at passing out of both the low post and the high post, and he has improved his ability to see the whole court from the perimeter.
Free Throw Shooting – Leuer is an excellent free throw shooter, and he has done a great job looking to get to the line more often this season. He is very good in clutch situations and he will look to get the ball in his hands in tight games. Solid form and great rotation and arc give his shot a chance of always going in.
Defense
Post Defense- Leuer has improved a lot over the last two seasons as a post defender, letting him be effective while often being not as strong as his man. He uses his lower body well to force his man off the blocks, though he still needs to improve his ability to deny the post entry. Also, his defensive footwork can improve, as he has a tendency to get beat by quick dropsteps on the baseline. His help defense around the rim could use some improvement as well where he tends to get into position about a step slow most times. He uses his length well to force offensive players to shoot over him, and he holds his ground well.
Perimeter Defense- Leuer is not a great perimeter defender, and would have trouble against small forwards and smaller power forwards at the NBA level. He needs to improve his lateral movement, though he does a good job with his positioning and keeps his arms active trying to disrupt passing lanes. He does a good job on screens, knowing when he can go over or under, and hedging well on pick and rolls. He is also very good at closing on shooters, getting his arms outstretched to force tough shots from the perimeter.
Rebounding/Blocking- Fundamentally, Leuer is a very good rebounder – boxing out well and going strong after the ball and getting it with two hands and keeping it up high. His instincts for missed shots are very good, and though he doesn't have great strength, he will battle bigger men for rebounds. He has also improved his outlet passing this season, seeing down-court and hitting his guards with crisp passes. Leuer also has very good blocking instincts, though he isn't a great athlete. He chooses his spots well and does a good job avoiding needless fouls.
Summary & Intangibles
Athleticism – Above Average
BB IQ – Very Good
Leuer has been one of the most consistent players in college basketball over the last couple of seasons, continuing to play at a high level while working hard to overcome weaknesses in his game. His skill set is one of the best among seniors in this year's draft, but his lack of great athleticism will hurt him come draft time. I can see him being a very late first round pick, depending on draft movement and needs, but I think it is more likely you will see him among the first 5-10 players called in the second round. Guaranteed, the team that does take him will find it very hard not give him minutes as his versatility could make him indispensable as a role player.
to check out one of the hottest players in the NCAA right now – the Longhorns' Jordan Hamilton. Remember, leave any comments below, follow me on Twitter – @NBADraftBlog, or feel free to email me at the link up top.