Today's NBA Draft Blog Scouting Report is Part 2 in my look at the Duke senior leaders. The other day we looked at Kyle Singler – which you can find here – and today we look guard Nolan Smith. Smith is another player who has done whatever Coach K has needed – leaving his normal shooting guard position to run the point as needed, again helping pick up the slack after the injury to Kyrie Irving. Smith has a bright future in the NBA, but just how good can he be, and how does his game match-up with what the NBA General Managers will be looking for? Let's take a look: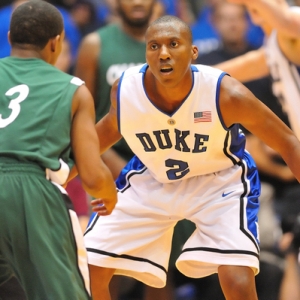 Nolan Smith, Duke – Senior
Guard- 6'2, 185
20.1 ppg, 4.7 rpg, 5.6 apg, 48% FG, 81.7% FT, 34.1% 3FG
Offense
Perimeter Shooting- Smith has made great strides in his perimeter jumper over the last few seasons, especially with his confidence. He has very good range, a smooth, quick release and the ability to shoot off the catch or dribble. He moves well without the ball and does a very good job exploiting weaknesses in the defense. He needs to improve on coming off of screens, especially when he doesn't have the ball – often he comes off too wide, allowing the defender to stay with him, or he is not in position to make a play once he gets the ball. His mid-range jumper is very solid, and he can consistently hit from 15 to 18 feet, even with defenders around him. I would like to see him get better lift on his shot, as defenders will react better at the next level, and he doesn't have great size.
Ballhandling/Hands/Penetration- While Smith is a natural shooting guard, he has done a very good job when asked to run the offense for Duke at different points the last 2 seasons. His ballhandling skills are good, but not great, and he is effective going to either hand at any point. One area he needs to improve on is his patience, as in any game, he can go from very patient running to offense to trying to force plays that aren't there. He does an excellent job getting by his defender and getting into the lane, where he has improved his ability to finish or drop it off to an open teammate. He has a great first step, and one of the better crossover dribbles in college right now, to go along with excellent body control and the ability to go strong to the rim, or pull up for a short jumper.
Rebounding/Passing- When Smith has the opportunity to play off the ball, he can be a very good offensive rebounder for his size. He has good instincts and great leaping ability which make him dangerous if he isn't boxed out. He is solidly built, and while he won't outmuscle many big men, he isn't going to give up easily on a missed shot either. The best word to describe Smith's passing skills is effective. There is nothing flashy about the way he does things, just gets the ball to the open man in the easiest way possible. He has become much better at penetrating and kicking the ball out to the perimeter, though he can be a tad slow in his decision making, and he needs to sense quicker where the help is coming from and who will be open.
Free Throw Shooting – Again, like other parts of his game, Smith is an effective free throw shooter. He has consistent form, does a very good job getting to the line during the game, and can be counted on to shoot when the game is on the line. The only thing he needs to be aware of his is his tendency to sometimes rush his free throws, especially early on in the game when he is getting himself going.
Defense
Perimeter Defense- Smith has proved to be a very good perimeter defender, both on and off the ball, showing good lateral movement, the ability to stay between his man and the basket, and very good hands. Off the ball, he does a very good job denying the pass, and jumping the passing lanes, though he has a tendency to overplay and can be beat backdoor. He has good, but not great speed, and can't always recover once he is beat. He does a good job getting through screens, and recognizes well when he can under a screen against a below average shooter. He does a very good job as a help defender and recognizes well when he can make a play and when he can't leave his man.
Rebounding- Smith does a very good job rebounding, and as I mentioned in the offensive section, he is strong for his size and will battle for the ball. The one thing he really needs to watch for is to box out his man on the perimeter. In just the last few games, there have been instances where his man was able to run in unimpeded after a missed shot.
Transition
Smith is much better filling the lanes on the break than he is pushing the ball up, though he is capable of doing both. When on the wing, he has the ability to pull up and hit the three or to finish strong at the basket. When he is leading the break, he has a tendency to want to take the ball himself to the basket. Sometimes it is a great option, but I am not sure he has a great awareness of where his teammates are on the break. On transition defense, he rotates back well and is even capable of pulling out a strong block here and there. He just needs to become better at committing to the ball or the rim on break situations and let his athleticism take over from there.
Summary & Intangibles
Athleticism – High
BB IQ – High
Smith, like his teammate Singler, has made himself more valuable with versatility and willingness to leave his comfort zone. While he is a natural shooting guard, he doesn't have NBA shooting guard size, and he will need to be able to play point guard at the next level. The fact that he can guard multiple positions and is very athletic helps his cause as well, though he will need to be able to score in bursts when he gets minutes. Look for him to go in the mid-first round, somewhere from the late lottery to somewhere in the 20-22 range.
Make sure to check back later tomorrow for a look at one of the more impressive big men this season – Purdue's JaJuan Johnson. Remember, leave any comments below, follow me on Twitter – @NBADraftBlog, or feel free to email me at the link up top.