Today's NBA Draft Blog Scouting Report is the first of back to back reports on Duke's senior leaders – Kyle Singler. Singler has been a model of consistency during his 4 seasons, though he has been asked to fill various roles for Coach K. He has stepped up to each challenge and has managed to improve parts of his game every year. We know he has NBA skills, but where exactly does Kyle Singler fit in at the NBA level? Let's take a look: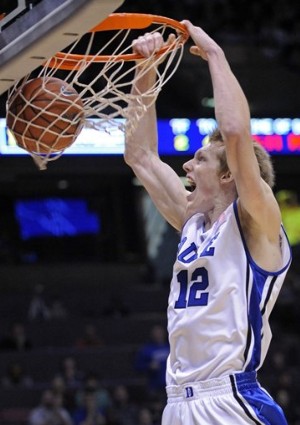 Kyle Singler, Duke – Senior
Forward- 6'8, 230
17.7 ppg, 6.3 rpg, 1.2 spg, 44.1% FG, 80.6% FT, 38.7 3P%
Offense
Perimeter Skills- Singler has very good form and range on his perimeter shot, though he is much more comfortable when he is set and square, rather than coming off screens or the dribble. He gets good lift on his shot and has a consistent follow-through. He moves very well off the ball and has a knack for finding holes in the defense. While he does use screens well, he needs to come off of them a bit tighter and ready to shoot. He is a consistent mid-range shooter and does a very good job getting off shots quickly before the defense closes. He's not great at creating his own jumper, though when he does use head and ball fakes, he does a good job making the defense commit.
Post Skills- Having spent serious minutes playing as a power forward, it's the addition of his skills in the post to his perimeter game, that make Singler a serious NBA prospect. He doesn't have the idea body to play in the post, but uses a good combination of skill and smarts to make him an effective post option. His ability to face up and hit the short-to-mid range jumper, or dribble by his defender make him dangerous against larger defenders, though he doesn't have much of what would be considered traditional post moves. While he is clearly more comfortable playing out on the perimeter, this versatility gives coaches added options which could mean more minutes at the next level.
Footwork- Singler's footwork is good, not great, though he makes up for a lack of skill with smart play. As I said earlier, he needs to come off screens a bit tighter on the perimeter, though he does show better than expected footwork in making cuts to the basket. He is especially good at recognizing when he is being overplayed and making the quick cut to the rim.
Ballhandling/Hands/Penetration- Singler does a good job controlling the ball, and is effective dribbling with either hand, and he is especially good going to his left to the basket. He has good hands, handles passes well, though he should try to be ready to shoot more quickly, especially coming off of screens. He is not very quick, and his first step to the rim is just average, though he does do a good job of using his body to shield defenders as he makes his move to the rim. Once he gets to the rim, he tends to settle for floaters or short jumpers, and should try to finish stronger once he gets around the basket. He has shown a very large improvement of penetrating, drawing the defense and either dumping it off to a big man, or kicking it out to the perimeter – though he is still learning on making though decisions quicker. He has very good body control and does a good job avoiding help defenders and picking up offensive fouls.
Rebounding/Passing- Singler is a very good offensive rebounder, with good instincts around the rim and a toughness that most wouldn't expect from looking at him. Once he gets an offensive board, he does a good job using his body to get a good shot off around the basket. While his passing skills are nothing spectacular, he does a very good job seeing the court and making good decisions with the ball.
Free Throw Shooting – Singler is a very good free throw shooter, though with his propensity to stay on the perimeter now, he doesn't get to the line as much as he could. He is a clutch shooter, and having him at the line with a game on the line should not be a concern. If he could get to the line 6 or more times a game, he could be a real scoring threat at the next level.
Defense
Post Defense- Singler does a very good job using his body to defend the post, staying on his man's back and not letting them get in too deep on the blocks. He is also very good at denying entry passes into the post, though he does have some issues with overplaying the entry pass and getting beat over the top. His footwork isn't ideal and if he is defending a more agile player, he could get beat easily with a good move. He is especially susceptible to face-up moves, where he tends to leave a big enough cushion for a decent shooter to get very good looks.
Perimeter Defense- Singler has become a much improved perimeter defender, showing both better skills and more consistent play. While he doesn't have the speed or lateral movement to play tight defense on a lot of small forwards, he is smart enough to know how he needs to play them, and does a good job forcing them into his help when needed. He does a good job closing on shooters, though he needs to do a better job of getting his arms up on the shot, as I have seen more than a few times where he just runs toward the shooter without contesting the shot. He gets through screens well and does a good job switching when necessary. He needs to watch for being too eager to be a help defender and leaving his man for an uncontested shot – he needs to pick his spots better.
Rebounding/Blocking- As on the offensive end, Singler is a very strong rebounder – fundamentally sound with a good knack for anticipating angles on misses. He is surprisingly tough and will battle with bigger players on the boards. Once he gets the rebound, he does a good job securing the ball and finding his outlet, with the added bonus of being able to push the ball himself if necessary. Though he does show some strength, some more muscle would make him much more effective. Blocking shots is not one of his strengths, but he is smart enough to know this and chooses his opportunities well.
Transition
Singler is effective in transition, especially with his ability to pull up and hit the long range shot, or draw the defense and find the open man. While it is not ideal to have him push the ball on the break, he is skilled enough to do it if necessary. He does a good job getting back in transition, especially rotating back after he take a perimeter shot.
Summary & Intangibles
Athleticism – Above Average
BB IQ – Excellent
Singler certainly has many skills which would make him an asset to most NBA teams. While I wouldn't see him as someone with star potential, he could have a very long career, and with the right team, could be a starter at the next level. His shooting alone will make him someone to watch, but his versatility and toughness just add to the package. He is a solid first round pick, most likely in the late teens to mid-twenties. Ideally, he would go to an established team where he will not be called on to do too much too soon, but can still be a solid contributor to a playoff team.
Tomorrow we will look at Singler's teammate and fellow senior leader – Nolan Smith. Remember, leave any comments below, follow me on Twitter – @NBADraftBlog, or feel free to email me at the link up top.