The NBA Draft Blog Scouting reports kick off the New Year with a look at one of the better all-around players in the country, but someone who has yet to become the household name he deserves – Washington State's Klay Thompson. Thompson, the son of former NBA #1 pick Mychal Thompson, has show fantastic scoring ability, but if you watch the way he plays the game, you see someone who has the potential to be a key player on winning NBA teams. So how does Thompson shape up for this year's draft? Let's take a look: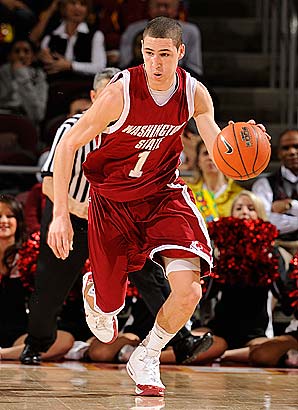 Klay Thompson, Washington State – Junior
Guard- 6'6, 202
22.6 ppg, 4.2 rpg, 4.2 apg, 48.5% FG, 83.3% FT, 42.4% 3FG
Offense
Perimeter Shooting- Coming into Washington State, Thompson's perimeter shot was always one of his greatest strengths. His form looks almost effortless; he gets great rotation, and he has range out to the NBA 3-point line. What separates his game from his first 2 seasons is that he is no longer just a catch and shoot player, but he has become extremely effective creating his jumper off the dribble, and his use of screens to get an open look. He should look for more shots in the 15 to 18 foot range, but other than that, his shot selection is very good, and his size helps him get good looks over most defenders.
Ballhandling/Hands/Penetration- Thompson has become a much improved ballhandler, enough so that he can be used to help bring the ball up against pressure. While he will never be a primary handler, he is extremely careful with his dribble and rarely makes the mistake of letting the ball get away from him. He is much stronger going to his right, though he is definitely using his left more efficiently this season. He has decent hands, though I have seen a few times where he gets caught trying to make a move before he gets the ball. One of the most improved parts of his game is his ability to get by his defender and get to the rim. Though he doesn't have great speed, he uses an array of ball and head fakes, and a deceiving first step to get past his defender. He does need to get stronger, especially in his upper body, to finish better at the rim, but he does have a good ability to pull up from short to mid-range and hit the jumper.
Rebounding/Passing- Because Thompson spends the majority of his time out on the perimeter, he doesn't factor much on the offensive boards. He does have good instincts, and if he chooses to get in the mix, he could get an extra possession or two for his team each game, but he will never be a major force on the offensive glass. He has excellent court vision, and it has shown in his passing ability the last 2 seasons. His size gives him an advantage out on the perimeter and he sees openings cross-court and along the baseline that smaller players may not. He has to curb his tendency to try and force plays too often, as he often defers to teammates when he could just as easily take the shot. He also shows a good ability to penetrate and kick the ball out to the open man, though he still needs to become a little quicker at making his decision.
Free Throw Shooting – Thompson is a good free throw shooter, and can be counted on to hit shots in key situations. He still needs to be more consistent trying to get to the basket and draw contact, but he has shown some improvement.
Defense
Perimeter Defense- Thompson has shown that he is a capable perimeter defender, though he still has a lot of room for improvement. He moves his feet well, though he doesn't have the foot speed to be effective against quicker guards and small forwards. He does a good job off the ball and has the ability to be a good help defender. He needs to work on showing more intensity on the defensive end, as he tends to lose interest in long possessions. He has good hands, and is good at jumping passing lanes. He could be quicker in closing on perimeter shooters, especially since his size could make the shots more difficult. He plays smart on defense and avoids picking up silly fouls, and he picks and chooses his steal opportunities wisely.
Rebounding- Thompson does a decent job rebounding, boxing out well and going strong after the ball. He does need to become more aware of boxing out perimeter players on shots, as he has been beat more than a few times this season on long rebounds.
Transition
Thompson is very reliable in open court situations, with the ability to push the ball himself, or to fill the lanes. Because of his shooting ability, he is tough to defend on the break, because he can easily pull up from long-range or take the ball to the rim. Defensively, he needs to work harder on getting back against the break, and making better decisions on where to position himself once he gets back.
Summary & Intangibles
Athleticism – Above Average
BB IQ – High
While Thompson has made his name mainly as a scorer since he got to Washington State, he has improved all areas of his game enough that he is one of the better all-around players in the country. He will never be considered a great athlete, and he certainly can work on becoming a better defender, but his high basketball IQ allows him a greater freedom to do different things on the court. He is very similar in style to Landry Fields during his junior year, though Thompson is becoming much more aggressive and is a more consistent shooter. If he was to come out this season, I would find it hard to believe that he would drop out of the Top 20 picks, possibly going as high as 14 or 15. I don't see another year really helping his stock much, as I think that mid-first is his ceiling.
Make sure to check back tonight for a look at this season's premier freshman – Ohio State big man Jared Sullinger. Remember, leave any comments below, follow me on Twitter – @NBADraftBlog, or feel free to email me at the link up top.